Sometime in the last couple of decades, American sports journalists and broadcasters decided that the word "scrappy" should be used to describe generally undersized white guys. In football, this particular adjective is especially reserved for small, white wide receivers.
The word has been around since 1837, according to the Merriam-Webster dictionary, and they should know. Their entire business model is built upon etymology.
Among its various definitions are:
Consisting of scraps
Quarrelsome
Having an aggressive and determined spirit
Merriam-Webster helpfully adds that it rhymes with "nappy," which I'm pretty sure I knew, but it was nice to get confirmation.
We're interested mostly in the third of those definitions, none of which explicitly (or implicitly) say anything about skin color. Yet our modern scribes and talking heads still usually reserve that word for Caucasians.
Heck, even the Urban Dictionary attributes the word to white guys in its example.
I'm here today to reclaim the word for people of all races and ethnicities.
Because I enjoy creating order out of chaos by making lists, it seemed like a fun idea to make a list of the scrappiest Buckeyes of the modern era. To do so, I must first limit this to football players only, or Aaron Craft would claim all of the spots.
My definition doesn't necessarily require the player to be white, or even small, although it's often easier to see the "aggressive and determined spirit" in a smaller player, because they start at a disadvantage to their larger, more physically gifted teammates. If an undersized guy starts for Ohio State, they probably out-fought quite a few larger players to grab the spot.
That said, there are some bigger guys on my list — players who managed to stand out from other guys their size.
Here's the list I came up with. I'm counting them down, Casey Kasem-style (it's cool, they found him), but these go up to 11, Spinal Tap-style. Your mileage may vary. Feel free to add your favorites in the comments section below.
11. Jordan Hall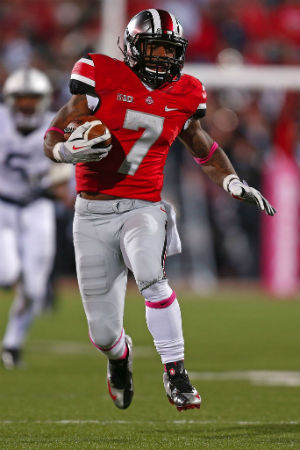 On paper, Jordan Hall as a Buckeye should never have worked. At 5-foot-9 and 191 pounds, Hall was asked to do a lot of things that would put a guy his size in the path of a whole lot of harm. But he managed to get in the lineup early and racked up 1,568 yards rushing, 286 receiving yards and an impressive 3,486 all-purpose yards. He rushed for at least one touchdown in all five years he spent as a Buckeye, running for eight as a senior in 2013.
Hall's toughness allowed him to serve as a punt and kick returner and to run between the tackles. Those tasks aren't for the faint of heart. But Hall excelled there. He even returned a kickoff 85 yards for a touchdown against Michigan early in his career. For a guy his size, it's impressive that he averaged 5.1 yards per carry over his career. Although he was never a star player, Hall was a baller for Ohio State.
10. Antoine Winfield

It must have happened at some point, but I honestly can't remember Antoine Winfield ever missing a tackle. Winfield is the same height as Hall, but played at around 180 pounds. But in the mid-to-late 1990s, he was often put on an island due to his coverage skills and was still relied upon to be a solid force player on running plays.
A two-time All-B1G and All-American, Winfield won the Jim Thorpe and Jack Tatum awards in 1998. He is considered one of the greatest cornerbacks in OSU history, and possibly the very best. He posted 278 tackles, (224 solo), 22 tackles-for-loss, 29 pass break-ups and three interceptions during his collegiate career and was voted team MVP in 1997 after a 100-tackle season. He went on to an excellent and lengthy NFL career after leaving Columbus.
9. Matt Wilhelm

Not undersized by any means, the 6-4, 245-pound Wilhelm still embodied everything the word "scrappy" stands for. He was aggressive, determined and spirited. His team-best 11 tackles in the 2003 Fiesta Bowl helped cement Ohio State's championship season in Jim Tressel's second season. He finished the 2002 year with 121 total tackles — good for sixth all-time in school history for one season.
Wilhelm wasn't the most athletic linebacker Ohio State ever had. He never wowed anyone with his measurables. But he was quick to diagnose a play and able to fight his way to the ball carrier with regularity. Wilhelm was a three-year starter for the Buckeyes, won the Randy Gradishar Award his junior year and was named All-American as a senior. He was, quite simply, a warrior. He went on to a quiet but respectable pro career, winning a Super Bowl ring with the Packers.
8. Tyler Moeller

The most resilient player on this list, Tyler Moeller looked like someone's little brother, running all over the field for Ohio State's defense from 2007-2010, following a redshirt freshman year. He started out as a linebacker at only 6-0, 210 pounds, but spent much of his career at the star position.
Moeller did everything at full speed and hurled himself at ball carriers with a ferocity larger than his frame. He even overcame a fractured skull from being jumped in a Florida bar in 2009. He didn't put up incredible numbers, but he seemed to always make an impact on the game.  Moeller was a hard-nosed linebacker trapped in a safety's body.
7. Maurice Clarett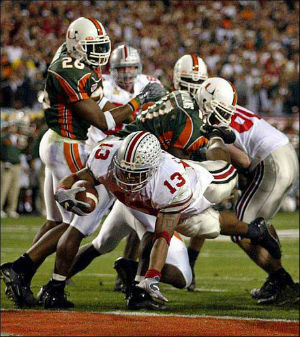 He only played one season at Ohio State, but Mo Clarett was as scrappy a Buckeye as just about anyone who ever donned the Scarlet & Gray. Determination was never a problem for Clarett, who set out to become a starting running back his freshman season and pulled it off. In 11 games in 2002, Clarett rushed for 1,237 yards and 18 touchdowns, earning Big Ten Freshman of the Year honors.
In the National Championship game, Clarett took a beating at the hands of the physical Miami defense, but he never gave in or shied away from the onslaught. He may have made the scrappiest play in Ohio State history in that game. You knew which one I meant without clicking the link.  Without that play, the Buckeyes don't beat the Canes in the desert.
6. Ryan Shazier

His Buckeye career just ended, so RDS is still fresh in our minds. Few played with the wild abandon and reckless disregard for his own safety as Shazier.  He had pretty good size at 6-2, 230 pounds, but his main attribute was his speed and ability to destroy ball carriers and quarterbacks on contact. He amassed 306 total tackles in just three seasons, fighting his way into the starting lineup before the end of his freshman year and never losing his spot.
His 208 solo tackles and 44.5 tackles for loss are both sixth in school history and a senior season would likely have claimed him both OSU career records. He was a 2013 All-American and last week was drafted No. 15 overall by the Pittsburgh Steelers. He'll always be known for doing things like this and this. Scrappy.
5. Brian Rolle

No linebacker did more with less than Brian Rolle. An undersized (5-10, 240 pounds) guy out of Immokalee, Fla., Rolle starred at linebacker at Ohio State, starting for two seasons. As a senior in 2010, Rolle finished with 76 tackles, 11.5 TFLs, two interceptions and 2.5 sacks. He tallied 202 total tackles in his collegiate career, earning All-B1G honors and the Randy Gradishar Award as the team's most outstanding linebacker his senior year.
Even though his size was small even for a college linebacker, Rolle was able to do things like this, which got him drafted by the Philadelphia Eagles in 2011.
4. Dane Sanzenbacher

You knew this guy would be on the list, and you were right. Dane Sanzenbacher was the epitome of the scrappy, undersized college football player, as well as the stereotypical "scrappy" small, white wide receiver. He was a fighter for every inch he got on the football field, despite often being used as a human pinball by opposing defenses.
Sanzenjesus caught 124 passes in four years from 2007-10, covering 1,879 yards. He scored 20 touchdowns — 19 via reception and one rushing. Few have played the game as hard as the great Dane, who never gave up on a play. I mean, come on, the guy was barely bigger than Mindy Drayer.
3. Troy Smith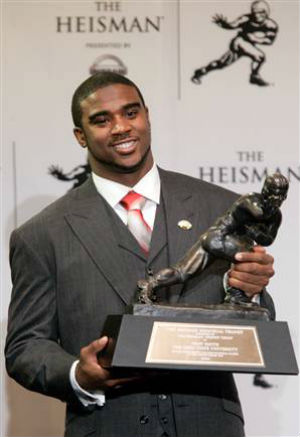 If having an aggressive, determined spirit makes a player "scrappy," than Troy Smith more than qualifies. Smith was recruited as an athlete and wasted little time replacing a highly touted quarterback as the team's signal caller. The winner of the 2006 Heisman Trophy wasn't a huge guy like Terrelle Pryor. Smith's 6-foot, 217-pound frame took a lot of hits during his time in Columbus, but he wouldn't be denied.
Smith ran for 1,168 yards and 14 touchdowns and passed for 5,720 yards and 54 scores during his OSU career, winning a case full of trophies along the way. He led the Buckeyes to a win in the thrilling 2006 version of The Game and on to the National Championship Game, about which the less said, the better. But all you had to do was watch the way Smith played to see the term scrappy is applicable to a quarterback. 
2. Craig Krenzel

Speaking of quarterbacks, it's amazing that Krenzel survived that night in Arizona against the Miami Hurricanes. I've seldom seen a quarterback battered the way Krenzel was by the Canes defense. There were better passers and runners who played the position for Ohio State, but few people found a way to win the way Krenzel did. 
Sure, the defense was the main reason Ohio State won the 2002 title, but there's no way the Buckeyes could have captured the championship without a leader like Krenzel. He finished his collegiate career with 4,489 yards and 28 touchdowns, running for 600 yards and six more scores. But it's the way he always found the path to victory that we'll remember him for.
1. Chris Spielman

Spielman was Buckeye spirit personified, concentrated, and poured into a 6-foot, 247-pound, barrel-like frame. A two-time All-American, Spielman worked his tail off for everything he got. He won the Lombardi Trophy and finished third in school history with 546 career tackles and an OSU-record 283 solo stops — and he intercepted 11 passes.
But Spielman was more than the statistics he amassed. He was as intense a player as I've ever seen on any level of the game. He started for three seasons and only a nagging ankle injury as a freshman prevented him from making it four.
No one took losing harder than Spielman and no one enjoyed winning more. He was the scrappiest of all the scrappy Buckeyes. We salute you, Chris Spielman.