Heyyyyy, that football player looks kinda familiar!
It almost looks like Johnny Simon - except he's wearing a weird, unfamiliar number fashioned out of ugly colors and he's practicing at linebacker instead of defensive end. It's a little unsettling.
That's the same guy who played harder than his body would allow for four seasons in Columbus. Prior to his junior year he quietly absorbed the unending media outrage over his coach preferring to privately handle petty crimes of amateurism in-house over publicly shaming his broke-ass student athlete teammates.
It backfired spectacularly. He was falsely accused of participating in Tatgate because - gasp - he has tattoos too. Remember, way back in 2011 only Ohio State players had ink. Call them Buckeyes; call them trendsetters.
Anyway, after all of that misery the Big Ten's Defensive Player of 2012 led his team to an improbable unblemished season. Well, almost unblemished: Simon's final game - not by his own choosing - came against Wisconsin. So did Christian Bryant's, another Buckeye who was never short on effort. They now both belong to NFL clubs that were originally formed in Cleveland.
They're both gone, unforgotten and free from the scrutiny that only comes with amateurism. We should be thrilled for them, but we're a little selfish. Personally I would have loved another year of Bryant in the secondary but the NCAA has its reasons.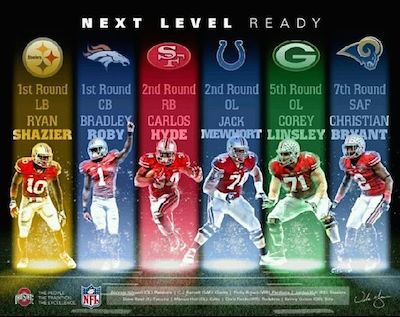 Following last weekend's NFL draft and free agent signings Bryant and 14 of our other guys are now living out their football dreams wearing helmets that aren't silver or cluttered with merit stickers, which is to say their original dreams - the ones that unashamedly mattered more to us - recently concluded.
Simon is one year ahead of his former teammates in collecting on that dream: He earned $405,000 last season after cashing his $385,652 signing bonus while making an infinitesimal impact on the Baltimore Ravens as a rookie in comparison to what he delivered for the Buckeyes over four years for the cost of tuition.
As usual, Ohio State got itself a bargain. Financially speaking, it's a zero-to-hero story. On the field (embracing the reality of Simon joining a crowded LB corps and waiting his turn) it's the opposite. Your memories of him are unchanged. He was a most favored beast.
Ryan Shazier was another bargain. A month after he signed with Ohio State the most overblown media scandal in the history of college athletics began swirling. He stuck with it, quickly emerged as a team leader and for the better part of three seasons RDS was the Buckeyes best linebacker.
At times, he was seemingly their only linebacker. He'll probably end up with a $9.5MM contract, and his signing bonus alone will be worth over 200 times more than the out-of-state tuition he didn't have to pay. He'll wear #50 instead of his #10. Or his #48. Or #2. Eh, what's another number for him.
It's never going to be as good as when they wore scarlet and gray.
But now he's a Pittsburgh Steeler playing for Dick LeBeau, who played his final game as a Buckeye 55 seasons before Shazier did. Simon's a Raven. Bryant's a Ram. Roby's a Bronco. El Guapo's a 49er. You're happy for all of them and hope they do well, mostly because their professional success might reflect favorably on Ohio State. But they've vacated our Saturdays, and Saturday is the most important day of the week. Call them Buckeyes; call them...something else until that contract fails to renew.
For those of us who cherish the Buckeyes above all of our other valued sports teams combined this is an odd, annual ritual that delivers an emotional response ranging from disgust to livable: Ohio State players now play elsewhere, and for truckloads of money. It's good. Hooray. You're not rooting for the Ravens; just John Simon. Have fun with that.
Over time you slowly realize the undeniable truth of your favorite Buckeyes matriculating into the rat race: It's never going to be as good as when they wore scarlet and gray. Never.
Chris Spielman, beloved...Detroit Lion. Michigan got him for nearly all the years of his illustrious football career - except for the four most important ones. Eddie George, Tennessee Titan. One yard away from being a Super Bowl champion, which he lost out on to Orlando Pace, St. Louis Ram. You'll trade 1,000 Orlando Pace Super Bowl celebrations for one of the elbows on Eddie's Heisman. They might think differently, but it doesn't matter.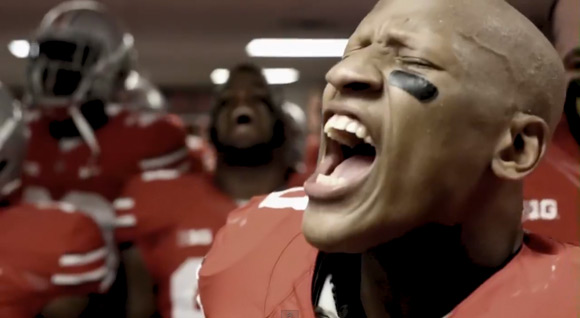 Kenny Guiton, Buffalo Bill: Perfect. Marcus Hall, Indianapolis Colt: Ironic. Pittsburgh Brown, Pittsburgh Steeler: Try not to blink. Good luck, lads - may you find and surpass Mike Tomczak's professional staying power. Call them Buckeyes; call them hopeful millionaires.
Shazier will see the field one level back of Cameron Heyward, who played his final game you cared about the most in the Louisiana Superdome with one arm dangling out of his torso. Baby Ironhead is now in the contract year of his $6.71MM deal and set to blow up his piggy bank in 2015.
He's also doing it wearing a weird, unfamiliar number made out of ugly colors. They all are. That's been their goal all along. Heyward wears his daddy's nickname on his eye black every Sunday, playing pro ball in the town where his father played college.
Regardless, both of them might eventually bounce around to other teams, as NFL players often do. Spielman retired a Cleveland Brown. Pace finished his career in Chicago. Tomczak played for two sets of arch-rivals - Chicago and Green Bay; Cleveland and Pittsburgh. Absolutely nothing in the NFL is sacred except for the guarantees and signing bonuses.
No matter where any of our guys finish playing football they were Buckeyes first, Buckeyes always and Buckeyes forever - like Spielman delighting Michigan fans on Sundays for a decade and especially Simon expending all of the effort his body can muster to contribute to Art Modell's abomination.
Seeing them reach the league is nice, but nothing will ever beat the journey that got them there. The NFL - despite what we college diehards would love to believe - is everything they've worked for since they first started playing. Everything.
It's also weird, unfamiliar and a little unsettling. So just call them Buckeyes.