Trap games. They're scary because…well they're traps. They lie in wait; patient, observant, steeling themselves for the perfect time to strike. Usually that moment comes right before or after a huge game on the schedule. The trap game feeds on the look-ahead or the "whew we got through that" coast. Trap games are merciless, trap games are nasty, trap games are on the 2014 Buckeyes' schedule.
Two tilts on the slate seem to fit the qualification. Unlike most years, both games occur after big matchups, at times when the Scarlet and Gray may feel they can congratulate themselves with a game where they don't go full bore. If the Buckeyes fall down that rabbit hole, a third consecutive undefeated regular season could go up in smoke.
Trap Game No. 1: Cincinnati

The Buckeyes will face Cincinnati after tough tests against Navy's option offense and the premiere OOC game against Virginia Tech. If the Scarlet and Gray make it through those two contests unscathed, there may be a notion the team can coast through Kent State and Cincinnati before kicking off the Big Ten season. That notion would be incredibly dangerous.
Cincinnati is a solid football team. In 2013 the Bearcats went 9-4, waxing Purdue and Rutgers then nearly beating Teddy Bridgewater's Cardinals in overtime. In fact, the team was 9-2 before losing their last two games of the season against Louisville and North Carolina in the Belk Bowl.
The team certainly has some prime-time personnel and it starts with head coach, Tommy Tuberville. In just his first year, the former Ole Miss, Auburn and Texas Tech head man was able to continue the success of his predecessor Butch Jones. Tuberville is 139-81 as a head coach, won 5 SEC Western Division Titles, won an SEC championship, and completed an undefeated season at Auburn in 2004. He certainly has the chops to foster a winning tradition at Cincinnati, and a W against the Buckeyes in their own house would go a long way in doing exactly that.
This season, Tuberville will have former Notre Dame quarterback, Gunner Kiel at his disposal. Kiel sat out last year after transferring from the Fighting Irish and will be available to play this season. All signs point to Kiel grabbing the starting job, and if Cincinnati's spring game is any indication, he may have won it. In the Bearcats' scrimmage, Kiel went 17-22 for 300 yards and three touchdowns.
In addition the Bearcats will return their two leading rushers, Hosey Williams and Ralph David Abernathy IV. The duo combined for 1,173 yards and 9 touchdowns.
Cincinnati's backfield is certainly shaping up, but it's their defense that grabbed the headlines last season. The Bearcats finished the year in the top 10 in total defense giving up just 315.6 total yards per game. Yards were hard to come by, and points were just as tough. At season's end Cincinnati surrendered 21 points a game, good enough for 14th in the nation.
Make no mistake, Tuberville will have Cincinnati ready to face the Buckeyes on September 27th. The question is: will Urban's boys be ready to take on the Bearcats?
Trap Game No. 2: Minnesota

After what will undoubtedly be B1G game of the year in East Lansing, the Buckeyes will travel to Minnesota to take on the Gophers. No matter what happens against the Spartans, there is a possibility the Buckeyes wont be ready to play this game. Beat Michigan State and they're riding high, looking ahead to the B1G championship. Lose and you've probably got a team whose morale is in shambles.
Either way, the Buckeyes will have to lace 'em up and fight the Gophers the following Saturday, and this isn't your dad's Minnesota.
Last season the Gophers went a surprising 8-5, reeling off a pair of four game win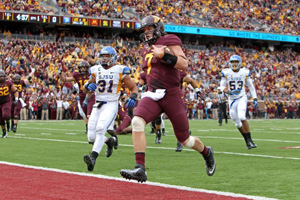 streaks before losing their last three games of the season. 2013 was certainly a step forward for a team that went 3-9 just two seasons ago.
Leading the 2014 Gophers will be sophomore quarterback Mitch Leidner who looks to be a good fit in Minnesota's read-option offense. The 6'4'' 235 lbs Leidner doesn't shy away from contact and rushed for 407 yards and 7 touchdowns last season on 102 carries.
Behind Leidner will be an impressive back in senior David Cobb. The Texas native led the team in rushing last season with 1,202 yards on 237 carries, becoming the first Gopher to eclipse the 1,000 yard mark since 2006. Cobb will get most of the carries, but redshirt freshman Berkley Edwards shined during the spring game. Edwards could help spell Leidner with junior Rodrick Williams.
On defense, the Gophers will return quite a few pieces from a defense that gave up just 22.2 points per game last season (good enough for 25th in the country). Defensive end, Theiren Cockran (led the team in sacks with 7.5) and linebacker, Damien Wilson (second on the team in tackles with 78) are expected to shine. 
Simply put, Jerry Kill's boys could do some damage if they put together a complete effort on November 15th. 
---
Trap games are the stuff of nightmares for teams looking to get their hands on the crystal football at season's end. Good teams avoid them, mediocre teams swallow them hook, line and sinker. If the Buckeyes want to tally their third consecutive undefeated regular season, they can't let up against Cincinnati and Minnesota. Both are in the process of setting their traps as we speak.