Every year, Ohio State's football program leans on a crop of seniors for leadership and, hopefully, production. The results can be mixed in an era where the elite players often leave Columbus before playing four years of college football. 
For instance, Jim Tressel's 2002 national championship team had just 13 total seniors and only seven of those were legit contributors. 
The different sides of the ball can also see huge swings in senior production. In 2002, Tressel had one senior contributor on offense, Chris Vance, and he didn't exactly set the world on fire with 178 receiving yards and three scores. Meanwhile, the defense was loaded with eight contributing seniors including names like Mike Doss, Matt Wilhelm and Cie Grant.
Urban Meyer's perfect 12-0 debut also featured lopsided senior production with an offense boasting a mere two contributors as the defense leaned on eight guys in their final season including Zach Boren, John Simon and Etienne Sabino. 
Last year, the tables turned as the offense had no less than nine guys play big time roles including the team's leading rusher (Hyde) and receiver (Philly) along with four of the five starters on one of Ohio State's best offensive lines in recent memory. And the backup quarterback wasn't too shabby either. 
The Bullets however, featured only two solid seniors in C.J. Barnett and Christian Bryant, with Bryant's season cut short after five games due to injury. Pitt Brown was also a senior, ranking 6th on the team in tackles but most fans would've been fine with freshman Vonn Bell starting instead.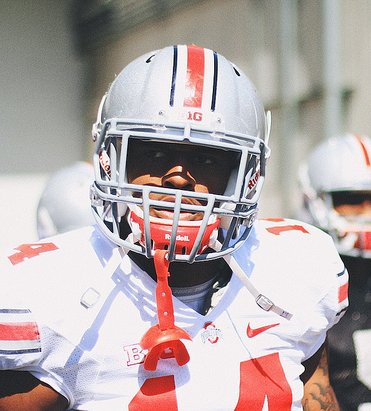 Similar to last season, the 2014 defense won't have a ton of seniors though the trio of Michael Bennett, Curtis Grant and Doran Grant will be counted on heavily for both leadership and production. Bennett and D. Grant in particular are known commodities and potential all-conference performers but C. Grant is more of a wildcard. Could this be the season the five-star puts it all together giving the team a much needed boost? It's possible but far from certain based on what he's shown. 
Of course, no senior on the roster projects to match Braxton Miller's production but while the offense boasts seven guys in their final season looking to contribute, there are indeed question marks. 
Wide receiver Devin Smith was Ohio State's 2nd-leading receiver last year with 44 grabs for 660 yards and eight scores but his production was far from consistent. Some of that can be pinned on Miller's sketchy second half passing-wise combined with Herman/Meyer becoming overly conservative on offense but there's no question Smith disappeared as he recorded a meager six grabs over the final five games. 
Fellow senior receiver Evan Spencer is a bit of an enigma. Despite a few highlight reel snags, Spencer has never recorded more than four catches in a collegiate game and is coming off an ugly injury in the Orange Bowl that kept him out of spring drills. 
With Smith back along with Dontre Wilson and a host of young guys Meyer is excited about along with transfers Jeff Greene and Corey Smith (juco), Spencer will have to prove he's healthy and able to be productive or the staff may favor developing younger guys capable hitting homeruns. 
Though Spencer's contributions are tough to predict, Jeff Heuerman is primed for a big season provided Tom Herman and Meyer give the Florida product a chance to better his 26 catch, 466 yard junior campaign. 
Conversely, Rod Smith has always been more hype than substance for a handful of reasons and he enters his final season on the outside looking in of a deep but unproven running back rotation. Is there a chance the light goes on and he is a consistent contributor? That seems a far-fetched scenario at present. 
Of course, it all starts up front and with Ed Warriner forced to replace four starters two seniors hope to emerge. On some level, 5th-year senior Darryl Baldwin has already done so with the news he is slated to start at right tackle but considering the season opener will serve as his first career offensive start at this level after arriving at Ohio State as blue chip defensive lineman, there's at least some cause for concern. Another senior who made the switch from defense to offense, Joel Hale, is battling Antonio Underwood for the left guard spot and figures to at least see spot duty. 
Time will tell if the senior class can help vault the Buckeyes to the top of the college football heap for the first time since 2002 and considering the four-year guys have yet to experience a bowl victory, nothing would be sweeter.