Year two. It's always been about year two. It's the money year. The year when everything comes together. For Urban Meyer, that's been the case at every one of his head coaching stops.
At Bowling Green it took Meyer two years to turn a 2-9 football team into a squad that went 17-6. In year two at Utah, Meyer went undefeated, a feat that included a win over Pitt in the Fiesta Bowl. Then in his second season at Florida, Meyer summited the mountain, taking his one-loss Gator hell-machine into Glendale to defeat the heavily favored Buckeyes in the national championship.
Year two in Columbus didn't deliver the crystal football many fans hoped for, but it's hard to call an undefeated regular season a disappointment. Yes, year two has been special for Meyer, but what about year three?
Urban's 2014 will mark just the second time in his head coaching career he's had a third go. So, can we learn anything from the only sample in our sample size?
2007 began with expectations galore. Fresh off a national championship Urban's Gators were hungry for more. His team was rife with talent, but it was young. Two stellar recruiting classes stocked the cupboards, but Florida was faced with replacing a number of upperclassmen including a whopping nine players taken in the draft (including two in the first round: Jarvis Moss and Reggie Nelson), not to mention his senior QB and team leader, Chris Leak.
Still, there was cornerstones to build around. A sophomore named, Tim Tebow would take the snaps under center, while a second year speedster named Percy Harvin would man the edges. The Gators also returned wide receiver, Andre Caldwell and defensive end, Derrick Harvey; preseason Maxwell and Bednarik watch-list candidates respectively. Surprising to most, these players would be molded by a coaching staff that remained impossibly intact after winning it all, giving Meyer a third straight year with the same assistants.
Florida rattled off four victories in their first four games defeating Western Kentucky, Troy, #22 Tennessee and Mississippi before facing Auburn. The Tigers were Meyer's only loss in 2006, so there's little doubt Urban had the tilt circled on his calendar from day-one. Unfortunately for Gator nation, Tommy Tuberville's squad got the best of Florida again, defeating the Gators 20-17 on a last second field goal. The loss was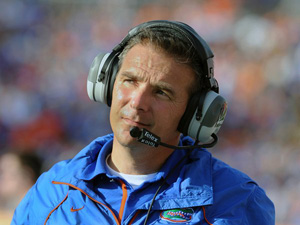 Meyer's first in Gainesville.
Reeling from the defeat, the Gators had to turn around and play #1 LSU the following week. All things considered, Florida played more-than-admirably, losing 28-24 on a Tiger touchdown with a minute left. Suddenly the defending national champs were 4-2.
The Gators bounced back in week seven beating #8 Kentucky in Lexington but would fall again to #20 Georgia the following week rendering Meyer and co. 5-3. Oh to be a fly on the wall in practices following that third SEC loss.
The Gators pulled themselves off the mat to finish the season 9-3 including a win over arch-rival Florida State in Gainesville. Despite the three losses, Tebow put together one hell of a season becoming the first player in college football to rush and pass for at least 20 touchdowns in the same year. He finished the season with 3,286 yards and 32 passing TDs while rushing for 895 yards and an additional 23 TDs.
The Gators earned an invitation to the Capital One Citrus Bowl to take on Michigan in what would be Lloyd Carr's swan song. Somehow the same team that did this went on to beat a team with a Heisman trophy winning quarterback. Color everyone surprised.
The loss knocked Florida to 9-4 and made the Gators just the second defending national champion to fall in a non-BCS bowl game the following year.
It appears year three isn't as magical as year two for Meyer, but as aforementioned, a sample size of one isn't really a sample at all. Still, there are parallels: a team losing a number of seniors, a Heisman trophy hopeful at QB, a team stocked with recruiting talent and national championship expectations.
The hope among Buckeye Nation is those similarities are the only thing linking the 2007 Gators and the 2014 Buckeyes. Patterns should stay in year two, right where Urban Meyer likes them.