Yesterday, Sam York, a 6-foot-1, 215-pound longsnapper from Marblehead (Mass.) accepted an opportunity as a preferred walk-on at Ohio State in the 2014 class. York is an exceptional young person, and it didn't take long to figure out that in a brief conversation with him.
"This all became a possibility two weeks ago when I went out to Columbus for a visit," York told 11W about this opportunity. "I started taking with OSU about a month ago and they invited me out to campus three weeks ago. I had no definite plans (for college) prior to Ohio State. I had been in contact with many other schools and I was trying to find where I'd fit best. I was offered a preferred walk on spot on my visit."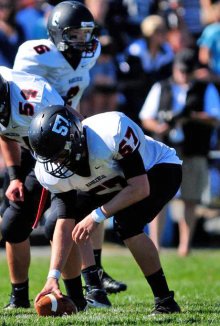 Interestingly, one of the schools that was willing to give York the same consideration Ohio State had was the University of Michigan, although I didn't know that when I asked him what school he meant by this innocuous tweet a few days ago.
It just got crazier...#blueorscarlet
— Sam York (@SamYork77) February 11, 2014
As it turns out, that "blue" was a familiar one to Buckeye fans.
"That 'blue' was the Team Up North. They too had offered me a similar opportunity, but the overall package that Ohio State had to offer was unbeatable," he said of why he chose the Buckeyes over the Wolverines. "Ohio State has the most impressive football program in the country and to play for Urban Meyer is one of the greatest honors one can possibly ask for. Along with the excellence of the football program, the College of Engineering at Ohio State is an outstanding fit for me especially in terms of the automotive concentration."
"When I visited campus, Greg Gillum and Ms. Lisa Barclay of the College of Engineering made me feel welcome, comfortable, and I felt as though they were looking out for my best interest not only as an athlete, but as a student as well. There was no question that Ohio State would be the best fit for me."
Now just months away from getting to campus where he'll be one of three long-snappers on the football team, the future Buckeye is looking for ways to contribute immediately, even if he's not the one on the field right away. Of course, as the nation's second-ranked long-snapper by the Ray Guy's ProKicker Academy, the 2013 national champion long-snapper believes he has a chance to play. Next year.
"I plan on making an impact the second I step foot on campus. I think of myself as a leader and a role model," York said of his plans for his freshman year. "I take my studies seriously and I have a work ethic that I hope will impress my teammates and the coaches as well. I have an opportunity this year to make an impact on the field and redshirting was never discussed between the coaches and me."
York did however discuss eating with Buckeye nutrition staff, and he knows that as a long-snapper he's destined to remain a bit more nimble than a traditional offensive linemen, but some big eating is still in his future.
"I'm a long snapper, not too many of us are that big. I need to quick and agile as well as big enough to eliminate space on the line for field goals," he said of where his frame could end up. "Bryce Haynes, who has started the last few years for the team, is 220 pounds and he is one the most dominant long snappers in college football right now. While I am in the process of gaining weight, it's very controlled and I'm positive that 300 pounds is not in my future, I like to eat as much as anyone, but I plan on gaining the weight required by my coaches."