Urban Meyer likes to build defenses that can get into the backfield and disrupt plays before they start. For anyone that needs a reminder (click at your own risk). Since he arrived his staff has made a point to recruit defensive athletes who exhibit the ability to break through the line of scrimmage in a hurry.
This year's iteration of the Silver Bullets left a lot to be desired, but as the weeks wore on it was apparent the glaring issues were emanating from the secondary (a unit thought to be one of the team's strengths heading into the season) while the defensive line (viewed as a deficit to start the year) became a terror for opposing teams.
As they say, everything starts in the trenches and the Buckeyes' group of Noah Spence, Joey Bosa, Michael Bennett, and Adolphus Washington were no exception. The unit was the driving force behind the Buckeyes' 90 tackles for loss and 41.5 sacks on the season. Those numbers look solid, but how do they stack up against Silver Bullet squads of recent memory? The answer…pretty darn good.
Here's a chart of total team tackles for loss and sacks over the last nine seasons:
| Year | TFL | Sacks |
| --- | --- | --- |
| 2005 | 82 | 43 |
| 2006 | 93 | 38 |
| 2007 | 96.5 | 40 |
| 2008 | 76 | 27 |
| 2009 | 78 | 30 |
| 2010 | 74 | 23 |
| 2011 | 66 | 32 |
| 2012 | 64 | 30 |
| 2013 | 90 | 41.5 |
Right away, the 2007 team jumps off the page in terms of tackles for loss with 96.5. That number was powered by All-Beast-Everything, Vernon Gholston, who tallied 15.5 tackles for loss and 14 sacks (No. 1 in the OSU record book for a season).
Other notables on that squad included James Laurinaitis (8.5 TFL, 5 sacks), Larry Grant (9.5 TFL, 5 sacks), Cameron Heyward (10 TFL, 2.5 sacks), Anderson Russell (7 TFL, 3 sacks) and Marcus Freeman (9.5 TFL, 1.5 sacks). The group was more than good at making their presence felt in the back-field and also managed to put the quarterback on the ground 40 times during the year, good enough for third over the last nine seasons.
Right behind the 2007 group in tackles for loss is the 2006 team with 93. Many of the same players listed above made an impact in the undefeated regular season run. Add Quinn Pitcock to that list (12 TFL, 8 sacks) and you have a squad that was hitting ball-carriers behind the line of scrimmage with consistency.
Believe it or not, your 2013 Buckeyes come in next on the list with 90 tackles for loss on the season. Ryan Damn Shazier is to thank for 23.5 of them, but that shouldn't downplay the role other Silver Bullets played in stuffing the opponent.
Noah Spence tallied 14 TFL, Joey Bosa had 13.5, Michael Bennett notched 11.5 and the oft injured Adolphus Washington had 4. For those counting at home that's 48% of the team's TFL production coming from players who will be returning next season.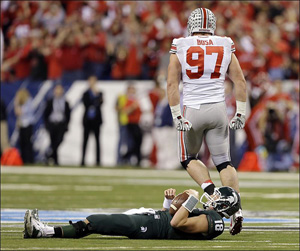 When looking at total team sacks the picture gets even rosier. Leading the charge in terms of sacks over the course of the last nine seasons is the 2005 team that tallied 43 on the year. That squad was led by senior, A.J. Hawk who had 16.5 TFL and 9.5 sacks. Others getting in on the action were Mike Kudla (11.5 TFL, 9.5 sacks), Bobby Carpenter (10.5 TFL, 8 sacks), Donte Whitner (9 TFL, 4 sacks) and David Patterson (7.5 TFL, 4 sacks).
But, coming in just behind those household names are…you guessed it, your 2013 Buckeyes with 41.5 sacks on the year. Let that soak in for a second. The team last season ranks second in sacks over the past nine years. Remember that whole Urban wanting players who get into the backfield thing? It's becoming a reality.
But, unlike other teams on the list above, the 2013 team spread those sacks out. Last year there were no 14 sack Gholstons. The 2013 squad (much like the 2005 team) got to their second overall ranking by generating major production from a number of different players. In total, four different Buckeyes put together 7+ sack seasons (Shazier, Spence, Bosa and Bennett), while five more tallied more than one sack (Curtis Grant, Washington, Jamal Marcus, Steve Miller and Chase Farris). Of those nine individuals, seven are returning in 2014.
Why is this good? Because the opposition has a lot of heat to account for. With so many players able to get pressure, it creates nightmares for an offense while opening up a myriad of defensive play-calling possibilities, particularly at the second and third levels.
---
Meyer is recruiting fast and agile high-schoolers to play on his defenses moving forward. It's no coincidence that three of the team's top six leaders in TFL and sacks are Meyer recruits. That's major production from players who are in just their first or second seasons in the program. If that trend continues, it's going to be hard for opposing teams to cross the line of scrimmage for years to come.