Ohio State will start the 2014 season in Baltimore with less than ideal circumstances. Major staff readjustments came for the defensive side of the ball after the unit was abysmal in 2013 by Ohio State's lofty standards. On the offensive side of the ball, one of Ohio State's best ever offenses loses Urban Meyer's first 1,000-yard-rusher tailback and four of five starters on the offensive line. The hope was a three-year-starter at quarterback could use his experience as a senior to guide Ohio State into the first college football playoff.
With the recent news that Braxton Miller will sit out the 2014 season with an injury suffered less than two weeks before the start of the season, Ohio State's situation in the Big Ten and nationally looks more precarious.
However, losing a senior starting quarterback for the season is not a new story for Ohio State football. In fact, the last senior to finish his career starting at quarterback to date was Troy Smith in the 2006 season. This omits Todd Boeckman's curious start at quarterback for the 2009 Fiesta Bowl after he lost the starting job three weeks into the season.
How have past Ohio State teams fared after losing a would-be returning senior quarterback for the season? Alternatively, how have freshman signal-callers fared when installed as starting quarterback on the fly? If history were a guide, the answer would be "well enough", but not great. In what follows, I discuss past Ohio State teams that have lost a senior QB for the season before the season started, how their season unfolded, and conclude with what it may mean for Ohio State in 2014.
One of the first and most prominent examples of an abrupt leadership change at quarterback came in 1978 when Art Schlichter replaced Rod Gerald at quarterback. The change was surprising for Ohio State fans who knew nothing of the inner workings of the fall camp that summer.
The situation was not quite identical to what Ohio State will encounter this year. In 1978, Rod Gerald, a two-time Big Ten champion quarterback and Orange Bowl MVP, was moved to split end and Art Schlichter, a true freshman, debuted in the season-opener as the quarterback. This change was in the work the entire summer as part of a recruiting pledge Woody Hayes made to the Schlichter family to get Art to sign with Ohio State over Michigan and Penn State. Art Schlichter wanted to start the first game of the season. Woody Hayes was willing to make that promise. Bo Schembechler and Joe Paterno were not.
The immediate result was disastrous. Ohio State committed nine turnovers, five of which were interceptions, and was shutout 19-0 in its last shutout loss at home and last home-opening loss to date. The Buckeyes won just two of their first five games that year. After a 27-16 loss at Purdue, the first loss to the Boilermakers in 11 years, Ohio State won five straight to get a shot at winning another Big Ten championship. The Buckeyes lost 14-3 in the season finale to Michigan to solidify its position in fourth place in the Big Ten, ending its run of five consecutive Big Ten championships. The loss in the Gator Bowl to Clemson saw the conclusion of Woody Hayes' coaching career with a 7-4-1 season.
Ohio State put points on the lesser teams in the Big Ten, including 63 on Northwestern, 49 at Wisconsin, and 45 on Illinois in a three-game stretch. However, offense was always the problem in 1978. Woody Hayes' Art Schlichter experiment was not successful in 1978. The problem was akin to a square peg and a round hole. Woody Hayes tried to shoehorn Schlichter, whose best talents lay with his arm and passing ability, into an offense still tailored for previous quarterbacks like Rod Gerald and Cornelius Greene. It allowed Schlichter to be one yard behind Paul Campbell from leading Ohio State in rushing in 1978 (590 yards, 157 attempts, 13 TDs), but the passing statistics were harsh. Schlichter completed 87 of 175 passes for 1,250 yards, four touchdowns, and 21 interceptions. Ohio State's offense struggled against every good team it played in 1978.
The other noteworthy example was the recent departure of Terrelle Pryor from the program. At first suspended for the first five games of the season, Pryor's issues with the NCAA and Ohio State's football program grew until he withdrew from the university. Left in his wake was a quarterback competition between Joe Bauserman and true freshman Braxton Miller.
Bauserman won the competition and guided Ohio State to opening wins against two MAC teams. Ohio State had no problem dispatching Akron but needed a stop late in the fourth quarter to stave off Tim Beckman's Toledo Rockets. Things unraveled the next week in Miami against what would be a .500 Miami Hurricanes team. The Buckeyes lost 24-6 in a game in which the Buckeyes failed to score a touchdown and were shutout in the second half.
Braxton Miller won the starting quarterback spot for the next week against Colorado, a 37-17 win over what would be the worst team in the Pac-12 that season. Things did not improve. Ohio State was almost shutout at home in a 10-7 loss to Michigan State and suffered one of the season's most infuriating defeats the next week to Nebraska. Ohio State won its next three games but lost its final four, finishing with seven losses to six wins.
Like 1978, offense was the problem. Ohio State had the 115th-ranked passing offense in college football that season and the worst passing offense in the Big Ten, averaging just 127 yards through the air. The 27th-ranked rushing offense could not overcome a total offense that finished 107th in the country. Miller led the Buckeyes with 1,159 yards on 157 attempts and 85 completions.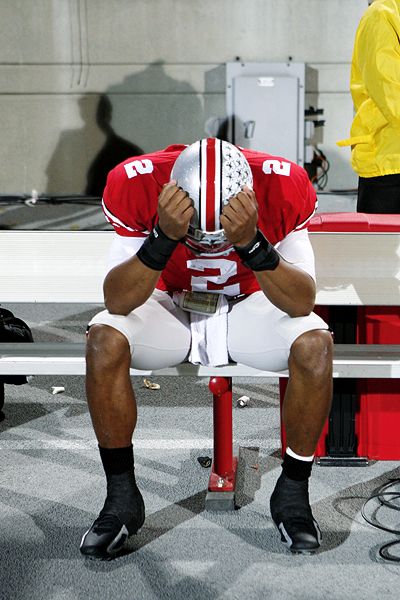 If we generalize Ohio State's predicament this season to be similar to those where a freshman quarterback was compelled to start mid-season, the 2008 Ohio State football team offers an allusion to a rosier outcome. Terrelle Pryor was given the starting nod over Todd Boeckman following Ohio State's 35-3 loss at USC and guided Ohio State to a share of a Big Ten championship that season. Ohio State lost just one regular season game since Pryor took the starting job.
However, few games from 2008 were pretty. Ohio State fans may remember how grim the 13-6 loss was to Penn State at home. Two weeks earlier, Ohio State failed to score a touchdown in a 16-3 win against Purdue. Only the wins at Michigan State and at Northwestern showcased an offense that looked functional overall.
The biggest problem was the lack of a passing offense. Ohio State's passing offense tallied just 150 yards a game that season, seven yards in front of a Michigan's worst ever team.
If history were our guide to understanding Ohio State's current predicament, what might Ohio State fans expect of a 2014 team that lost its senior quarterback before the season starts and will feature a freshman at the helm?
I am skeptical of doomsday scenarios for Ohio State this season without Braxton Miller. For one, I don't think skeptics can bemoan the quality of Big Ten football and say that Ohio State, with all the athletes it recruits, is bound for a season similar to 2011. I'll grant one, but not both. Ohio State should win some games, some even handily, by virtue of a talent differential that favors Ohio State in most matchups. References to some of the wins in 2008 and late-season push in 1978 are appropriate.
Ohio State's cause in 2014 will be helped by an offensive coaching staff more competent and modern than past coaching staffs. Ohio State's 1978 offense was a case of a square peg in a round hole. Woody Hayes tried to revamp the offense into a more of a passing game without a firm idea of what he was doing. Schlichter's true freshman credentials only made matters worse. Beanie Wells was Ohio State's offensive identity in 2008, especially during conference play. Ohio State did not have an offensive identity in 2011 and had just lost the architect of the program to a resignation. By contrast, Ohio State's offense under Urban Meyer has a firm identity even if the coaches find themselves getting "off-balance".
Further, the situation in 2011 was more than just losing a senior quarterback. The starting left tackle and starting tailback were suspended five games. DeVier Posey, the team's starting split end, was suspended ten games. Jim Tressel, the de facto offensive coordinator, resigned in May. A 6-7 season during a period in which coaches and players were waiting for shoes to drop seems quite remarkable, all things considered. With comparable, but not quite as extreme, circumstances, Arkansas limped to a 4-8 season in 2012. Even that 4-8 season was padded by playing Auburn and Kentucky, who both finished with a combined 5-19 record.
There is legitimate cause for concern, though. Ohio State fans should be more concerned now about the situation on the offensive line. Ohio State fans hoping to write off the attrition at offensive line by reference to a senior quarterback with an uncanny ability to scramble and shake defenders no longer have that luxury. In this regard, a comparison to the worst elements of the 2008 football team are appropriate.
Greater concern about the quality of the defense is warranted. Ohio State may need to win games on the quality of its defense like it was able to do in 2008 and, to a lesser extent, 1978 with Tom Cousineau's presence. Ohio State's defense was the difference in making that 49-14 win against Wisconsin in 1978 look as lopsided as it did in the box score.
Ohio State fans optimistic about a possible double-digit win season should still expect some major offensive hiccups. This is a feature shared among the 1978, 2008, and 2011 teams. Ohio State lost a football game 13-6 in 2008 and won one by a score of 16-3, both without scoring an offensive touchdown. Ohio State lost a football game 10-7 in 2011 and won one 17-7 two weeks later. Ohio State completed just one pass in that win at Illinois.
Ohio State could still throw some bombs on offense in a couple games, but there will be at least one game in which Ohio State struggles to gain traction with an offense that lost its senior QB shortly before the season began.
Further, the 2014 season may see J.T. Barrett buckle under the lights or in a high-stakes road game. Art Schlichter's shoulder was dinged the week before the Purdue game. Having not practiced until Thursday, Schlichter quarterbacked a Buckeye team to six fumbles in the loss to Purdue. The loss in West Lafayette put Ohio State behind in a Big Ten championships race from which it did not recover.
Similarly, Terrelle Pryor buckled under the pressure in the home loss to Penn State in 2008. The fumble on the fourth-down QB sneak was the defining moment of that contest. Similar offensive implosions dot Ohio State's campaign in 2011, especially at Lincoln and at Miami.
With that in mind, Ohio State fans should not be surprised if Ohio State enters East Lansing as underdogs and its offense plays like it. Fans should also not be surprised if Virginia Tech's celebrated defensive coordinator, Bud Foster, finds creative ways to confuse J.T. Barrett.
The trips to Penn State and Maryland become more interesting as well. Ohio State enjoys a talent advantage over both, but the Penn State game will be at night and Maryland's offense will be able to score on most teams it plays this season. Ohio State's offense malfunctioning in both those games under a freshman quarterback could make them more competitive than they would be if Ohio State's senior quarterback were healthy.