No moment from Sunday's Under Armour Next camp in Obetz, Ohio drew more attention than Garrett Stover's interception during linebacker vs. running back one-on-ones.
Matched up with Michigan running back commit Jordan Marshall, the Ohio State linebacker commit made the most of the opportunity to earn some bragging rights over his future rival as Stover ran step-for-step with the four-star Cincinnati running back before making a clean play on the ball to grab a jump-ball away from Marshall for a pick.
Ohio State linebacker commit Garrett Stover makes the interception in coverage against Michigan running back commit Jordan Marshall: pic.twitter.com/xO3ziuQs1Z

— Dan Hope (@Dan_Hope) May 7, 2023
It was no coincidence that Stover was matched up with Marshall on that rep, as the two highly touted Ohioans – the top-ranked running back and the top-ranked linebacker at the camp – made efforts to ensure they'd have the opportunity to go head-to-head. And Stover, ranked two spots behind Marshall among in-state prospects as the fifth-ranked Ohioan in the 2024 class, had extra motivation to make a big play knowing he was going against a future Wolverine.
"We were planning it, making sure that he was going up when I was, so I knew I had to show out, especially letting everybody know that the Buckeyes are still on top," Stover said after his camp workout concluded.
Stover's athleticism and coverage skills shined throughout his camp workout on Sunday. He showed great fluidity dropping back into coverage and running downfield with running backs while he also showed his speed in measurable testing, even impressing former Ohio State wide receiver Garrett Wilson with a video of his 40-yard dash.
Garrett Stover in coverage: pic.twitter.com/ex0J6gUxuG

— Dan Hope (@Dan_Hope) May 7, 2023
Bra is sliding

— Garrett Wilson (@GarrettWilson_V) May 7, 2023
Stover's coverage ability can be owed in part to his background playing safety, the position he initially earned an Ohio State offer at with his performance at an Ohio State camp last June. After playing linebacker last season for Big Walnut High School, though, Stover plans to continue playing that position at Ohio State.
While Stover was just 195 pounds when he worked out at Ohio State last summer, he's up to 210 pounds now and has a frame conducive to continuing to bulk up. And he's become comfortable playing in the box after starting his high school football career on the back end.
"Now, I kind of got in the feel of things and everything, it's just where I'm at," Stover said of playing linebacker. "I was working safety and stuff like that, kind of going back and forth, but now I think I'm comfortable there."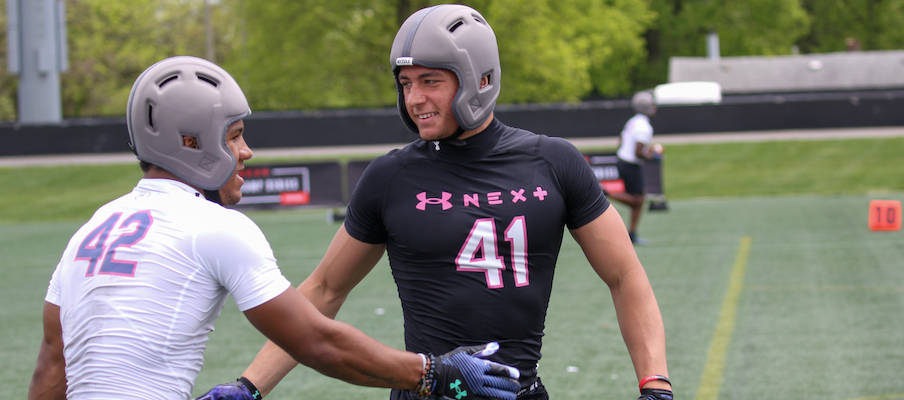 That said, Stover says he's willing to play wherever Ohio State wants him to play. And in the modern era of football where coverage ability is just as important for a linebacker as making plays around the line of scrimmage, Stover believes his experience playing both linebacker and safety will help him become an impact player for the Buckeyes.
"Just footwork in general and knowing where you place your hands and just all that coverage stuff, it helps a lot. And just for a linebacker, taking that to covering running backs instead of receivers, it helps a lot," Stover said.
Stover has already built a close relationship with his future Ohio State defensive coordinator and linebackers coach, Jim Knowles.
"It's great. I mean, you'd think he's been coaching me for 10 years. We've really built a strong relationship together," Stover said of Knowles. "He came to see me last Wednesday, and it was just, he was great. He's a great dude. I love him."
Stover thinks just as highly of Ohio State's new assistant linebackers coach, James Laurinaitis, who Stover started getting to know last year when Laurinaitis was a graduate assistant at Notre Dame.
"I love him to death, too. He's great," Stover said of Laurinaitis. "I first met him when he was at Notre Dame and I went to their camp and he really took me under his wing and really liked how I play the game and how I was coachable and everything and we kind of built the relationship right from there. We stayed in touch after that, and when I knew he was coming to Ohio State, it made my commitment that much better. So he's another one of those dudes where you just, you fall in love with."
Stover says he plans to be at Ohio State for some of its camps this June to be around Knowles, Laurinaitis and Ohio State's other 2024 commits, and he's planning to enroll early to begin his career as a Buckeye next January. As one of just two defensive commits in Ohio State's 2024 class so far, Stover's also working hard to help the Buckeyes recruit other players in his class, including fellow linebackers Kyngstonn Viliami-Asu and Edwin Spillman and Ohio cornerbacks Aaron Scott and Bryce West.
"Kyngstonn and Edwin Spillman they're the kind of top two (linebacker) targets that I know are taking official visits, and I'll be there with them," Stover said. "There's a lot of Ohio guys, Bryce and Aaron especially, that really are considering coming to Ohio State. And we're just trying to seal that deal with them, too, as quick as possible. So we can get this class rolling."
Before he begins his Buckeye career, though, Stover wants to finish his high school career with a big senior season at Big Walnut.
"We got a new coaching staff coming in and really, I just kind of just want to go out with my best friends and just have the best senior year possible. Just really make sure I'm dialed in and do anything I can to make sure every single play like it's my last," Stover said. "And I want to win Mr. Football."
Stover said his motivation to win the Mr. Football award comes from his cousin, Ohio State tight end Cade Stover, who won Ohio Mr. Football honors during his own senior season at Lexington High School in 2018 before beginning his own Buckeye career.
"He's always told me like enjoy your senior season and win Mr. Football," Garrett Stover said. "He won it, it'd be really cool if I did. So I'm just trying to work as hard as I can every day to achieve that. And I know it matters what I do now and not necessarily waiting until that moment, so just kind of building up for that, and that's the end goal."