KETTERING – After C.J. Hicks muffed a punt during the third quarter of Archbishop Alter's game against Carroll High School on Friday night, the five-star Ohio State linebacker commit was hit with a chant from the opposing student section that's often used against highly touted prospects like him: "Overrated! Overrated!"
It didn't take long for Hicks to quiet the visiting crowd down.
On the very next play after the muffed punt, which Hicks recovered himself, the Knights' do-it-all playmaker – who starts at running back, linebacker, kickoff returner and punt returner for Alter – broke through the middle of Carroll's defense and took for a 70-yard touchdown run to extend the home team's lead to 42-0.
Make it three touchdowns for C.J. Hicks, who broke off a long touchdown run to extend Archbishop Alters lead to 42-0 right after the Carroll student section directed an Overrated chant his way. pic.twitter.com/qiG8p2y1Ue

— Dan Hope (@Dan_Hope) October 16, 2021
Given the lopsided score of the game and the way Hicks performed all night, the chant from the student section was inaccurate even before that touchdown. Albeit against a team with a 1-7 record this season, Hicks looked every bit the five-star prospect he is on Friday night as he scored three touchdowns on offense while making multiple tackles for loss on defense, including a sack that led to a "Captain Buckeye" chant from Alter's student section.
The Alter student section chanted Captain Buckeye! after this C.J. Hicks sack. pic.twitter.com/pGn4AonjBh

— Dan Hope (@Dan_Hope) October 15, 2021
Hicks, who bowed to the Carroll student section as they continued to jeer him after the game, said he relished the trash talk as the Knights blew out the Patriots for the second year in a row.
"They always talk trash. Last year when we played them, it was like 42-0 in the first (half), but after each quarter, they had a poster with Coach Day on it and me and they had five stars. After each quarter, they would pull down a star. They'd say, 'Oh, you're losing a star, so you're not gonna go there,'" Hicks said. "I just love their student section, even though they do talk a lot of trash. I like that stuff."
That attitude will serve Hicks well next year when he starts his career as a Buckeye. Of course, he'll have plenty of fans cheering for him on Saturdays when he plays his home games inside Ohio Stadium, and he's already gotten a good feel for that this year, as he's been in attendance for each of the Buckeyes' first four home games this year – something he's really enjoyed after the COVID-19 pandemic prevented recruits from making visits in 2020.
"I love it," Hicks said of attending games at the Shoe. "Talking to the other recruits, talking to the coaches, getting to see some of the guys that I have personal friendly relationships with just go out there and ball. Like Denzel (Burke), Denzel's been playing crazy. Same thing with TreVeyon (Henderson). It's great."
Ohio State has not only been able to count on Hicks to be at the Shoe for every home game this season, but also on him trying to convince the other recruits in attendance to become Buckeyes. Before last weekend's home game against Maryland, Hicks was seen walking around the sidelines with five-star cornerback AJ Harris, one of Ohio State's top targets in the 2023 recruiting class – though he said they were talking about life more than football.
"We already know where each other's mindset is," Hicks said of Harris. "We're just focused on building the relationship with me and him, my parents with his parents and just trying to get him to come be a Buckeye."
Hicks, who earned his "Captain Buckeye" moniker because of how actively he recruits other players to join him at Ohio State, has also been recently recruiting several other top targets on Twitter, including 2022 safeties Xavier Nwankpa and Zion Branch, 2023 safety/linebacker Sonny Styles and 2023 linebacker Troy Bowles.
#GoBucks @Aj_harris04 #HarrisToColumbus @xaviernwankpa01 #NwankpaToColumbus@zionbranch #BranchToColumbus

— CJ KING Hicks (@imcjhicks) October 13, 2021
Yall know the move @sonnystyles_ @TroyBowles11

— CJ KING Hicks (@imcjhicks) October 6, 2021
Ohio State hasn't landed a commitment in the recruiting class of 2022 since July. With the reclassification of Quinn Ewers as well as the decommitments of Jaheim Singletary and Dasan McCullough, the Buckeyes have dropped from first to seventh in the class rankings. That certainly has Hicks and the Buckeyes anxious to add some more top prospects to the class over the next couple of months, but at the same time, Hicks isn't trying to pressure anyone into making a commitment before they're ready.
"People have set dates they want to commit and since the visits did open back up and games are opening back up, people want to just wait and just set their certain dates," said Hicks, who noted Ohio State fans should expect some good news soon. "Some guys are committing on their parents' birthdays, some guys are committing on their birthdays, so I'm not gonna rush anything."
As for the 14 players who are committed to Ohio State's class of 2022, which give the Buckeyes the second-highest average prospect rating for the class behind only Alabama, Hicks says they've grown "really close" with each other.
"On the field, I have played with some of them or just worked out with some of them as well," Hicks said. "But off the field as well, just talking to them on social media and talking to them in person, it's a brotherhood."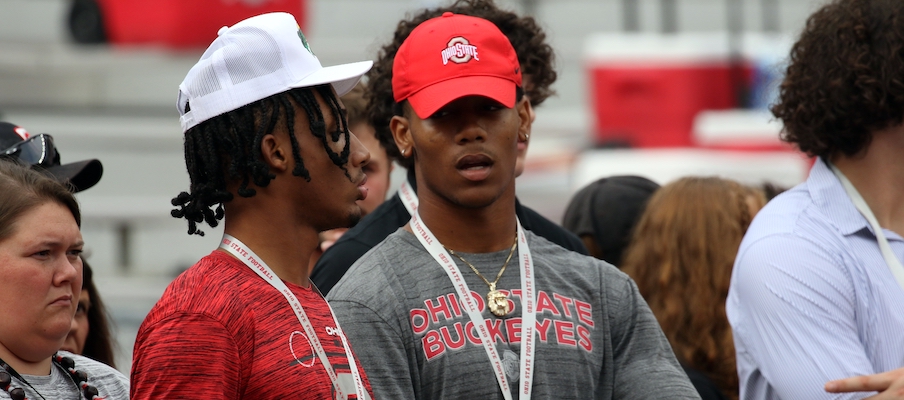 Even though Ewers opted to enroll at Ohio State a year early, Hicks said they still consider Ewers to be a member of their class too and that Ewers still helps them recruit other players in the class of 2022. During his interview with Eleven Warriors on Friday night, Hicks also revealed that Ohio State was planning to put Ewers into last weekend's game against Maryland if it had gotten the ball back again at the end of the game.
"He almost got in last week," Hicks said. "A lot of people didn't know about that. We got a pick-six, so that kind of killed it, but he was anxious to get in. I was happy for him."
Unlike Ewers, Hicks opted to play his senior season of high school football, and that's where his primary focus has remained this fall. His senior season hasn't gone as well as he'd hoped, as Archbishop Alter went just 2-5 in its first seven games, but the Knights have won their last two games and still have a chance to make the playoffs if they can beat Chaminade-Julienne in their regular season finale next week.
"We aren't where we want to be, but taking it week by week and trying to stay focused on making the playoffs right now," Hicks said.
Once the season is over, though, Hicks will begin preparing to begin his career at Ohio State, where he'll be enrolling on January 6. And he's excited for that day to come.
"I can't wait to get up there, just make my mom proud, do the best that I can, do everything for God," Hicks said.
Hicks has been watching the Ohio State defense closely this season, and he's been impressed with the growth he's seen from the Buckeyes over the course of the year.
"I feel like they had a little slow start because everybody was getting used to the change, but since the season kept going on and on, everything's picking up and we're looking like one of the best defenses that Ohio State's had in a long time," Hicks said.
Buckeyes linebackers coach Al Washington and defensive coordinator Kerry Coombs have talked to Hicks about the changes they've made on defense this season, Hicks said, and they still envision him playing Will linebacker in Ohio State's defense. 
Of course, it's far from guaranteed Ohio State's defensive coaching staff will look the same next year as it does now, considering that Coombs had his defensive play-calling responsibilities reassigned to Matt Barnes after the Buckeyes' loss to Oregon. Hicks said he isn't worrying about that, though.
"I love the coaches, even if they do leave or not, I'm still gonna have the relationship with them, so just wish nothing but the best for them," Hicks said.
Out of all the players in Ohio State's recruiting class of 2022, Hicks might be the strongest candidate to play a substantial role right away next season, given that the Buckeyes don't have any firmly established stars at linebacker right now. Steele Chambers has shown a lot of promise at Will linebacker since making the move to defense from running back this offseason, but starter Teradja Mitchell will have a decision to make after the season about whether to return for his fifth year of eligibility.
Right now, Hicks isn't worrying about that either. While he'd love to contribute early and expects to be ready to do so, he says he'll stay patient and wait his turn if he has to.
"It's all part of God's plan," Hicks said. "If God wants me to wait until my senior year, I'll wait until my senior year. If God wants me to wait until my junior year, I'll wait until my junior year. If God wants me to come in and start right away, I'll do that too. It's all part of his plan though."