Last Monday, we broke down the camp performance of five-star Mentor (Ohio) defensive end Brenan Vernon, whose recruiting ranking is going to slip a bit after the Under Armour event.
Vernon is an incomplete and raw prospect right now, and like I said previously, that's completely fine. Losing momentum and key opportunities for development while navigating the dead period and a pair of injuries over the past two years hasn't done Vernon any favors.
For those doubting him, Vernon had a nice and subtle message to the haters as he heads into a big summer.
Youll see https://t.co/86nagsaw2h

— Brenan Vernon (@brenanvernon) April 18, 2021
Don't be surprised if Vernon slips in the rankings and then shoots right back up later in his career. He has the physical tools to do it, and once he gets on campus to work with Larry Johnson (remember, a huge part of Jack Sawyer's development was working with Johnson for three-plus years while being just 30 miles away from the Woody Hayes Athletic Center during his Pickerington North career) he'll get even more refined and see his stock soar as he learns to use his hands and control his body.
"It's tough because there are so many things I can learn from him. He's a guru," Vernon said last Sunday after the camp. "So it definitely has been tough missing out on some of these opportunities, but I just look forward to when I can.
"I just started talking to him recently, but we're gonna pick up once a week from here on out. Just like I was saying, we're just starting to get to know each other. It's gonna start from the ground up, and we're gonna go from there."
Vernon has been hailed as the next-great Ohio defensive end who should follow in the footsteps of Sawyer or Zach Harrison, and he has nabbed comparisons to both Joey and Nick Bosa. Those are huge shoes to fill and mega expectations to get to, and he's just not there yet. He absolutely has the potential to hit this offseason and turn himself into that sort of talent, and he could be headed for a breakout junior season at Mentor.
That's exactly what he's focused on as he tries to lock in on navigating around his college recruitment and navigate around the comparisons that are hurtled his way.
"I'm just focusing a lot on myself and just making sure that I'm the best player and best individual I can be," Vernon said. "And then, to be honest, I'm gonna let the schools take care of themselves. I feel like I'll know what's right for myself once I start finding out more, visiting places and all that.
"I just gotta keep reminding myself and to stay grounded and keep working because it is nice getting that communication from them and knowing their interest and stuff. It is kind of nice being able to do my own thing and not worry about that too much."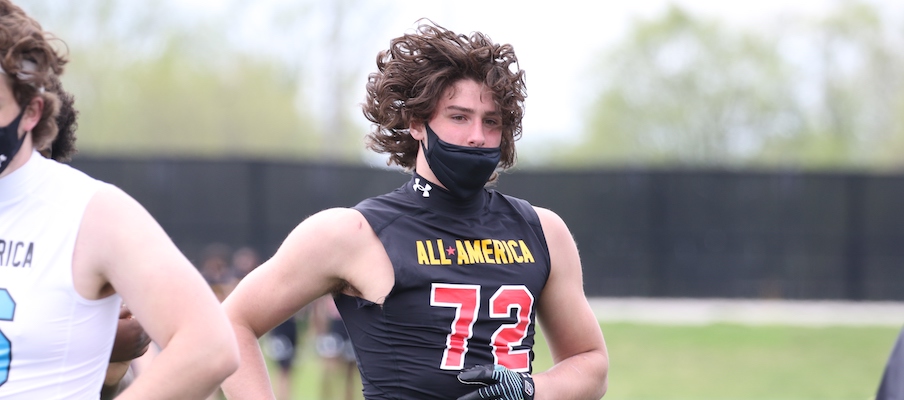 Of course, the country's No. 9 overall prospect and No. 2 strongside defensive end in the 2023 class would be lying if he said he wasn't looking onto the Bosas and Chase Young for inspiration and ways to fine-tune his own craft as a defensive lineman.
He even takes some time away from the books while in class to catch a minute or two of highlights every now and then.
"I'll be sitting at my school in study halls and just be watching them on YouTube just trying to see what I can pick out from their game," Vernon said. "And, of course, I look at the Chase Youngs and Khalil Macks and stuff like that. But I'll definitely be watching (the Bosas) and see what I can get and break down, but definitely a lot more development to occur, you know what I mean? I've gotta learn to use my hands more and use that edge nicely."
Sounds eerily reminiscent of what Sawyer told us long ago back in the fall of 2019, when he told us all about what he's tried to glean from those former stars (including Mack).
What's also a parallel to how Sawyer prepared for budding stardom as a Buckeye is Vernon's willingness to learn from Johnson in their brief periods of watching film together and their discussions on the phone.
"He's trying to make sure I'm staying explosive and using those hands," Vernon said. "My hands aren't exactly the best right now so definitely a lot to improve on. We're just starting from basics and little things right now.
"He likes my aggressiveness and that my motor doesn't stop. He just wants me to stay explosive and fast and those hands and everything will come with time."
There's at least one trait that Vernon possesses that can't really be taught – his motor. That has prevented quite a few defensive linemen in the past from even earning an offer from the Buckeyes and instead has led to waning interest from Johnson and Co. That won't be any sort of weakness with Vernon.
"I'll be honest, my aggressiveness (is my best trait)," Vernon said. "From the time that ball's snapped to the time that whistle's blown, I'm going. My feet aren't stopping. No doubt."
Five-star Mentor, Ohio defensive end Brenan Vernon, one of Ohio States top targets for the recruiting class of 2023. pic.twitter.com/wmxBKNuZlu

— Dan Hope (@Dan_Hope) April 11, 2021
Vernon has a very bright future and all the tools to help him. Now, it's all about him refining and reshaping that toolbox and getting himself to where he needs to be. Johnson will be a major helping hand along the way.
Vernon will also need to stay healthy. A pair of injuries (including a labrum injury and a broken foot, the most recent coming during his sophomore campaign) have prevented him from really getting on a roll. All that stopping and starting has hindered Vernon, but he's looking forward to finally gaining momentum the rest of this spring and throughout the summer.
"It's definitely tough. It took such a toll on me mentally," Vernon said. "I had to start (building myself up) slowly. Adversity really smacked me in the face here, and it's like things started rolling well then hit a plateau and started going down. It's been a process for sure, but we're still getting there. I've just had to dig deep."