The Eleven Warriors staff was out in full force once again on Friday night, covering Ohio State prospects across the state and even out of state this week.
Colin Hass-Hill pulled double duty by watching Ohio State 2022 offensive tackle target Ryan Baer and his Eastlake North squad on Thursday and Buckeyes 2022 quarterback target Drew Allar and Medina on Friday.
Dan Hope ventured over to Northmont to watch 2021 receiver Markus Allen go up against Springfield and a pair of 2022 prospects, safety Delian Bradley and quarterback Te'Sean Smoot.
In the meantime, Zack Carpenter trekked down to Tennessee to see Ohio State 2021 defensive back commit Andre Turrentine in person for the first time.
We recap what we saw from each of those players below.
Andre Turrentine
CHATTANOOGA, Tenn. – During pregame warmups, one of Turrentine's assistant coaches at Ensworth High School told Turrentine's defensive back position group, "It's a special night. Lock it in early."
No one had to tell Turrentine that. Following a bit of an embarrassing 28-6 season-opening loss last week – one in which Turrentine says Presbyterian Christian Academy "came out and kicked our ass" – the Tigers' 6-foot, 175-pound do-everything star was locked in from the start. Other than the specialists, he was the first to hit the field on Friday night, leading his teammates onto the field in a dead sprint, a pissed off and focused look clear to see under his black and orange helmet.
Really, it was that way from start to finish, as Turrentine proceeded to showcase exactly what we thought he would when we headed down to Tennessee – being used in every way imaginable. He was a free safety, slot cornerback, running back, receiver, punt returner and even the up-man on the punt team.
That usage continued during the game, but it wasn't enough. Against Baylor School – a heavy favorite as the team ranked No. 4 in The Associated Press' Division II, Class AAA rankings – Turrentine and the Tigers dropped their second straight game, 30-28, to open the season.
After falling behind 7-0, the Tigers faced a 3rd-and-7 and were in danger of a second consecutive three-and-out to start the game. Turrentine caught a quick screen pass, somehow wiggled out of a tackle and kept his knee above the ground before racing for a 78-yard touchdown. 
That paved the way for a wild finish to the half, as Baylor netted a 74-yard touchdown two plays later, and Ensworth drove the field before settling for a field goal after two straight plays from the one-foot line were stuffed. And after Ensworth took a 15-14 lead, Baylor hauled the ensuing kickoff 99 yards for a touchdown. 
The Tigers weren't done, though, as Turrentine and Co. drove the field again during the two-minute drill and scored a touchdown, crossing the goal line at the same moment the halftime horn blared for a 22-20 lead.
All of it culminated in one of the biggest plays of the game. 
As Baylor drove the field inside the 25-yard line midway through the fourth quarter, holding a 23-22 lead, the Red Raiders faced a 3rd-and-7. With Turrentine in one-on-one coverage, he got caught trailing by a step and was called for a defensive pass interference on an underthrown ball. Baylor capitalized, punching in an insurance touchdown a few plays later. Ensworth's attempt at a game-tying two-point conversion failed, and the Tigers surrendered a 3rd-and-13 conversion as the Red Raiders ran out the clock afterward.
Turrentine called for a P.I. here in the red zone. Ensworth cant come up with a goal-line stand and now trails 30-22 with 7:15 left in 4Q pic.twitter.com/OPWFrxOmw4

— Zack Carpenter (@Zack_Carp) September 19, 2020
"When I first saw it, he was probably about two yards in front of me about to be even so I turned my head to get back out in front of him," Turrentine told Eleven Warriors about the penalty called on him. "I was out of phase, and when you're out of phase, you play through hands. I turned my head around at the last second, and the ref said I have to look for the ball. I don't understand. I can see how it was pass interference because there was more contact before the ball got there, but I didn't see it.
"I usually expect the ball to be overthrown so that's why I looked back so late. If I had known the ball was gonna be underthrown, I would've just turned around and picked it off. It's tough. A lot of tough penalties and a lot of times we shot ourselves in the foot."
Spoke with Ohio State DB commit Andre Turrentine (@KingATIII) and his parents for 30+ minutes tonight. Talked about football, life and memories playing the game.

Incredibly bright, passionate and level-headed. Buckeyes have a future star in the secondary down here in Tennessee. pic.twitter.com/atKV90zVdN

— Zack Carpenter (@Zack_Carp) September 19, 2020
We will talk about this more in depth later, but even though he committed that late penalty, I'm throwing every dollar I have into buying Turrentine's stock.
He was an incredibly aggressive, intelligent player on the field who flashed terrific play recognition throughout the night. And even though the Raiders ran to the opposite side of the field that Turrentine was lined up, he sprinted to the ball all night and wasn't just willing to stick his nose into a play as a tackler. There was a clear love for it.
Afterward, Turrentine was passionate and level-headed in talking about the game, life lessons he's taking away from this year and what's ahead for his future. But in the short term, Turrentine is focused on bouncing back against Montgomery Bell Academy. 
"There's just a lot of things we need to clean up," Turrentine said. "We're a young team so I'm excited to see what we do next week. It's our first home game. We're gonna get out there and we're gonna get after it."
-Zack Carpenter
Drew Allar
MEDINA – We'll keep this section short and sweet since Allar's time in the game was short and sweet. He and Medina rolled through Elyria for a 61-6 victory. By halftime, they teetered on the 50-point mark, falling just short.
I, now, have seen Allar in two games yet have unluckily only watched him play three-and-a-half quarters. He didn't play in the second half of the season-opening loss to Mentor due to an injury and left Friday's blowout win midway through the second quarter with the game well out of hand.
Allar, in his short stint versus the Pioneers, completed 19-of-33 passes for 305 yards and four touchdowns. In short, he dominated. He throws a pretty deep ball with touch, which led to multiple touchdowns, and completed a 35-yard pass down to the goal line while scrambling to his left.
Back here at Medina to see Drew Allar, a three-star 2022 quarterback, face Elyria.

First pass of the drive: Allar drops a dime and the dime gets dropped
Second pass of the drive: A touchdown

Allar has four scholarship offers, including one from Pittsburgh. pic.twitter.com/Fm8HyQwbug

— Colin Hass-Hill (@chasshill) September 18, 2020
Allar, as of now, is the state's second-ranked 2022 quarterback, and he has made a strong case to earn the No. 1 spot in the games I've seen. The 6-foot-5, 210-pounder is in his first full season as a starter at the head of an offense that passes nearly every down, and he already has four scholarship offers, including one from Pittsburgh. I'd be surprised if he doesn't add more Power Five offers in the near future. Not having an offseason to show out at college camps likely hurt his rise as a recruit, but he's making up for it now.
Allar has an uphill battle to earn an Ohio State offer, considering Ryan Day has done nothing but land top-end quarterback prospects since Gene Smith hired him. Don't rule him out, though, as Day and Corey Dennis look for their 2022 signal-caller.
​-Colin Hass-Hill
Markus Allen, Delian Bradley, Te'Sean Smoot
CLAYTON – I went to Friday night's battle between Northmont and Springfield – who were both undefeated and two of Ohio's top-ranked Division I teams entering this week – with an eye on three players: Allen, Bradley and Smoot, all uncommitted prospects who don't yet hold Ohio State offers but have been offered by numerous FBS schools. And I was impressed by what I saw from all three of them.
Smoot's night couldn't have gotten off to a better start, as he completed back-to-back deep balls and then ran for a touchdown on the first three plays of the game. On Springfield's next possession, Smoot connected on another deep ball for a touchdown on the very first play, giving the Wildcats 14 points less than six minutes into the game.
Smoot would hit multiple additional deep balls as the game progressed and finished the night with over 400 passing yards and five total touchdowns (three passing and two rushing).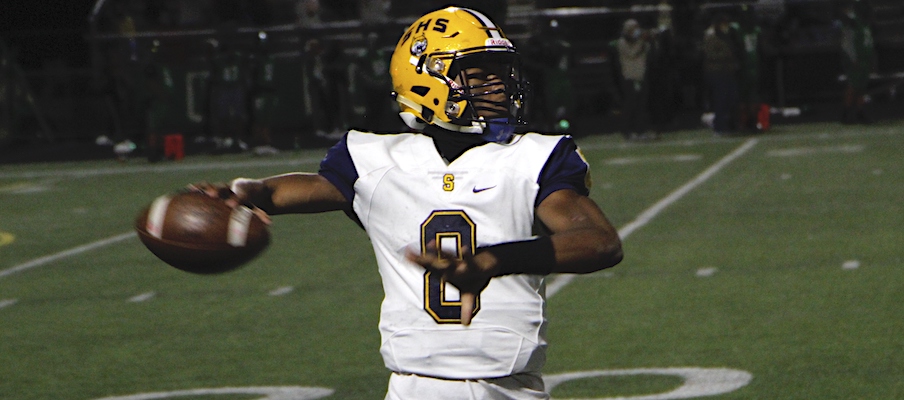 While he can be considered undersized at only 6-foot and 170 pounds, Smoot – who holds offers from Kentucky and four MAC schools (Akron, Bowling Green, Kent State, Toledo) – impressed me with his ability to make big plays with his arm while also doing damage with his legs, and he says those are both key aspects of his game.
"My team and offense that we run, we go deep a lot, so the deep ball is one of my skills that I practice on a lot, and being able to put touch on passes and being able to float the ball where it needs to be. So I think that's a big part of my game," Smoot told Eleven Warriors. "To be able to use my legs when I need to, having the ability to have the speed that I have, I'm thankful for that, and just to be able to use my legs and use my talent to help my team."
Springfield's top-rated prospect, though, is Bradley, who's already received nearly a dozen offers from FBS schools including Arizona State, Cincinnati, Iowa State, Kentucky, Michigan State, Nebraska and Pittsburgh. He put his playmaking range on display during the first quarter of Friday night's game when he tracked down a deep ball, intercepted it near the sideline and returned it 55 yards into the red zone to set up a Smoot touchdown pass on the next play.
Springfield safety Delian Bradley, a potential Ohio State target in the class of 2022, intercepts a deep ball and brings it back for a long return. Set up a TeSean Smoot touchdown pass on the next play, and Springfield takes a 21-7 first quarter lead. pic.twitter.com/6BXfdlA7Sb

— Dan Hope (@Dan_Hope) September 18, 2020
Bradley, who's eager to make a visit to Ohio State whenever the dead period finally ends so he can get to know the Buckeyes' coaches better and hopefully earn an offer from them, says that's the kind of play that shows what he can do as a 6-foot, 185-pound safety.
"I can cover the field and make big plays," Bradley said after the game.
Led by Smoot and Bradley, Springfield took a 28-7 lead before the end of the first quarter, but Northmont rallied back to score 28 unanswered points, taking its first lead of the game late in the fourth quarter when Allen caught a deep ball over two defensive backs and kept his feet to run into the end zone for a 50-yard touchdown.
Northmont making big plays as @cader1ce hits @MarkusAllen19 who makes spectacular catch between two defenders then takes to the house. 35-28 Northmont 4:02 4th QT pic.twitter.com/MGpiISGUD9

— Dave Berk (@Dave_Berk) September 19, 2020
That play ultimately helped lead Northmont to a 38-35 overtime victory, which improved the Thunderbolts' record this season to 4-0. And Allen, a recent Michigan decommit who says he has been talking with Ohio State wide receivers coach Brian Hartline "every other day," believes that's the kind of play that could ultimately earn him a coveted offer from the Buckeyes.
"My motto is never fold, and I couldn't fold on my team on that moment, and I had to do what I had to do for my team at that time," said Allen, who had seven total catches for 121 yards in Friday's game.
-Dan Hope
Ryan Baer
CHAGRIN FALLS – Sometimes you look at a player's recruiting profile, see their size and wonder whether it actually got exaggerated at some point in the process. Those thoughts materialized when before I hit the road to see Baer, an offensive tackle who's posted at a gargantuan 6-foot-7 and 305 pounds as a junior at North High School in Eastlake. One glimpse of him in person, though, dispelled them.
Baer's every bit of his listed height and weight. The burly left tackle is one of the keys of North's run-heavy, under-center offense that prides itself on wearing defenses down by going straight at them again and again. In a road matchup with Kenston on Friday, that's exactly what happened.
"I did good," Baer said about his team's 26-14 victory. "It's just this is the first game ever they were coming at my legs, so I really didn't have an opportunity to get somebody and drive them. But a dub's a dub and I'm just happy."
North – running behind Baer and Toledo offensive guard commit Ethan Spoth – had its way with the Bombers for the most part. In doing so, Baer showcased one of the parts of his game that have earned him a slew of Power Five offers: He mauls people in the run game. 
Baer got off the ball quickly on Friday, facing a team that didn't have anybody who could match his size, and dominated the line of scrimmage between the whistles. North's quick-hitting run game requires explosion out of his stance, and that's what he offered on Friday. He's powerful and understands to use his 6-foot-7 frame to his advantage, plowing the way for quarterback Chris Molica and others. 
Because of the way Kenston played its defense, Baer didn't have much of a chance to show his versatility as a blocker. Rather he essentially down-blocked the entire game – though he did well with it.
"Usually, I do a lot more scooping and taking him to the outside," Baer said. "But the way they played, we had to change things around. I do what I have to do."
Baer, at this point, doesn't have an Ohio State offer yet. He does have a slew of others, though, from Kentucky, Cincinnati, West Virginia, Indiana, Michigan State, Minnesota, Iowa State and others. To translate that offer sheet: He has almost all of the offers one would expect from a three-star Ohio offensive lineman with a massive frame who's already a powerful run-blocker.
-Colin Hass-Hill
Buckeye roundup
Here is a quick look at how the 11 Ohio State commits fared over the weekend:
Ohio State Commits' Results for Sept. 18, 2020

| Player (Class) | Team | Opponent | Result (Record) |
| --- | --- | --- | --- |
| OG DONOVAN JACKSON (2021) | EPISCOPAL (TEXAS) | @ CALHOUN | L, 34-14 (0-1) |
| WR JAYDEN BALLARD (2021) | MASSILLON WASHINGTON | BENEDICTINE | W, 28-10 (3-1) |
| LB REID CARRICO (2021) | IRONTON | @ ROCK HILL | W, 41-0 (4-0) |
| S JAYLEN JOHNSON (2021) | LA SALLE | @ DUPONT MANUAL (KY.) | W, 17-7 (3-1) |
| OG BEN CHRISTMAN (2021) | REVERE | @ TWINSBURG | W, 28-14 (2-1) |
| S/CB ANDRE TURRENTINE (2021) | ENSWORTH (TENN.) | @ BAYLOR (TENN.) | L, 30-28 (0-2) |
| CB JYAIRE BROWN (2022) | LAKOTA WEST | @ FAIRFIELD | W, 21-7 (4-0) |
| LB C.J. HICKS (2022) | ARCHBISHOP ALTER | @ CARROLL | W, 48-0 (2-2) |
| LB GABE POWERS (2022) | MARYSVILLE | THOMAS WORTHINGTON | W, 31-0 (3-1) |
| OT TEGRA TSHABOLA (2022) | LAKOTA WEST | @ FAIRFIELD | W, 21-7 (4-0) |
| TE BENNETT CHRISTIAN (2022) | ALLATOONA (GA.) | @ KENNESSAW MOUNTAIN (GA.) | W, 21-6 (2-0) |