The Hurry-Up is your nightly dose of updates from the Ohio State football recruiting trail, keeping tabs on the latest from commits and targets from around the country.
Johnson happy for Smith, wants him to reach NFL
The day that Cincinnati La Salle cornerback Devonta Smith got an offer from Ohio State, Jaylen Johnson was ecstatic. Johnson knew that the offer meant it was only a matter of time before his best friend and La Salle defensive backfield teammate joined him in the Buckeyes' 2021 class. 
Just two days later, Smith silently committed to the Buckeyes, and two more days later he made the announcement official, which was the second commitment of a four-commits-in-three-days run that sparked Ohio State's rise to the No. 1 ranking in the class and its ascension to being the hottest program in the country on the recruiting trail. 
But then, over the course of the next three months, Smith started having a change of heart. Ultimately, he decided that decommitting from Ohio State and flipping to Alabama was the best plan for his future, and he made the move official on June 29.
The moments after that were tough for Johnson, dealing with the reality that he and Smith would not be teaming up in college after all. Soon enough, though, Johnson saw the good side of it and shook off the disappointment.
"At first, it was hard for me, but I got over it. That's my best friend. I'm happy for him," Johnson told Eleven Warriors following La Salle's 24-10 loss to St. Xavier on Friday night. "I hope he goes down to Tuscaloosa and does his job and gets to the NFL. That's the goal, at the end of the day, no matter where you go."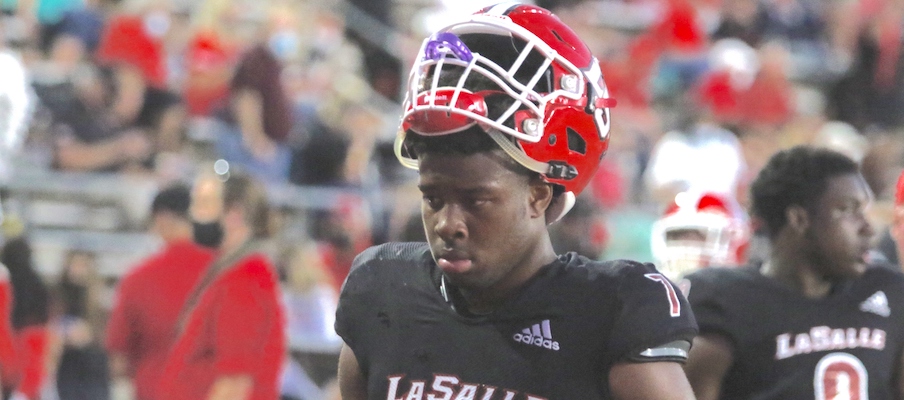 Of course Johnson wants Smith to succeed – just not if they meet each other down the road in a College Football Playoff matchup. (Unless they each somehow were to get a seventh year of eligibility years from now, Johnson and Smith will not be squaring off when the Buckeyes and Tide play each other in 2027 and 2028.)
And if they do end up meeting up in college?
"He's definitely gonna lose," Johnson says with a smirk.
Fighting for No. 1
It's not just the hypothetical on-field matchup where Johnson believes the Buckeyes will win out over the Tide. 
Ohio State and Alabama continue battling back and forth for 2021 class supremacy. Like in a race car movie where the two cars inch out in front of the other over and over, the two programs continue shifting leads nose-to-nose in the recruiting rankings. As it stands now, Ohio State holds an edge over Alabama (302.20 points to 301.61 points), and though I believe the Tide will ultimately win out, it seems like they'll both keep going back and forth until the winter. 
Whenever the fight does eventually have a winner, Johnson is confident who's going to win the belt.
"We talk trash here and there, but at the end of the day he knows who's gonna have the No. 1 class: Ohio State," Johnson said. "He told me that they were gonna come back in the rankings on us. I believed him, too. Alabama just waits at the last moment to get all their recruits."
For the Buckeyes to win that crown, they are going to have to land commitments from at least two of the following five recruits: J.T. Tuimoloau, Emeka Egbuka, Tristan Leigh, Derrick Davis Jr. and Tywone Malone. 
As I said on the Aug. 26 episode of Real Pod Wednesdays, if we're playing the in-or-out game on those five – and these are obviously subject to change as we churn through the next couple of months – I'm very confident that they'll land Egbuka, fairly confident they'll land Tuimoloau, lukewarm on Malone, and not very confident that they'll land Davis or Leigh.
When taking the pulse of Egbuka's recruitment, it's still about the same – Ohio State is in the pole position with Oklahoma and Washington at a close No. 2 and No. 3, respectively. 
Even though he's a bit more low key than some of the other guys, Johnson is one of the 2021 Buckeye commits' main peer recruiters of Egbuka, and he'll continue with his same approach when recruiting the five-star receiver.
"I just keep it 100 percent with him," Johnson said. "Don't lie to him. Let him meet the brotherhood, and if he doesn't, I hope he does the best wherever he goes."
Sawyer nets Fowler comparison
All of last week, we touched on the player comparisons that Rivals was dishing out for the Ohio State commits and targets ranked in the network's top 50. That culminated with the comparisons for players ranked Nos. 1-10 over the weekend.
The biggest highlight for Buckeyes fans was five-star defensive end Jack Sawyer netting a comparison to former Florida Gators star Dante Fowler from Rivals' Mike Farrell:
Overview: Sawyer has been committed to Ohio State since February 2019 and he's never really looked at other programs since picking the Buckeyes. Michigan, Penn State, Notre Dame and others were in the mix early, but Ohio State always felt like the place for him.

Sawyer has all the tools to be the next superstar defensive end in Columbus, from power to athleticism to relentless pursuit of the football. He has the tools, Ohio State has the pedigree and this looks like a match made in heaven for the next few years.

Farrell's take: Fowler was an angular pass rusher who could stand up or put his hand in the dirt and was an elite pass rusher. Sawyer could do the same.
Also on that list of comparisons was a player we mentioned above in Tuimoloau, who was compared to current South Carolina defensive end Zacch Pickens:
Overview: Ohio State and Alabama are battling it out for Tuimoloau, but Washington, Oregon, Oklahoma and others are still involved in his recruitment, which could take a while to sort out because the five-star defensive end still wants to take visits.

Tuimoloau can get to the edge at will, he is phenomenally athletic and he can actually gain weight and possibly play inside as well, if that's what his body dictates. He's also received offers to play basketball, so he can move really well and he mixes in power when needed.

Farrell's take: I'll go recent with this one, as Pickens was a great athlete but raw as a football player coming out and could play inside or at end.
Header photo: Jaylen Johnson (left) and Devonta Smith