The Hurry-Up is your nightly dose of updates from the Ohio State football recruiting trail, keeping tabs on the latest from commits and targets from around the country.
Shepard, Johnson continue building relationship
Over the years, Larry Johnson has done so much of the bulk of his recruiting in the shadows. The most recent example was him pulling in Virginia defensive tackle Tyleik Williams, who was rarely talked about in this space and across all other Ohio State recruiting outlets. 
Johnson's work can often go under the radar publicly, but that's not the case in one-on-one settings with high school prospects, especially when it comes to building relationships. 
He often tends to find guys who are like-minded in terms of being more low key and a bit soft-spoken, and that's the case with Archbishop Alter (Ohio) four-star defensive tackle Derrick Shepard.
"We're both pretty laid back guys, but we both speak when needed to be spoken," Shepard told Eleven Warriors. "We speak what's on our mind, but we don't really say a lot so I feel like our personalities mesh real well."
Johnson and Shepard have continued building a relationship and continued building up respect for one another. One of the ways Shepard's grown to respect Johnson is through the longtime defensive line coach's honesty. 
"He keep it honest. He keep it real as it could possibly be," Shepard said. "That's basically the same thing that BB's been instilling in me is you gotta keep working and be real with yourself.
"He tells me that if I come there, anybody he's ever coached he can tell the difference from when they first got there to when it was time for them to leave, that they made a drastic jump."
BB mentoring Shepard
When Shepard says "BB," he is of course talking about former Ohio State defensive tackle and fan favorite Robert Landers.
Landers is a cousin of Buckeye outside linebacker commit C.J. Hicks, a teammate of Shepard's at Alter. Because of that high school connection and friendship with Hicks – and in part because they share the same position – Shepard and Landers have connected, and Landers has been mentoring the 2022 up-and-comer in addition to working out extensively with him in the offseason. 
"He's just telling us every play or every rep or every workout we've gotta attack it real hard. There's no breaks or nothing," said Shepard, referencing workouts among himself, Landers and Hicks.
Despite Landers' lack of prototypical size for a defensive tackle, he was able to thrive and enjoy a successful Buckeye career. And, though Shepard comes in ranked at No. 198 overall, No. 14 at defensive tackle and No. 8 in Ohio, Landers was not very highly ranked when he came to Ohio State (No. 481 overall, No. 28 defensive tackle, No. 26 in Ohio out of Wayne High School). 
Though Shepard admits Landers is much more outspoken and energetic than he is, Shepard says they share some of the same work ethic in terms of being under-recruited and having to grind daily.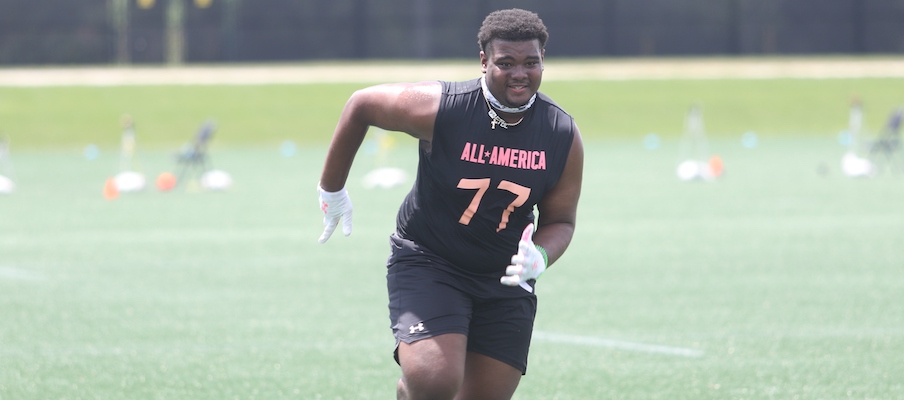 So far, it's paid off for Shepard, who could be on his way to earning an Ohio State offer one day.
"He's one of the quickest D-tackles I've ever seen," Hicks told Eleven Warriors. "You can watch his film and just see how quick and explosive he is off the ball. Very aggressive and smart player too. He lost weight. He was 6-3, 315 last year. Now he's 6-3, 300. He runs a 4-something (in the 40). He got faster and stronger, for sure."
However, it hasn't quite been enough for Shepard to earn that coveted offer from the Buckeyes. He still has to prove himself in games, and that journey continues tonight, as Shepard looks to bounce back from an up-and-down individual performance (and Alter as a team looks to do the same following a Week 1 loss) when the Knights host Badin High School, which Eleven Warriors will be in attendance for.
The game tonight, in addition to last week's contest, is a culmination of plenty of work put in the offseason for Alter during a time when the players didn't know if they would see the field at all in 2020 for in-game action.
"I was worried, but like I was telling C.J. and the rest of my teammates, if we don't have a season we've just gotta come ready for our senior year," Shepard said. "That was our whole mindset. The way we came out to practice was as a team. I think we're ahead of everybody. We had a month of two-a-days, but our whole motto throughout the practices was practice like it's your last one. Because anybody could've gotten hurt or sick at any moment.
"I know that at one point in one of our practices, everybody was tired of practicing under so much uncertainty. But, as a team, we still had to pull together and say, 'we got this. We're gonna be good.'"
Williams lands All-American Bowl bid
In many Hurry-Up spaces, we discussed the fact that Ohio State continues adding to its total of All-American Bowl members in the 2021 class. The Buckeyes reached a total of nine commits – tying the number in the 2020 cycle – who will play in the game when they flipped Jordan Hancock from Clemson. 
There are a number of players we mentioned as being the possible 10th player who would take the Buckeyes over the top to overtake the 2020 class, including Emeka Egubka, J.T. Tuimoloau and even Raesjon Davis. However, just like his commitment to the Buckeyes flew under the radar, Virginia defensive tackle Tyleik Williams could wind up being that out-of-nowhere 10th Buckeye commit to play in the game, as he earned an All-American Bowl invite on Thursday.
Blessed to receive an invite to the All-American Bowl pic.twitter.com/DhCU1ofHyb

— Tyleik T5 William (@tyleikk) September 3, 2020
Another five-star QB?
Ohio State landed a borderline five-star quarterback in the 2020 cycle in CJ Stroud – who was ranked as a five-star by 247Sports but not in the more important composite rankings – and the Buckeyes have one coming in 2021 in Kyle McCord.
Could they be getting another one in the 2022 class? Looks like Junipero Serra's (Calif.) Maalik Murphy is intrigued.
You guys got room for more? https://t.co/zd1KnFsKYA

— MAALIK (@SmvOperator) September 3, 2020
Murphy is a stud we have talked about a lot at Eleven Warriors, dating back to November, in addition to another future five-star quarterback the Buckeyes have created a relationship with in his good friend and workout partner, Malachi Nelson, in the 2023 class.
Murphy is one of four quarterbacks the Buckeyes have offered in the 2022 cycle, but two of them (Quinn Ewers and Gunner Stockton) have committed elsewhere, while New Jersey's Steve Angeli is not as high on the board anymore for Ohio State.
That leaves Murphy is the only true uncommitted target remaining for the Buckeyes – at least the only one with an offer for now – at quarterback in the cycle.