DAYTON – Derrick Shepard has been on a football field before he could even walk, and he's moments away from taking the first steps of his life on one.
Derrick Sr. was a defensive tackle at Georgia Tech in the '90s, and after spending a couple years in training camps with the Patriots and Dolphins, he moved onto the Arena Football League. After stints with a pair of AFL teams (the Arizona Rattlers and Detroit Fury), he found himself in the AFL's developmental league, where seasons spent with the Tennessee Valley Vipers and Cincinnati Swarm preceded his final stint with the Louisville Fire in 2004. 
Throughout practices that season, Derrick Jr.'s mom, Shema Shepard, would take the 1-year-old to practice in a stroller, and Sr. would push him around on the field while his teammates got to know baby Derrick. 
"When I was able to walk and able to realize what was going on, he would have me in a wagon and just pull me around the field on the wagon," Shepard says now.
In between those stroller and wagon pulls came a moment Shema and Derrick Sr. will never forget – a story the younger Shepard has probably heard a dozen times.
Derrick Sr. would carry Shepard out with him when he walked onto Louisville's Freedom Hall field for the pregame announcements of the starting lineups. That day, for some reason, he put Shepard down on the field. 
"He would always walk out with me, and I don't know what made him put me down that day, but he put me down and I fell," Shepard said. "Then I took three steps and I fell."
So, that's right: "I actually took my first steps on an Arena Football field."
Derrick Sr. started crying, and watching from the stands, Shema certainly was too. 
Since that day, and really the ones leading up to it and the ones following it, Shepard has never strayed away from the field.
"I've been around football my whole life," Shepard said.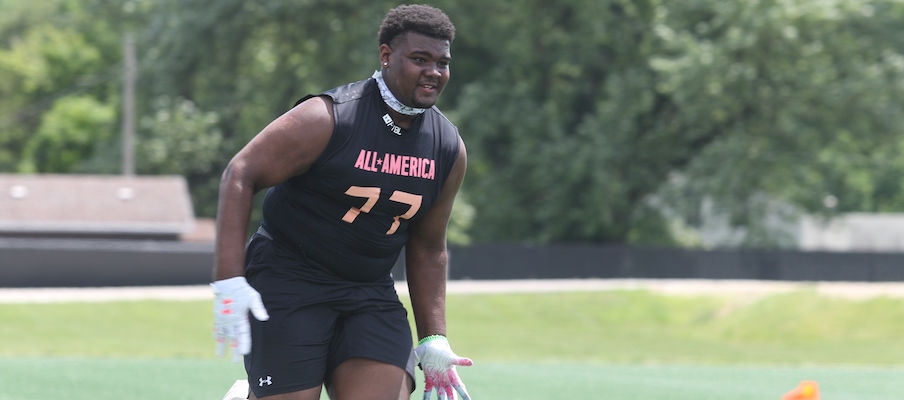 His dad played the same positions – defensive tackle and right tackle – at Meadowdale High School in Dayton that Derrick Jr. does today at Dayton's Archbishop Alter High School. And like his dad, it's defensive tackle where his future lies as an eventual Division I football player.
"I've definitely learned a lot from him," Shepard said. "We've watched a lot of his old tape. He don't think I listen to him, but I actually do listen to him. Hands and hips, that's his most important thing. He's been instilling that in me since I could understand football and the work that I've put has been to get the best outcome."
And it's his dad's successful career as a player that has stoked some internal flames for him, bringing us to this past Tuesday. 
Shepard was at a friend's house when his Alter teammate and good friend, C.J. Hicks, called him and Shepard was met with an ecstatic Hicks. 
"He was like, 'Have you heard the news?'" Shepard said. "And I was just so confused on what he was talking about, and he said just look at your phone. I opened it, and I just saw four-star. We both started screaming. We both was happy."
Just two weeks ago, Shepard was sitting rated as a 247Sports Composite three-star prospect who was ranked in the 300s overall, in the mid-20s at his position and outside the top 10 in his own state. Now, he's ranked No. 198 overall, No. 14 at defensive tackle in America and No. 8 in Ohio. 
And, no, rankings don't mean everything. But these a vast majority of players – whether they admit it or not – do care about their rankings because they do mean something. For Shepard – who was boosted in his rating in part because of a standout performance at last month's Elite Underclassmen Camp in Obetz, Ohio – it was symbolic of the next step in what's been that journey to have a better career than pops.
"My whole thing is about being better than my dad," Shepard said. "I don't know if they had rankings when he was playing, but my whole goal since playing football has been to be better than him."
But, again, it's just the next step. There's a long way to go.
"It's definitely a blessing being ranked a four-star," Shepard said. "That's higher than most people because there's a lot of people working for the same thing that I've got. But what I tell people is at the end of the day, I still gotta go out and perform like a four-star, like the highly ranked player that I am."
And when it comes to going out there and performing, there is unquestionably some extra pressure being packed onto him for the first two or three weeks of the season.
Shepard currently holds 13 offers – highlighted by Florida State, Michigan, Michigan State, Northwestern and Purdue – and interest from Alabama, Baylor, Oregon, Penn State and USC.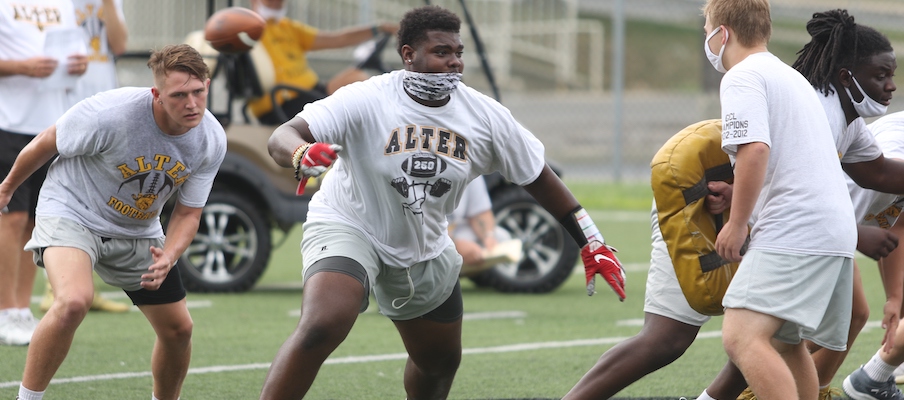 But the offer he wants the most, from Ohio State, is still yet to come. He continues building a relationship with Larry Johnson by talking with him once a week, and he talks even more frequently with defensive line assistant Nick Sebastian. 
The consensus from the coaching staff is they want to see how Shepard performs in his first two games this season. They know that he can get off the ball and stop the run, but they want to see how he rushes the passer. So Johnson asked for the live stream of the two games in order for him to check each one out. 
There might be a bit more emphasis on the second game than the first, as Alter's first opponent is a run-heavy team but its second opponent runs a spread from the shotgun. Either way, these first two games are putting some pressure on Shepard, but he says he's ready to go out there and prove himself under the lights.
"It's real big, but like I said I've just gotta go out and perform and pretty much just play like nobody's watching and not let it get to me," Shepard said. "My dad said this is my breakout year. He said last year I got my name out a little bit and the (Elite Underclassmen Camp) got my name out. But he said this year is my breakout year to show everybody that last year wasn't a fluke and that the camp wasn't a fluke."