PORTSMOUTH, Ohio – Up until his junior season in 2019, Reid Carrico had never played inside linebacker full time.
The future Ohio State commit had played all over the field in his middle school days, often as a safety, before becoming a linebacker in high school. A self-described cross between John Lynch and Mike Alstott, Carrico had long imagined himself playing safety whenever he got to college and eventually the NFL. But, really, when he played safety, he played the position like a linebacker. 
"When people ran post routes or slants, man, I'd light 'em up," Carrico told Eleven Warriors last September. 
But this story isn't about Carrico. It's about Trevor Carter. 
Carter, a teammate of Carrico's at Ironton (Ohio) High School in the 2023 class, may not hit quite as hard as Carrico, but there's a pretty strong similarity between the two. Carter, a 6-foot-1, 190-pounder listed as an athlete in his recruiting profile, plays safety for the Tigers right now, and he plays it like Carrico used to – like a linebacker.
"I used to play safety, and earlier this year I started picking up on it more," Carter told Eleven Warriors following Ironton's season-opening win over Portsmouth on Friday. "I played safety as run-read first, and obviously you can't do that. You've gotta read your keys and know when it's a pass and know when it's a run to come up on it and make a tackle. (Carrico's) helped me out a lot with that, just telling me to read the pass first and if something happens and (the runner) breaks into the secondary, to come up and make a big hit on a guy.
"I know all of our coverages there. I know to take run-read steps and come up on the play if I need to and also drop back and cover the pass if necessary."
Added Carrico: "He hasn't played much 'backer. He's played a lot of safety, but he plays safety like a linebacker. He's always playing the run."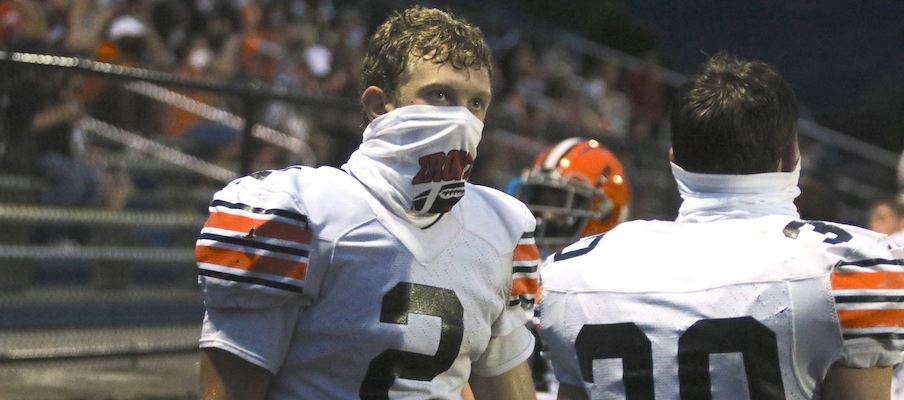 Carter's head coach, Trevon Pendleton, is playing Carter on the back end of the defense, but by the time his junior season hits he'll likely transition into a Sam linebacker.
"Right now he's playing safety for us because that's where he's needed and that's where he fits best on this team. But I think his natural position is gonna be outside linebacker," Pendleton said. "Trevor's definitely really raw. He had an injury last year and played some varsity but not a ton. So (Friday night) was his first true workload. He's a kid that, once he settles in, he's gonna do great things. He's just gotta settle in and get those jitters out of his system."
Those jitters Pendleton talks about aren't something that only he notices. Carter knows he's going to have to get used to the Friday night stage as well, and that's something Carrico is helping him with as well. 
"One of the main things he's taught me is, before games I usually get real nervous and real anxious to play," Carter said. "He's just taught me to stay calm, enjoy my time here because one day I'll regret being nervous and everything. He taught me to play hard, play 100 percent, never let up."
Teaching him to go hard has always started in the weight room and offseason training. When asked if he's pushing Carter to get better, Carrico flashes a Cheshire cat smirk.
"Oh, dude, every day," Carrico said. "I usually just try to give him a hard time like a big brother and just show him how we do things and how the big dog on the team has to eat every game. You can't not show up. You've gotta show up every time."
If Carter continues to adopt that mentality, and if he continues to put in the work, the future is mega-watt bright for him. He's already ranked as the No. 75 overall player in his recruiting class nationally. 
He holds offers from Arkansas, Pittsburgh, West Virginia and Toledo. He's gotten interest from LSU with an extensive call from a coach on the Tigers' staff, he talks every week with Penn State assistant Charles Walker, he has been talking with Virginia Tech and Northwestern staffers, and he's gotten interest from Ohio State via conversations with Al Washington and Tim Hinton and receiving handwritten letters from the Buckeyes. 
"I'm almost positive they're looking at me as a linebacker," Carter said of where those programs see him playing. "A lot of schools have told me they're looking at me as linebacker, but right now I'm listed as an athlete so they don't really know. I could put on 20-30 more pounds and become a linebacker, or I could put on 10-15 more pounds and stay at safety. I've got time to grow and progress, and we'll just see where it goes.
"I definitely need to work on footwork, pass coverages, I'd like to work on man defense – like one-on-one – because I'm pretty good at that, but I can absolutely get better and improve. Zone coverage too. Really, anything that has to do with defensive back or linebacker, I wanna work on and get better at."
But there's no question Carter has gotten off to a good start. Now he has to keep it going.
"We're getting calls daily on him," Pendleton said. "He's a kid who's just gonna jump off the page. He's an explosive athlete. When people come watch him work out, they're like, 'Yeah, this kid's legit.' His biggest thing is he's just gotta get more reps and get comfortable on Friday nights."
Carter absolutely has a promising career ahead of him. And it's just getting started.
"He's worked for everything he's got," Carrico said. "And the sky's the limit."