The Hurry-Up is your nightly dose of updates from the Ohio State football recruiting trail, keeping tabs on the latest from commits and targets from around the country.
"I just stayed positive"
In mid-July, when it was still very much up in the air whether or not high school football would be played in Ohio, Buckeyes 2021 linebacker commit Reid Carrico was honest in assessing how tough the road ahead would be if football was postponed to the spring and he was faced with the decision of whether or not to opt out in favor of enrolling early at Ohio State.
Fast forward a month and a half later and Carrico was back on the field with his Ironton teammates in a 50-9 romp of Portsmouth on Friday night, and Carrico was ecstatic to be in a competitive setting against another team.
"I'm just happy that we're playing," Carrico told Eleven Warriors. "That's all I care about. We're getting out here, and I'm getting to play with my teammates and get the season in and hopefully go get a ring."
Carrico was right back to his old form as well, scoring three rushing touchdowns at running back. Another highlight was him showcasing his leadership.
With the Tigers ahead 50-3 in the fourth quarter and Carrico out of the game, he stood on the sidelines shouting to a linebacker teammate, "They're going for the home run!"
For Carrico, it wasn't a big deal. That's become a natural part of being a captain.
"Well, I mean, it's my job to lead, and I'm just trying to make sure that these guys start thinking with their head when they're out there because that's what I do when I'm out there," Carrico said. "No. 3 (for Portsmouth) was their go-to guy. They wanted to get him the ball and get him the home run on the hitch-and-go and stuff like that. You've just gotta always be thinking 'don't get beat deep' because that's all they want. They want the home run. I'm just trying to teach these guys – they're the younger guys and my teammates – to just start thinking with their heads while they're out there but still play fast. That's basically all that was."
Fighting to return to Canton
Despite the uncertainty about whether or not a fall season would happen in Ohio, Carrico says it wasn't hard to stay focused on preparing for his final year of high school ball. 
"I always kept a positive outlook on it and expected to play this season, but I was also prepared that if the bad news came that I'd have to make a pretty hard decision – one way or another, it was gonna be a hard decision," Carrico said. "Either way, I was ready. I guess I just stayed positive. That's all you can do in 2020. You just never know when it's gonna get crazy. You never know when you're gonna get bad days anymore. 
"I'm super relieved. I get the opportunity to play for a state title this year with my teammates one last time. You only get four go-rounds at it. You get four guaranteed go-rounds at it in high school and then some people get the chance to play after high school. Some people don't, so you've gotta treat it like any game can be your last, no matter what."
And that's what lied at the heart of why it was going to be such a difficult choice for Carrico on opting out or not.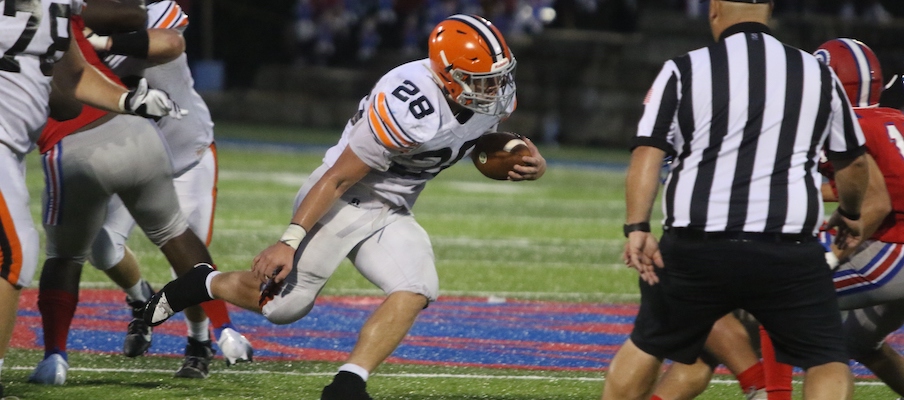 The Tigers lost, 14-7, in the Division IV state championship game in 2019, leaving a bad taste in the mouth of Carrico and his teammates. Far and away the No. 1 goal for Ironton is getting back to the state title game for another crack at winning a ring. 
"That's 100 percent the goal is to get back to Canton," Carrico said. "We say 'Finish the Job,' and that's what it's all about right now is getting back to Canton and winning a state title, but we've got some work to do before we expect to get back to Canton.
"We got up there and got a little bit blinded by the bright lights, and we didn't show up til the second half. It cost us a state championship ring."
Similar to how Carrico's future head coach, Ryan Day, hung up signs of the score from the Buckeyes' loss to Clemson in the Fiesta Bowl in the Woody Hayes Athletic Center, the Tigers have been using that "Finish the Job" mantra as a huge source of motivation – especially for Carrico, who says that loss has been on his mind ever since.
"We've got it on a wristband, it's a hashtag. It's the saying for this year," Carrico said. "It definitely (left a bad taste in our mouths). You can be sitting around all the time and laying up in bed in night, you can't really sleep. What else do you have to think about? Then you think about how you could be having a state championship ring sitting on your dresser. And we didn't do it. We didn't get it done. I've been up late a lot of nights thinking about it. I'm just thankful I've got one more shot to fix things."
Christian sets commit time
We've been previewing it for a couple weeks now, but Tuesday night it will finally be decision time (at least a public decision time) for three-star tight end target Bennett Christian:
TOMORROW 8PM

— Bennett Christian (@BennettC87) August 31, 2020
The 6-foot-6, 235-pound Allatoona (Ga.) High School standout is down to Ohio State and Tennessee after having visited both schools on weekend visits in August on his own dime.
I would be pretty shocked if this one doesn't go the Buckeyes' way. Looks like they'll be adding commitment No. 6 to the fray and their first two of what will likely be two tight ends in the 2022 cycle.