The Hurry-Up is your nightly dose of updates from the Ohio State football recruiting trail, keeping tabs on the latest from commits and targets from around the country.
Buckeyes' Cincinnati commits showcase work ethic
As we touched on in our piece on the physical transformation of Miyan Williams, Terrell, Trammell and Tyler Williams – of no relation to Miyan – are the three main people who own and run the private gym Run By U in Mount Healthy, Ohio in the Cincinnati area.
In addition to training Miyan, who played for Winton Woods High School, the three Williamses have trained a number of standout athletes in Cincinnati over the years. That includes Ohio State 2020 signees Paris Johnson Jr. and Darrion Henry-Young of Princeton High School, in addition to some training sessions with 2021 commit Jaylen Johnson and Devonta Smith, who decommitted from Ohio State on Thursday, of Cincinnati La Salle High School.
Miyan, Paris and Henry-Young are the players with Ohio State ties they have worked with the most. Trammell says that Run By U is an energetic gym environment where "they know we're not gonna fluff your ego and tell them how great they are."
"They know if they have a shitty attitude, we're gonna be on them," Trammell Williams said. "We're gonna make sure that we don't forget about 'em. We're gonna make sure that they work hard and hold them accountable.
"We're not worried about your stars or what these media interviews are saying about you. We in here to work. If you ain't in here to do that, you're in the wrong place. That's what we offer at Run By U. That's why you see top-tier guys in here. You see why all those guys come to one place to work out."
Trammell says that those athletes have thrived while working out at their gym, starting with Paris. 
Paris' physical growth into the 6-foot-7, 300-plus-pounder that he is today is well-documented. That growth began with Terrell giving Paris a nutrition plan when Paris was still a freshman at St. Xavier High School prior to his transfer to Princeton for his senior season.
"My dad had him when he was 215 pounds – a string bean," Trammell said. "Now you get to see his progress. Just like Miyan, he's a grinder. You don't have to give it to him twice. He wants knowledge. He wants to be great. He's another product of Run By U. Same as Darrion. They're grinders. They're as advertised. If you come and watch them work, you know they're not gonna disappoint you. You're gonna see why they're where they are."
Henry-Young is one of the less-talked about signees of the Buckeyes' 2020 recruiting class, but Trammell is confident that should change once he gets rolling in Columbus. That belief was made stronger when the defensive lineman showed up ready to work after the quarantine shutdown was lifted. 
"Darrion's future, in my opinion, looks very bright," Trammell said. "I think he's a guy that's gonna surprise a whole lot of people. He's a beast to say the least. He's a grinder. When we first opened up and he was allowed to come back, he was the first one to come in here and get some work on break – as soon as he could get in here. He's gonna do a lot of special things that people ain't even hip to. He's gonna be a beast, and he's a very hard worker. I can't stress that enough."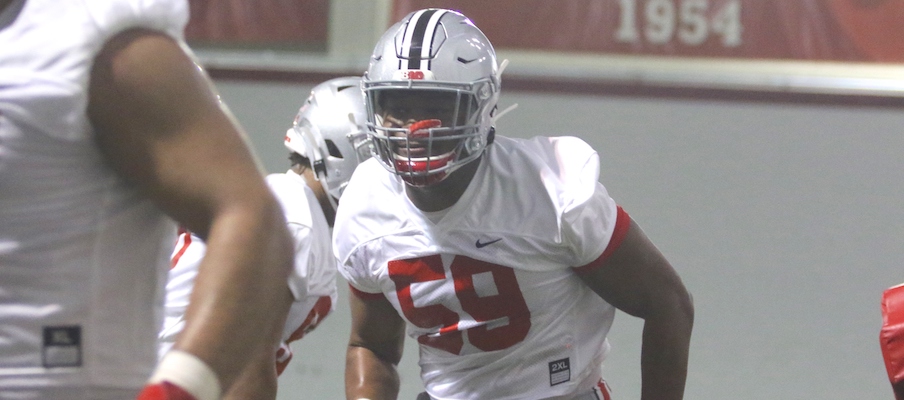 Smith and Jaylen Johnson have not worked out quite as often at Run By U, but when they have, they have been impressive as well. 
"(Smith's) another grinder," Trammell said. "He's a hard-nosed kid willing to work for everything he gets. He plays with that chip on his shoulder also, so that's a really good kid to get who you don't gotta tell him too much twice. He's a game changer. He can really take over a game by himself, he's that good. 
"I trained (Jaylen) one time. I've got a good relationship with him also. (He's got) some of the same things as Devonta. They're both hard workers."
The obvious common denominator among those five players is that they hail from the Queen City. An underlying theme of players from Cincinnati is that they are tough, hard workers who get things done in the weight room and on the field. That is apparently no different than with those five players, specifically. 
"In Cincinnati, we different. The mindset here that we have is different from anywhere," Trammell said. "We work hard, we grind. We got that grit about us. We willing to get our hands dirty. It's just different. And when you get to a place, it's almost like you made it out. It's hard here. It's rough here. And you get to see that in the product of our kids."
Described by Trammell – a former state champion and All-Greater Miami Conference running back at Colerain High School and a former running back at the University of Cincinnati – as a small city where players' reputations are well-known throughout the community, players from Cincinnati are remembered once they go off to play in college.
"All of them are playing for something that's bigger than them, so when you do make it out, if you're a running back from Cincinnati going to Ohio State, everybody's gonna know you," Trammell said. "Because there aren't too many running backs from Cincinnati. So in this city, people are gonna know the dudes. Especially the high school athletes. 
"Even if they know you're not playing, they know you're on the roster. It's big here, and football is everything here. It's big being all of those Cincinnati guys on the roster, and they've got a whole city behind them. That makes us different because we understand that."