When former Vanderbilt defensive back Roc Batten returned to Nashville to become the head coach at Ensworth (Tenn.) High School around Easter Sunday in 2019, the former seven-year Tigers defensive coordinator – who had been head coach for eight seasons at nearby Battle Ground Academy after that first Ensworth stint– got to work with his new defensive coordinator by breaking down game tape.
One of the first players to voluntarily reach out and join them in the film room? Andre Turrentine.
The budding Ensworth standout had yet to develop into a star as a sophomore, but heading into the summer prior to what would become a breakout junior season, he wanted to know how he could become a better defensive back, coming in with a list of questions for the two of them as they instantly got to work.
Coach, let's talk film. What are we gonna do? Who are we gonna play? 
"I think that just says a lot about his character and who he is and his drive to be great and be special as a football player and as a person," Batten told Eleven Warriors the day after Turrentine became the third defensive back in as many days to commit to Ohio State. "He wants to be great. He wants to elevate his game.
"One thing I love about him is it's not just about the physical part. It's about the mental part of the game. He studies at home and understands the film and the game. More than just the physical part, he understands the X's and O's of it."
In a nutshell, that thirst to immediately get to work – to find out more about his new coach, learn how the defensive coordinator could help him become more polished and discover more about the opponents' tendencies that Ensworth would face – encapsulated the kind of player Turrentine is and what he will bring to Kerry Coombs' defensive backs room in 2021 as a combo safety/cornerback. 
"This kid is one of the hardest-working kids I've ever coached in terms of absolutely loving the game of football – in terms of the physical part of working, tackling, being aggressive and covering guys," Batten said. "The other part that a lot of other guys don't put in, in terms of high school, is the film. Studying my opponent and who I'm covering and all the nuances of the game. 
"The kid has a high football IQ, and that's what I love about him. One of the many things I love about him. He's a worker and grinder of the game. Any coach would love to coach a kid like that who loves the game just as much as you do as a coach."
"He's respected"
Another moment that epitomizes Turrentine is when his teammates voted him as a captain last season. Out of the Tigers' five team captains, Turrentine was the only junior selected. 
"That says what your peers think about you as a person in terms of leading a program," Batten said.
Part of how he gained respect from his teammates is that he's also gained respect around the community. Batten saw that firsthand during youth football camps last year, when many of the middle school players gravitated toward Turrentine.
"Those kids love him. They love to be around him," Batten said. "He's a kid magnet. He's great with individuals. He's respected, and the kids wanna be around him. I love that when we do camps, he's up for those things as well. He's respected, and he carries himself that way."
All of those character aspects that Turrentine brings to the table mesh with what he brings on the field.
"He studies at home and understands the film and the game. More than just the physical part, he understands the X's and O's of it."– Ensworth head coach Roc Batten on Andre Turrentine
Batten believes Turrentine is "the perfect nickel guy" who can play in space and drop back to safety. His footwork, smooth running ability and ball skills all stand out, and his best asset is his ability to cover and be physical. He can play zone coverage and also play a press man-to-man style, making him even more valuable. 
"There are so many teams that play with a nickel in their base coverage. That doesn't surprise me that they want him because of what he does – he can blitz off the edge, he can tackle really well, he can play zone," Batten said. "I just think he has an unbelievably high ceiling. This kid is a physical player who does it all. When he's in the box, he plays like he's a linebacker. 
"I think that's why a lot of teams love him at that nickel spot because the nickel is a glorified linebacker/safety guy who can cover and play man. There are more teams in the NFL and college who are using the nickel in their base defense. He can fit that mold, but he can also be a guy who can play some safety, come downhill and hit you. He'll thump you."
All of those traits are things that Coombs soon came to realize during an imperative January 29 visit down to the Ensworth campus – one that was more about Turrentine's coach convincing Coombs that Turrentine was special as it was Coombs convincing them that he was the best coach to handle Turrentine's future.
Coombs told Batten how much they loved Turrentine's versatility to be able to play nickel, safety and maybe even on the outside. Coombs told Batten that he was really high on Turrentine because of how complete of a defensive back he is, and that brought plenty of excitement from Batten "because those are all the same things that I believe about him."
And then Coombs directly asked the "great questions that coaches ask you about the good ones," Batten said.
Does he wanna be great? Does he understand what it takes to be great? What's his work ethic like? Does he love the weight room?
Batten's response?
"Andre checks all those boxes."
The Kerry on Top
Batten sang the praises of Matt Barnes for being so diligent in Turrentine's recruitment, in addition to Tony Alford's relationship-building and consistent communication. Those guys did most of the legwork in Turrentine's recruitment. And when Ryan Day visited in January, setting the stage for Coombs' visit soon after, it took things to another level because Day expressed how important Turrentine was for what he's trying to build at Ohio State.
So when asked whether it was fair or not to label Coombs "the closer" in Turrentine's recruitment, Batten says that's "partially" true.
"It was an all-hands-on-deck approach," Batten said. "I think Coach Coombs was – I don't wanna call it a cherry on top – a great addition with his track record."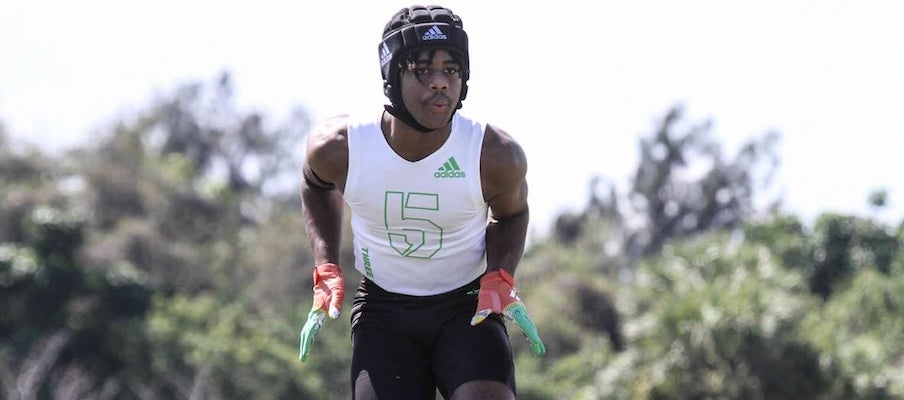 Really, Coombs' resume continues speaking for itself on the recruiting trail. When you put five cornerbacks into the first round of the NFL Draft, you solidify yourself as someone who can help you develop into a millionaire. So when Turrentine did his Internet research following Coombs' hiring in January, he found out about Coombs' very successful first tenure in Columbus, and he saw the flashy names.
Denzel Ward, Bradley Roby, Marshon Lattimore, Gareon Conley, Eli Apple. All first-rounders developed by a guy who just spent two seasons coaching a successful NFL secondary just 20 miles away at Nissan Stadium.
And while Turrentine and Coombs had never met during Turrentine's time with the Titans, Turrentine was still familiar with the name and aura of Coombs – aided by Batten detailing more information about Coombs because of his own familiarity with him. 
Batten took his Battle Ground coaching staff on a trip six years ago to Columbus, learning the techniques and the coaching styles from Coombs on that trip. Those same techniques and styles are things both Coombs and Barnes will soon get their chance at teaching Turrentine in hopes of developing him into the next Ohio State first-rounder.