The Hurry-Up is your nightly dose of updates from the Ohio State football recruiting trail, keeping tabs on the latest from commits and targets from around the country.
Johnson's commitment serves as major win over Clemson
If you're tired of reading about Clemson on this website, go ahead and stop reading. But if you want to know why Ohio State landing a commitment from Jakailin Johnson is a huge win over Clemson, read on... 
It's March 15, 2020. It's still very early in the recruiting process for Ohio State and so many of its 2021 recruits, so to use the word "desperate" isn't even close to an accurate word to assess the Buckeyes' cornerback recruiting right now. That would be an irresponsible hyperbole, especially with Kerry Coombs in charge.
However ... they did need this commitment in a major way, especially when you consider that five-star cornerback Tony Grimes seems to be closer to outside the box than inside the box at this point in time and when you throw in Jordan Hancock's commitment to Clemson.
Since Ohio State is not out of the race for Grimes, let's take a longer look at that second part: Hancock's commitment to Clemson.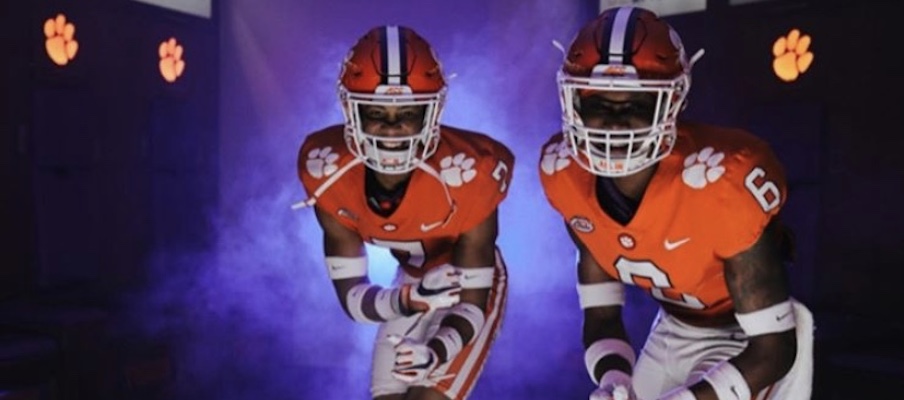 Ohio State had long been looking at Hancock as one of its top three targets at cornerback, and it was sitting in such a great position with him for months. Jeff Hafley saw something special in Hancock months before so many other Power 5 coaches saw it. That's why he prioritized Hancock so much in October and spent so much time talking with him on Hancock's unofficial visit for the Wisconsin game and offered him a scholarship back then, even though he barely fit into the top 25 nationally as a corner and top 25 in the state of Georgia at the time.
But all it took was a scholarship offer from Clemson in January for the Tigers to firmly place themselves in the heat of Hancock's recruitment. And just one weekend in early March at Clemson shifted Hancock's mind 180 degrees from essentially wanting to sign his NLI with Ohio State and get to work in Columbus to being fully confident his best choice was Clemson. 
That's all it took. That's how quickly Clemson works on the recruiting trail.
Johnson was on that same trip with Hancock, the two snapping photos together of them in Clemson jerseys, and rumblings came that the trip went very well for Johnson. 
When Clemson hopped into Hancock's recruitment, it was abundantly clear from the Ohio State coaches' reactions how big of a deal it was. In an interview with Eleven Warriors in early January, Hancock told us that the day after Clemson offered, "the whole (Ohio State) coaching staff texted me the next day. That was really cool. The whole coaching staff."
OK, maybe it wasn't the whole Ohio State coaching staff of Ryan Day, Al Washington, Matt Barnes and all of the quality control coaches and graduate assistants. But it was probably upwards of 8-10 coaches texting him (Hancock said he had heard from at least 10 Ohio State coaches during the fall and winter).
That's just one small anecdote to accentuate just how big of rivals Ohio State and Clemson are on the recruiting trail and just how much of a threat Clemson is to the Buckeyes and vice versa. Recruiting can sometimes feel like a boring back and forth, but the storyline of that recruiting rivalry is anything but boring.
So when Johnson announced a Clemson offer on January 31, and when the star cornerback included the Tigers on his list of top six schools only two weeks after that (and considering that the Clemson visit came so quickly), then yes ... there were absolutely concerns from the Ohio State coaching staff that Johnson could very well end up getting poached by Dabo Swinney and cornerbacks coach Mike Reed.
Reed did a tremendous job getting into Johnson's recruitment quickly, especially when he made good impressions with Steeples and Johnson by making the 9.5-hour drive from Clemson to De Smet to see him, and the Tigers and Buckeyes were firmly in the top two.
So! 
That's a lot of words – 654 of them, to be exact – to talk about Clemson, and I know most of you guys love that* 
*sarcasm font*
But I'm just trying to make it crystal clear that this should be seen as a huge win for Ohio State over Clemson, and that's not small news. With how the Tigers have been on a roll, it feels like they can get anyone they want as long as they get them on campus. 
But not Johnson. And now Ohio State has matched Clemson's stealing of Hancock (6-foot-1, 165 pounds; No. 6 CB and No. 82 overall) by getting someone with a similar frame and rankings in Johnson (6-foot-1, 170 pounds; No. 4 CB and No. 59 overall). 
Now we get to look back a few years from now and see which program developed the other better.
And we get to see who wins the Ohio State-Clemson battle for other top targets like Emeka Egbuka and Troy Stellato, and TreVeyon Henderson and Barrett Carter – though the latter two are not seen as a pure Ohio State vs. Clemson recruiting battle in the same vein as Egbuka and Stellato.
Train keeps rolling, what's next
Another aspect that makes the Ohio State-Clemson recruiting rivalry interesting is that they are the two hottest programs in the nation in terms of recruiting momentum. (North Carolina is right up there as well with what Mack Brown has been doing on the trail of late, and the battle between the Buckeyes and Tar Heels for running back Evan Pryor is another great storyline.)
Ohio State is on a tremendous hot streak right now, as we pointed out in the analysis piece of Johnson's commitment that Johnson is the seventh top-80 overall prospect to commit to Ohio State, as Day and Co. are on a roll in the 2021 cycle.
No other team has more than four top-80 overall commits. Michigan is the only other Big Ten team with a top-80 commitment, as the Wolverines have a pair of them.
It's basically all but over that the Buckeyes will have the top-ranked class in the conference. That's already a done deal in March. But if they want to keep gunning for that No. 1-ranked overall class (yes, I know it's never happened, but it still feels like a realistic possibility at this point), Johnson's commitment helps take the program in that direction.
As for Coombs and his recruiting prowess? This commitment signals loud and clear that he's still got it, and it should be exciting for Ohio State fans to see what happens next.
Don't be surprised if another commitment is around the corner. See what we did there?
Buckeye commits react
Quarterback Kyle McCord and offensive tackle Ben Christman (with a little recognition by uncommitted running back TreVeyon Henderson) reacted to the news of Johnson's commitment on Twitter.
This class is crazy.. but its only getting better... #GoBucks

— Kyle McCord (@kylemccord16) March 15, 2020
March 15, 2020
Ohio State looks like it's headed for a sure-fire top-five recruiting class once again, and that No. 1 overall spot certainly seems attainable.
Most of the players in this class already have tight bonds with each other, and it seems like each guy that joins the fold is able to join in that bond very smoothly. Those relationships will be written about and discussed a lot over the next several months.