De Smet (Mo.) Jesuit High School four-star cornerback Jakailin Johnson, the nation's No. 4-ranked cornerback and No. 59-ranked overall player in the 2021 class, committed to the Buckeyes, giving them their 11th overall commitment in the class.
We take an extensive look at what Johnson brings to Ohio State on and off the field.
On the field
Right off the bat, it has to be said that it's hard not to gush over a player with the skillset and physical gifts of Johnson. If you've been following my analysis for a while now, you know that I don't gush unless it's warranted. 
But Johnson is a 6-foot-1, 170-pound cornerback who is going to fit exactly what Kerry Coombs wants in his corners, and he is one of the two major, major pieces that (if they both commit and sign) would instantly thrust this 2021 defensive backs class into something special – Monroeville (Pa.) High School safety Derrick Davis Jr., whom we're predicting right now will be a consensus five-star by the time next February rolls around, is the other.
But ... one thing at a time.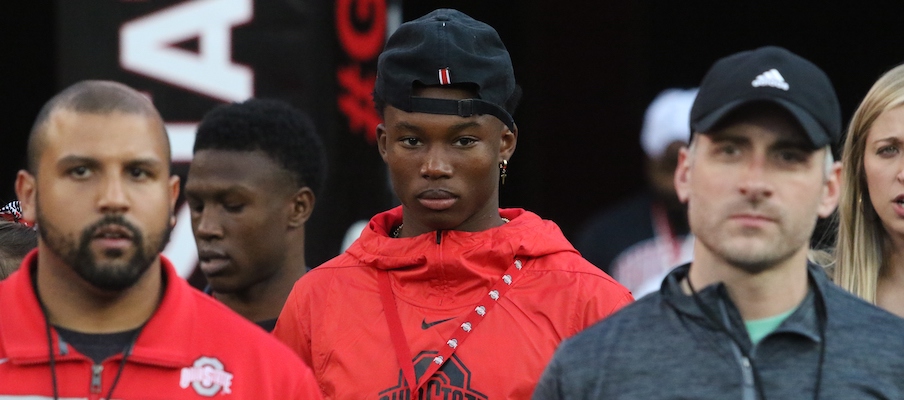 Johnson is a huge get for Coombs, who in about two full months on the job is already showing that he can pick up right where he left off following his first stint with the Buckeyes from 2012-2017.
We could detail why Johnson is such a big commitment for the Buckeyes, but we'll defer this part of the analysis to his high school coach, Robert Steeples, a former cornerback at Missouri and Memphis who spent time in the St. Louis Rams, Minnesota Vikings, Kansas City Chiefs and Dallas Cowboys organizations, seeing action in two games with the Vikings.
"I think he's got the ability to play early," Steeples said of Johnson in an interview with Eleven Warriors in mid-February. "He's got elite speed, is extremely physical, and he's excellent with ball skills. In my opinion, (he's) probably the best (cornerback) in the country. I've watched a lot of those guys' film, and they're really talented and athletic. But as far as just polished, he's probably the most polished cornerback there is. 
"He impacts the game on offense, too. He had eight touchdowns as a receiver, but he really knows that corner position, and he's continued to improve. He has room to improve, so I think Coach Coombs is probably one of the best cornerback coaches in the college ranks (to help him do that)."
After signing just six defensive backs in the 2018 and 2019 classes combined – the first two classes following Coombs' departure to the NFL – the position was already the Buckeyes' second-biggest position of need in the 2021 class, just behind running back. That was already true in January, and it became an even bigger position of need following the dismissals of Amir Riep and Jahsen Wint.
So a thin defensive backs room and an opportunity to play early is a major selling point right now for the Buckeyes. So is Coombs' prowess as arguably the best in the nation at developing corners into NFL caliber guys and helping them cash some checks at the professional level.
"I definitely think JK wants to get on the field early, if at all possible, but he needs to go somewhere, regardless of what happens, that he trusts he's gonna get developed," Steeples said in February. "It's not all about getting on the field (early). It's about getting developed and getting everything out of your ability, and I think Coach Coombs is a guy that can do that. And he made that point to myself.
"(Coombs) said, 'I'm gonna grind him. I'm gonna be hard on him.' But the good thing is it's no different than the type of coaching he's getting from me at De Smet. And JK likes that type of coaching style. He wants to be pushed."
If Johnson already is that polished of a cornerback, how would Coombs develop him into being even more polished and even more effective in college? 
"Oh, well I definitely think he's far from peaking," Steeples said. "When I say he's polished, he's polished at this level. He can put on weight and get stronger. ... We talk about IQ a lot and just having a plan and developing IQ. One thing that he'll definitely have from Coach Coombs is a guy that has a lot of IQ. And even better at the college level, they have the time to go even more in-depth with it."
Off the field
Helping Coombs' endeavor of developing Johnson into one of the Buckeyes' best corners and one of the nation's elite at the position is that Johnson's mindset is already in a good, open position to teaching.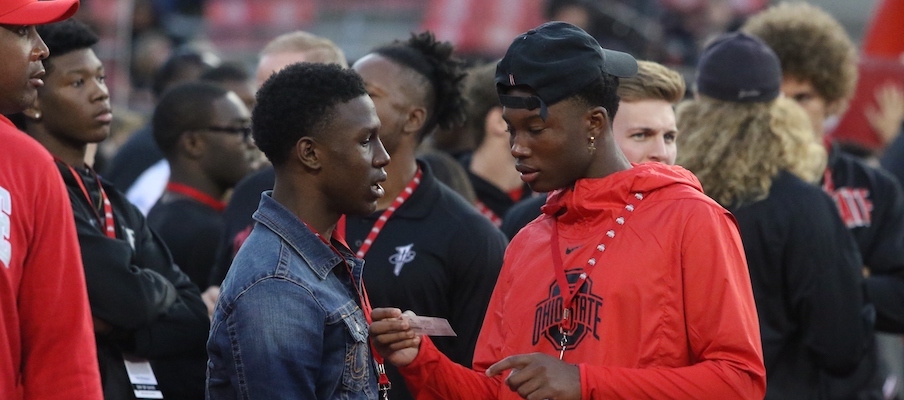 Steeples describes Johnson as "pretty even-keeled" and "not an overly emotional kid," and one who every time Steeples tells him of another scholarship offer, he always lets his coach know how much appreciation he has for him.
"I have to remind him, 'JK you're the one putting the work in, man. I'm just representing the work you're putting in. Just stay hungry and humble and keep working. I'll do my part. You do yours,'" Steeples said. "For him at Ohio State, potentially, is they've got all year to mold him and grind him. I think he just needs to do what he do, do it better and put on some muscle and just stay hungry.
"The biggest thing I say to him is, 'I hope you're not satisfied.' Because anybody can beat you if you're not on top of your game. JK's in a position where he's gonna have a lot of guys who are in on that level next year."
In the class
Coombs has huge, huge goals for what his first defensive backs haul will be in his second go-round with Ohio State. 
He's told at least one cornerback recruit that he wants to build a defensive backs room that resembles and rivals that of the room that, all at one time, featured future NFL talents Denzel Ward, Marshon Lattimore, Gareon Conley and Malik Hooker.
1000% Committed #gobucks #BIA pic.twitter.com/Y97GMz1l6T

— JK Johnson (@jakailin6) March 15, 2020
This is the first domino (or stepping stone, whichever verbiage you'd like to use) toward achieving that goal. And it's a big one.
Also, Johnson's commitment extends the Buckeyes' narrow lead over Clemson for the nation's No. 1-ranked recruiting class as the two continue tussling back and forth for the top spot. Johnson becomes the seventh top-80 overall prospect to commit to Ohio State, as Day and Co. continue their hot start in the 2021 class. No other team has more than four top-80 overall commits. Only one other Big Ten team – Michigan, which has two – has a top-80 commit.
If he signs with Ohio State, Johnson will become the Buckeyes' highest-ranked defensive back signee since Tyreke Johnson, the No. 21-ranked overall player in 2018, signed with Ohio State.
In tonight's Hurry-Up, we will have more on Johnson and why his commitment to Ohio State serves as a major win for the Buckeyes.