The Hurry Up is your nightly dose of updates from the Ohio State football recruiting trail, keeping tabs on the latest from commits and targets from around the country.
Mattison leaves Wisconsin trip impressed by hard-hitting safety
One of the prime complaints about last year's Ohio State defense was the coaches' propensity to make things too difficult or complicated schematically.
They didn't let the Buckeyes play loose and free and fly around the field, and it led to one of the worst Ohio State defensive units in recent memory.
That's why this season's vast turnaround into one of the nation's best units has guys like fifth-year defensive tackle Jashon Cornell praising the new coaching staff for a change in philosophy that is a stark contrast to the 2018 group. 
"I feel like that's one thing that's different from being a good football player and a bad football player is being able to play loose and understand what's in front of you," Cornell said during Tuesday's press conference. "I feel like those might be some issues we've had in the past is not being able to play loose.
"(The coaches are) just letting us play. That's what we've always wanted (the coaches) to do is just let us play. And that's the one thing we're doing is just playing ball."
The Buckeyes are showcasing one of the nation's best defenses with most of the same players that were on last year's roster. Outside of Zach Harrison, no other freshman is making an impact on defense this season.
Cornell referenced a stronger bond between teammates, a high level of unselfishness and an increased sense of brotherhood as factors in the improvements. 
But, again, probably the biggest difference has been the coaches finding the best way to utilize Cornell and his teammates' talents.
"This year, we're just letting it loose and letting the bullets fly, and I feel like we're just having a lot of fun out there. And we're enjoying playing with each other," Cornell said. "That's one thing we're doing differently than in previous years is we're just letting it loose."
That's a long-winded way to introduce today's main Hurry Up item:
Hunter Wohler, a standout defensive player whom Eleven Warriors introduced in June and touched on briefly after he visited Columbus for the Michigan State game, continues to catch the watchful eye of Greg Mattison.
During the Buckeyes' bye week, Mattison took a visit to Wisconsin to check out Wohler and his Muskego High School team's Friday night playoff game – a 17-7 victory to advance to the Division I Quarterfinals. 
What Mattison saw is the same thing that clearly jumps out and impresses you when watching Wohler's film. Wohler looks like he would perfectly fit the mold of what this new staff is looking for in its next cycle of defensive players – guys who will fly around aggressively, bring physicality and not be afraid to stick their noses into opponents to make plays.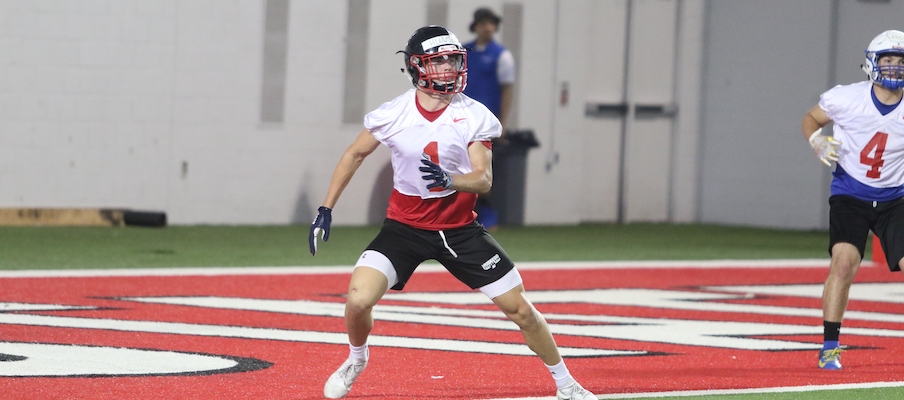 "I didn't get to talk to Coach (Mattison) a ton, but he came out and watched for a while and then we got to chat on the phone a little bit after the game," Wohler told Eleven Warriors. "He just said they really like me playing free safety for them, and they like my physicality and they just want to keep communicating and get me out there as much as possible."
Per 247Sports' Composite rankings, the 6-foot-1, 180-pound Wohler is the nation's No. 8-ranked safety in the 2021 class and is Wisconsin's No. 2-ranked junior recruit. 
Along with Derrick Davis Jr., of nearby Monroeville, Penn., Wohler is one of the Buckeyes' top safety targets in the class, and it's easy to see why when watching his film. He showcases impressive natural instincts, he sprints all over the field to make hits on receivers and running backs, already has impressive ballhawking skills, and he always seems to be around the ball, even when he looks like he's going to be nowhere near the end of the play.
The highlights in the video above are from his sophomore season – when he finished with a First Team All-State selection while leading Muskego to a state championship – so it will be interesting to check out his junior year highlights to analyze his areas of growth. 
Wohler, who has known Mattison since last winter when Mattison visited Muskego, attended Ohio State's 7-on-7 camp in June through an invite from Mattison, and he was awesome.
He shined enough to get Mattison's attention even further while there, and the co-defensive coordinator put the Buckeyes' relationship-building with him into high gear. The two got some one-on-one time to talk in Mattison's office, but Wohler did not get an offer from the Buckyes until September. 
After getting the offer, he made his unofficial visit on Oct. 5, and he raved to Eleven Warriors about his experience.
"I loved the atmosphere," Wohler said on the Sunday after the game. "The whole town was rocking and the team just used that and it showed. The coaches are awesome. I love talking with them and growing the relationship we have."
Had an awesome experience in a rocking atmosphere in Columbus. Thank you to @ryandaytime and @CoachJeffHafley for having us out yesterday. Cant wait to grow in our relationship and get down again to visit #GoBucks pic.twitter.com/gNWiYZL7qO

— Hunter Wohler (@HunterWohler) October 6, 2019
On Monday, Wohler told Eleven Warriors he may visit again, "sometime in the spring hopefully, but I'm going to keep in touch with them, and we will take it from there."
Jim Leonhard at Wisconsin is gunning hard for Wohler's top-end talents, and so is Notre Dame, which has emerged as one of the favorites in his recruitment after offering him on Saturday during a visit to South Bend.
Wherever Wohler ends up, that program will be getting an outstanding football player with a bright future who isn't afraid to lay the wood. Buckeye fans would love to root Wohler on and would fall in love with the physicality he plays with, so it will be interesting to see where his recruitment goes from here.
Buckeye commits, target earn honors
Ohio State 2020 offensive lineman commit Jakob James of Elder was named Co-Offensive Lineman of the Year in the Greater Catholic League, and he was joined in GCL honors by teammate and fellow senior Buckeyes commit, tight end Joe Royer, who was named Co-Receiver of the Year after hauling in 51 receptions for 914 yards and 10 touchdowns.
Ohio State 2021 safety target Jaylen Johnson was named to the GCL's First Team All-Defense.