As has been frequently noted, some of Ohio State's top commitments from the 2020 class are on the offensive side of the ball. Each of them is poised to continue the trajectories they have already set in place before they get to Columbus.
This is what is in store for each of them between now and when they hit campus in 2020.
Julian Fleming
During Julian Fleming's three years at Southern Columbia, the Tigers have lost just one game, as they went 47-1 with two state titles. Fleming was a large part of that success. He's compiled 183 receptions for 3,942 receiving yards and 55 touchdowns. He's already rewritten Southern Columbia's record books, but he has an opportunity to make those records unbreakable.
First Game: at Hammond, Aug. 25
Game to Watch: vs. Mt. Carmel, Aug, 31
Mt. Carmel was one of the best teams on Southern Columbia's schedule in 2018, but th eTigers still downed them, 41-7. Coming off a 10-3 season, Mt. Carmel will likely have some of the most momentum against Southern Columbia, though it looks like Southern Columbia will be on its way to a third consecutive state title.
Paris Johnson Jr. 
The 2019 season marks the first and last season five-star offensive tackle Paris Johnson Jr. will spend at Princeton before he enrolls early at Ohio State. He talked to Eleven Warriors about how he and Darrion Henry are forcing each other to improve during practice before the season begins, and Princeton head coach Mike Daniels called the 2020 class a "historic class." Henry believes his team can win a state title. If the Vikings do, Johnson will be a major factor involved.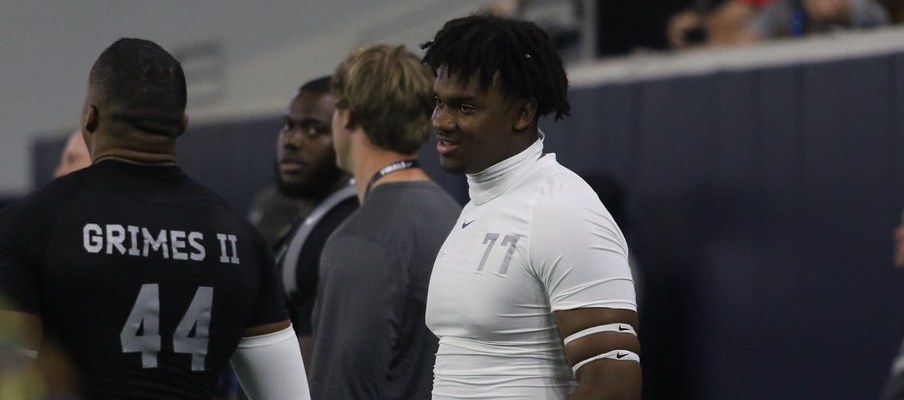 First Game: at Milford, Aug. 30
Game to Watch: vs. Colerain, Sept. 20
When I evaluated Darrion Henry on the defensive side, I said the matchup with Fairfield would be the game to watch for him because he will be playing former Ohio State all-purpose back target JuTahn McClain, but the game to watch for Johnson, and maybe the entire team, is against Colerain, where Ohio State cornerback Amir Riep played. Colerain had a massive 2019 class and got the better of Princeton last season, but Mike Daniels believes this year is Pricneton's year and that Ohio State head coach Ryan Day might be in attendance.
Gee Scott Jr.
Gee Scott Jr. hasn't gotten quite the same workload as some of the other commits, but he more than likely will as a senior. So far, he's put together 99 receptions for 1,684 yards and 21 touchdowns in three years, but he has one of the best skillsets in the country for his position and has really increased the development of his strengths this offseason. He will obviously be crucial to Eastside Catholic's path toward another state title but will take on more responsibility if his offense wants to reach its full potential. 
First Game: vs. Grant, Sept. 6
Game to Watch: vs. Pinnacle, Sept. 20
There seems to be a movement of Washington state players moving toward Midwestern states, and Scott Jr is one of the best prospects part of that movement. Pinnacle has two others, though, in the form of Michigan four-star quarterback commit JD Johnson and Notre Dame fur-sar offensive tackle commit Tosh Baker. Baker was on Ohio State's radar before he committed to Notre Dame in the spring.
Jaxon Smith-Njigba
Like Fleming, Jaxon Smith-Njigba is putting together a career of video game numbers at Rockwall High School. As a sophomore in 2017, he posted 83 catches for 1,328 yards and nine touchdowns. Then in 2018, he topped those numbers with 96 receptions for 1,819 yards and 20 touchdowns. The sky's the limit for Smith-Njigba in 2019 as he remains one of the most physical wideouts in the country.
First Game: vs. Highland Park, Aug. 30
Game to Watch: at Longview, Sept. 27
Longview is coming off of a state title in 2018, but it only beat Rockwall by seven points. It will surely be a shootout, as No. 4 dual-threat quarterback Haynes King and Smith-Njigba will be battling with powerhouse offenses. 
Luke Wypler
Luke Wypler plays in one of the toughest areas to play football in the Northeastern United States, as he plays schools like Bergen Catholic, St. Peter's Prep and Don Bosco – all schools that Ohio State recruits heavily around. In 2018, it was Wypler's team that won out and earned a New Jersey state title, beating Bergen Catholic in the final. This year, Wypler is coming off surgery and should be at full health by the time Week One rolls around.
First Game: vs, JSerra Catholic, Aug. 30
Game to Watch: Bergen Catholic, Oct. 12
For Cody Simon, I said that the game to watch was St. Peter's Prep's game against St. Joseph Regional, and while that will and has been a game to watch for Wypler as well, his game against Bergen Catholic will be more noteworthy because St. Joseph Regional defeated Bergen Catholic in the 2018 title game and Michigan four-star safety Jordan Morant will be playing on defense. Ohio State defensive end Javontae Jean-Baptiste graduated from Bergen Catholic too.
Mookie Cooper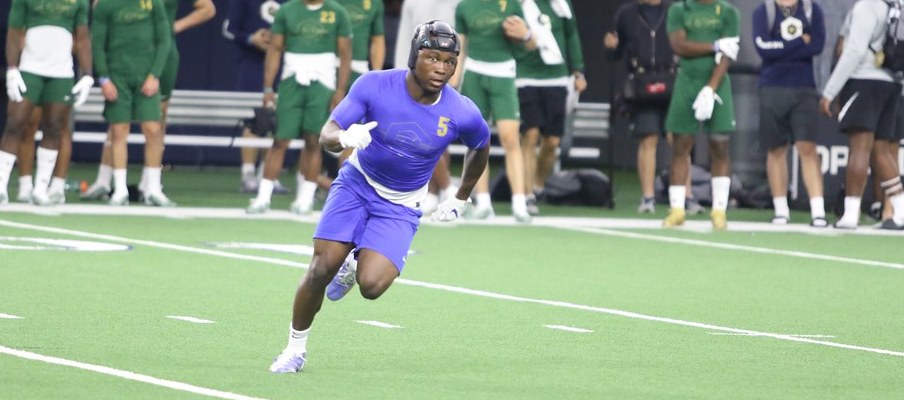 Last season, Trinity Catholic lost its first two games and then ran the table the rest of the way to win a Missouri state championship. Mookie Cooper was a large part of that success. Trinity Catholic scored more than 70 points on four different occasions, including an 88-0 victory at one point. Cooper played the role of an H-back on that team, and he likely will again in 2019.
First Game: at Lutheran North, Aug. 31
Game to Watch: at East St. Louis, Sept. 7
East St. Louis was the second of the two losses Trinity Catholic suffered in 2018, and it looks to be tooled to stop Trinity Catholic again. With Mookie Cooper's ability to get to the second and third levels of defenses, he could meet 2020 four-star safety Antonio Johnson quite often.
Jack Miller
Ohio State's quarterback of the future, Jack Miller, has something to prove during his senior season. His arm suffered at the Rivals 5-Star Challenge, and he was unable to throw during the Elite 11 Finals in Frisco. His team hasn't quite gotten over the hump during his career there, and last year, he suffered a knee injury that kept him out for a few weeks toward the end of the season. But the recovery he has gone through this offseason was all done with one thing in mind – being able to compete with his teammates during his final year.
First Game: vs. Hamilton, Aug. 23
Game to Watch: vs. Saguaro, Sept. 20
Any team in Arizona that plays against Saguaro will have it marked on its calendar, and Jack Miller is no different. Chaparral kept it close against the powerhouse program but lost, 45-37. Seeing how Miller and his offense schemes a plan against No. 1 2020 cornerback Kelee Ringo will be one of the most interesting matchups in the country in 2019.
Grant Toutant
Grant Toutant was part of a Michigan state title team that weaved its way through a postseason run that included defeating Port Huron Northern, where Michigan defensive end commit Braiden McGregor plays. Toutant locked down the edge of an offensive line that guided the De La Salle offense to nearly 3,000 yards rushing and 39 rushing touchdowns. One of two losses Toutant and his team suffered was to Muskegon, where Ohio State athlete commit Cam Martinez is the quarterback. 
First Game: vs. Muskegon (at Wayne State), Aug. 30
Game to Watch: vs. Muskegon, Aug. 30
This will be the game to watch for both Martinez and Toutant during the 2019 season, as both programs take on their toughest foes during the season opener. De La Salle should be able to roll through its schedule like it did last season, and as long as Muskegon has Martinez at quarterback, it's offense will continue to run as it usually does. Getting a shootout going between these two teams will be fun to watch.
Joe Royer and Jakob James
Elder had some big wins in 2018, but it didn't translate to the end result it was hoping for. It defeated a good Indianapolis Cathedral team, a Paris Johnson-led St. Xavier team and a shutout victory against Archbishop Moeller, where 2021 quarterback Malik Verdon plays. Verdon is getting looks from Ohio State. James secures the offensive front for Elder, and Royer seals the edge and is a reliable option in the passing game. James is coming off of shoulder surgery, so seeing whether he maintains the strength that is heralded around the Elder program is key for his 2019 season.
First Game: at Lincoln, Aug. 30
Game to Watch: at Winton Woods, Oct. 18
Winton Woods went 13-2 last season and saw its season come to an end against Massillon, but it defeated Elder, 28-10, along the way. A trio of prospects – Miyan Williams, DeMeer Blankumsee and Miquan Grace – were all in talks with Ohio State as in-state recruits at some point during the 2020 cycle, and they were part of the core that made Winton Woods such a force in 2018. While Jakob James and Joe Royer won't take them on much directly, the head-to-head matchup still holds true.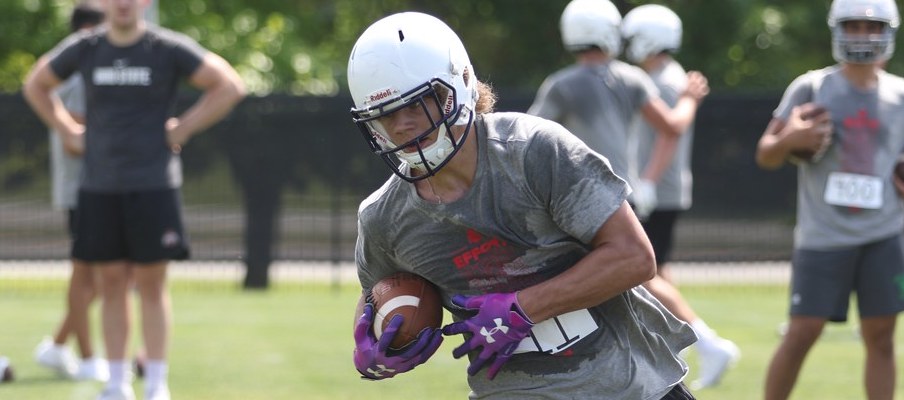 Josh Fryar 
Josh Fryar only played in 10 games last season because of a first-round exit in the postseason, but for going 6-4, his Beech Grove team ran through the teams it defeated. But one team, Scecina Memorial, the school where Indiana three-wide receiver David Baker plays, defeated Beech Grove and also made a run to the Class 2A regional championship game. 
First Game: Indianapolis Lutheran, Aug. 23
Game to Watch: Scecina Memorial, Sept. 13
Trey Leroux
With Trey Leroux at tackle, Norwalk advanced all the way to semi-state but lost to Archbishop Alter, as the running back tandem of John Bivens and Brandon McDonald toppled the Truckers. Leroux's natural size gives him an immediate advantage, but he has some work to do in 2019 to be prepared for Ohio State in 2020.
First Game: at Mansfield Senior, Aug. 30
Game to Watch: at Clyde, Oct. 25
Clyde took Norwalk into overtime last season and came out with a one-point win. Norwalk and Leroux will surely be looking to take one back from Clyde and be one win better at least in 2019.
Jake Seibert
At La Salle, Jake Seibert hit all six of his field goal attempts. La Salle has a pretty decent offense, so his coaching staff is less likely to pull the trigger on field goals near the endzone. The understanding that the best kicker in the country is on the roster might earn Seibert a few more opportunities during his senior year. The longest field goal he's ever hit in a game is from 47 yards out, so he could also look to break 50 in 2019.
First Game: vs. Lakota West, Aug 30
Game to Watch: any of vs. Mansfield (Sept. 13), at Archbishop Moeller (Oct. 4), at St. Xavier (Oct. 18), vs. Winton Woods (Oct. 25), vs. Elder (Nov. 1)
Those are all games that a coaching staff would take a risk with his kicker in. The scores will likely be fairly close, so any points are significant. Seibert might even have a chance at a game-winning kick.