The Hurry Up is your nightly dose of updates from the Ohio State football recruiting trail, keeping tabs on the latest from commits and targets from around the country.
Ohio State evaluating Rickey Hyatt's place in a secondary
Talks between Ohio State and Westerville safety Rickey Hyatt continue to heat up, as the 6-foot-2, 190-pound safety made his way into Columbus for Ohio State's one-day camp Thursday.
"I've been on a lot of visits to Ohio State," Hyatt told Eleven Warriors after the camp on Thursday. "They offered me a scholarship and told me to come to camp to see if I should be at a special position or if I should be a safety."
The Buckeye staff has already expressed interest to Hyatt regarding his potential to play the bullet position – what he referred to as "a special position." Hyatt expressed a desire to explore his options with the bullet position when Eleven Warriors caught up with him in mid-April, and Ohio State wanted him to participate in Thursday's camp so it could further evaluate where he best fits in the secondary.
The rapport that Hyatt has already developed with Ohio State's coaching staff is deep, as he stayed after spring practice during March for two extra hours to talk with the coaches. He was the last recruit to leave the facility that day.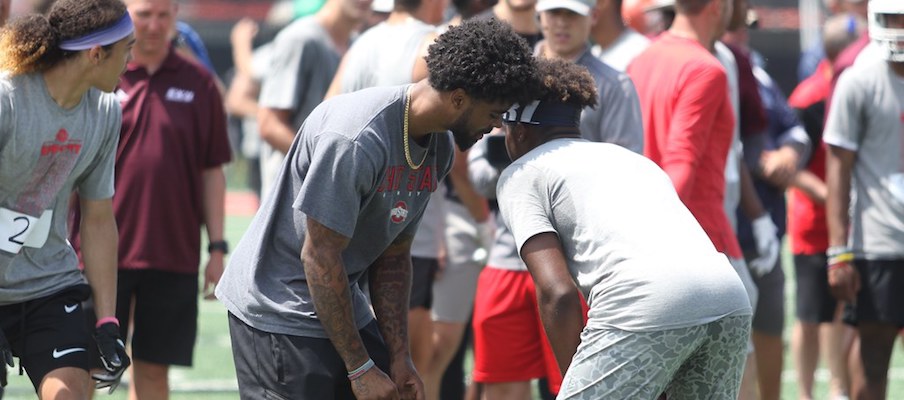 Thursday, he attended the only camp he plans to participate in.
"I think this is the only camp I'm going to," Hyatt said "I'm really trying to set up officials with some of these schools because closing time is at the end of June, so I've got to hurry up and do that."
The 2020 safety said he has interest in Ohio State, North Carolina, Kentucky, Cincinnati and Michigan State, and then added Penn State, Indiana and West Virginia.
Najee Story takes away tips form Larry Johnson
Najee Story, a top Ohio State defensive line target in the 2021 class, said he came into Thursday's camp trying to learn new things about becoming a better defensive end. The Solon star is already rated as Ohio's No. 8 recruit by 247Sports but hopes to improve on that.
He worked exclusively with Ohio State defensive line coach Larry Johnson and a select group of defensive line recruits that included Jack Sawyer, Darrion Henry, Gage Keys and others.
"Whenever I'm with Coach Johnson, he helps me see what I'm doing wrong and helps me improve," Story told Eleven Warriors after Thursday's camp.
The No. 15 defensive end in his class, Story was battling a nagging injury throughout the camp, so he wasn't 100-percent healthy. He's been working through rehab to get back to full health. Even with that injury, though, Ryan Day told him after the camp that Ohio State's interest is still there.
"He said that he still likes me and I'm one of their top guys," Story said.
DeaMonte Trayanum enters official visits season
Akron standout running back DeaMonte Trayanum will be taking an official visit to Ohio State on June 17-19, which will mark his first visit to Columbus since March 19.
The No. 5 Ohio prospect will be in Wisconsin for his official visit this weekend and has already been on his official visit to Arizona State in April. He also has one scheduled for Penn State on June 21.
While Trayanum is anticipated to pick the Buckeyes when it's time to make his decision, the No. 24 running back said he's learned to approach the official visits with an open mind.
"I approached them with an open mind, just getting to know what the players like," Trayanum told Eleven Warriors.
That's a big focus for Trayanum heading into June – talking to current player for each team to determine the culture of each program and make some early connections.
"You have to because you're going to be around them every day," Trayanum said about making connections with players.
The Akron athlete is one of the few Ohio State targets that had an early official visit. His Arizona State visit took place April 19, so he has a good idea of what to expect on the official visits heading into June.
"You're spending more time with players and seeing what campus life is like," Trayanum said.
Trayanum is one of the best athletes in the state, and he earned an immediate invitation to The Opening Finals in Massillon on March 31. He said he doesn't know who will be his host yet when he takes his official to Ohio State.
Ty Hamilton schedules an official visit with Ohio State after camp
Pickerington Central defensive end Ty Hamilton was expected to be a camp offer when Ohio State's summer camps rolled around, but just a couple weeks before Ohio State's first camp, Hamilton received his offer from the Buckeyes, increasing the amount of intrigue surrounding his performance at Ohio State's first one-day camp Thursday.
Hamilton showed why Ohio State felt inclined to offer him early. He showed good explosiveness and agility in Larry Johnson's drills and worked exclusively with the top defensive linemen all day.
2020 Pickerington Central defensive end Ty Hamilton, younger brother of Ohio State defensive tackle Davon Hamilton, runs through a defensive line drill at Ohio State camp. pic.twitter.com/YRh7mEM83a

— Dan Hope (@Dan_Hope) June 6, 2019
Following the camp, Hamilton announced his official visits via Twitter. He will be at Penn State this weekend, Ohio State on June 14-16 and at Michigan on June 21-23.
Hilliard Davidson defensive end Gage Keys, who worked out with Johnson and Hamilton during Thursday's camp also released his official visits, which included visits to Cincinnati, Indiana and Minnesota.