The Hurry Up is your nightly dose of updates from the Ohio State football recruiting trail, keeping tabs on the latest from commits and targets from around the country.
2020 Tight End's Ohio State Recruitment Expedited by Offer
Jonathan Odom had already narrowed down his offers list to 11 teams – Alabama, Florida, Florida State, Iowa, Louisville, LSU, Miami, Nebraska, Penn State, Purdue and Vanderbilt – before he was offered by Ohio State last week.
The three-star Florida tight end had been having conversations with Ohio State for a while, but those conversations have ramped up in recent weeks, he said.
"They wanted to see me in person before they offered me," Odom said. "But they asked my interest and I told them I was very interested, and they went ahead and pulled the trigger."
Odom's offer came just days after Ohio State's top remaining target for the position, California tight end Mark Redman, committed to Washington. The latest tight end offer Ohio State extended was to Canadien four-star Theo Johnson, who has a lot of interest in Penn State, and the last tight end offer left with strong interest in Ohio State was three-star Massachusetts tight end Cam Large.
Ohio State offered Michigan wideout Maliq Carr as a receiver, but many teams are now looking at him as a tight end, though he doesn't have much, if any, interest in playing the position. He also doesn't seem to be looking in Ohio State's direction either.
But for Odom, Ohio State is an immediate consideration. He's hoping to get to Columbus for two visits between the spring and summer, one as an unofficial and one as an official. He's already made an official to LSU and has another official visit planned to Florida this weekend.
He's been talking to Ohio State running backs coach Tony Alford and tight ends coach/offensive coordinator Kevin Wilson on a daily basis too.
Had a GREAT Official Visit to LSU cant wait to come back @Coach_EdOrgeron #GeauxTigers pic.twitter.com/uLQ48CnCI7

— Jonathan Odom (@shockey__80) April 7, 2019
"We have great conversations and have been developing this relationship for a while," Odom said. "They like how versatile I am and how I fit their offense perfectly, being able to be a huge threat in the passing game and being able to block as well as I do."
Odom is rated as the No. 28 tight end and the No. 814 player overall, and as a junior in 2018, he caught 19 passes for 249 yards and eight touchdowns. While his numbers and ratings don't jump off the page, Odom, at 6-foot-6, 240 pounds, can work around the middle of the field as well as be moved around in blocking schemes.
And the ratings haven't gotten to Odom either.
"I feel that I'm the best at what I do," Odom said. "I know that these days everyone is caught up in times and camps and all that, but for everyone to think I'm not the best gives me motivation to prove them all wrong."
Savion Washington Frustrated by Early Injury
Akron offensive tackle Savion Washington's recruitment got off to a late start. After slipping a disc shortly after his sophomore season in 2017, Washington was unable to make it to camps during the 2018 summer and was forced to miss his basketball season – losing a 6-foot-8, 340-pound body would be detrimental to most high school basketball teams.
But while visiting Ohio State last weekend, when current commits Luke Wypler and Jakob James, as well as 2019 signee Dawand Jones, were in Columbus as well, Washington felt like he saw a handful of players with similar body types as his. Tall, long, not carrying a lot of bad weight.
That's what's makes the process frustrating for Washington, who is rated as the No. 148 tackle in the 2020 class by 247Sports. He believes he has the ability to play at the Power Five level, but his only offer so far has come from Akron.
"I think it was because of my injury," Washington said. "I didn't get to go to camps to get my name out there. It wasn't anything serious, and it hasn't bothered me in months. I believe I have the talent and size to play at the next level."
Now that he has been invited to a few camps this offseason and had a good showing at The Opening Regional in Massillon, Ohio, Washington has gotten a bit more attention, including handwritten letters from Toledo, some looks from Michigan State and his visit to Ohio State.
Ohio State head coach Ryan Day had already visited St. Vincent-St.Mary High School to see Washington last year, but wide receivers coach and area recruiter Brian Hartline made his way there just a couple months ago too.
Washington said to his understanding, if he makes it to the Under Armour and Rivals camps  and has a good showing during his senior season, he will not only gain offers from other top programs but also potentially an offer from Ohio State too.
Ryan Day Details Recruiting Strategy for Saturday
The annual Scarlet and Gray Spring Game has made its way onto the next weekend of April and along with it is the biggest recruiting weekend of the spring. Eleven Warriors has already developed a list of the major visitors of the weekend, but Ohio State head coach Ryan Day detailed what the recruiting efforts look like the week before the event.
"We meet on it almost every day," Day said. "(Director of player personnel) Mark (Pantoni) is obviously the guy that spearheads the whole thing, but we're all involved with it. Nowadays, it's the 2019 signees who are coming back in to spend some time with us, and (the 2019 signees not enrolled are) actually allowed to do a workout with (strength and conditioning coach ) Mickey Marotti. See where they're at and where they are in their progress, have meetings with them on football, different things."
Day said he regrets that he isn't able to have more personal time with all of the recruits that will be at the event this weekend, including 2019-2022 classes, but that he has learned to rely on his coaching staff to be an extension of himself within recruiting and also within practices and other happenings in the program.
That's something he's known he could lean on as a head coach, he said, but also something he never appreciated as much as he has since becoming the head coach of Ohio State in December.
"It's something I knew but maybe didn't appreciate it enough is the staff and the trust you have to have in your staff to relay the message that you're trying to relay to the team day-in and day-out," Day said. "I think our coaching staff has done an incredible job of creating this toughness that we've been talking about. You rely on those guys, and you're only as strong as the guys around you."
Day was obviously talking about staff members like wide receivers coach Brian Hartline, defensive line coach Larry Johnson, running backs coach Tony Alford and secondary coach Jeff Hafley, who have all been and have become elite-level recruiters, but he's also talking about Pantoni, offensive quality control coach Keenan Bailey, defensive quality control coach Parker Fleming and guys that are in regular contact with recruits on and off campus and make contributions during practice.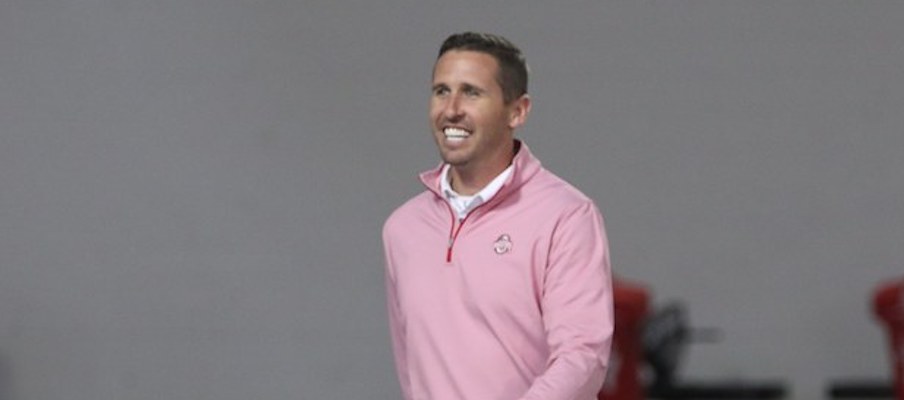 It's something the first-year Ohio State head coach thinks about on his drive into work some days, he said – how can he maximize the reverberation of the messages he wants to make to his team? And he understands recruiting is something done by a head coach, but how can he deliver the same message to potential recruits when he can't spend the desired amount of quality time with every one?
It's his assistant coaches, he said, and he will be relying on them heavily this weekend.
"After some of the big weekends we've had, after practice, I'll go to my office and the recruits are just coming through all the way until I go home at night," Day said. "There's no watching football. There's no watching film. That's a part of being a head coach. That's not something that surprises me. It just is what it is. But at the end of the day, when you have the group of guys that we have here and the resources that we have here, and you delegate and empower those guys to really do their job, that's the key to being a good leader."