The Hurry Up is your nightly dose of updates from the Ohio State football recruiting trail, keeping tabs on the latest from commits and targets from around the country.
SOUTHERN COLUMBIA'S MAX TILLETT RECAPS VISIT
This weekend's list of visitors has been well documented and, of course, there were even more elite-level prospects that made surprise visits to the Shoe. Southern Columbia (Catawissa, Pa.) linebacker Max Tillett made the trip to Columbus with several of his teammates, including the nation's top receiver in the class of 2020, Julian Fleming.
The 6-foot, 190-pound athlete was impressed with the fans, as well as the Buckeyes.
"I really liked how much there was pregame with the fans tailgating," Tillett told Eleven Warriors. "I plan on coming for the game against the team up north. I've been talking with coach [Mark] Pantoni and coach [Brian] Hartline. They've both been really great."
Tillett, a part of the 2020 class, is starting to see his recruitment process heat up. He runs a 4.6 40-yard dash and has a shuttle speed of 4.19. At the linebacker position, a group where Ohio State needs as much help as it can get, he'd be welcomed with open arms.
"[My recruiting process] has been going really good. I've been talking with some coaches and visiting schools," Tillett said. "I can really plan on focusing hard on school during the day, then when practice comes I put everything into it to gain more skills."
As for Fleming, a five-star wideout that's also expected to travel to the Michigan game, he told 247Sports that Ohio State's coaching staff "definitely put themselves in a good position." He also seems to like the Buckeyes' all-black alternate uniforms.
THE HIO STATE #GOBUCKS pic.twitter.com/A1krzZ9trY

— 0J4 (@julian_040) November 4, 2018
For what it's worth, Hartline walked out of the Buckeyes' tunnel for the first time Saturday with Fleming, Tillett and the rest of their crew walking alongside him. He then talked with the group on the field for about 10 minutes before participating in Ohio State's warmups.
BUCKEYES OFFER PWO SPOT TO CHILDERS
Camdyn Childers ended his senior season with 985 receiving yards and 11 touchdowns on 62 receptions. Sunday, the 6-foot, 185-pound wide receiver announced he had preferred walk-on offer from Ohio State.
Blessed to Receive a PWO from The Ohio State University!! #Zone6 #GoBucks pic.twitter.com/mcuCn4jvsR

— Camdyn Childers (@ChildersCamdyn) November 4, 2018
Childers, out of Carroll High School (Fort Wayne, Ind.), visited Ohio State this weekend. He's also been on recent visits to Cincinnati, Ball State and Eastern Michigan.
ANOTHER WINFIELD JOINING P.J. FLECK
As if the sting of Antoine Winfield Jr. committing to Minnesota back in 2015 wasn't enough, the Golden Gophers will now add Winfield's brother Austin to their roster as well.
Austin, a senior at The Woodlands High School (Texas), announced his commitment to Minnesota Saturday afternoon via Twitter.
Blessed to annouce my commitment to the University of Minnesota! Cant wait to join my brother in maroon and gold #RTB #SkiUMah @liltweeze26 @Coach_Fleck pic.twitter.com/x78qGxtpfy

— Austin Winfield (@1AustinWinfield) November 3, 2018
Winfield's father Antoine was, of course, one of the best defensive backs to play at Ohio State. During his career with the Buckeyes, he made 278 tackles and was a two-time All-American. He then went on to play in the NFL for the Bills and Vikings.
CROWLEY COMMITS TO BUCKEYE
45 minutes after Ohio State's 36-31 win over Nebraska Saturday, Trinity Christian (Jacksonville, Fla.) running back Marcus Crowley was still standing on Ohio Stadium's turf talking with Buckeyes running back coach Tony Alford.
Whoever you are, whichever program you root for and wherever you're from, you know that's a good sign for Ohio State.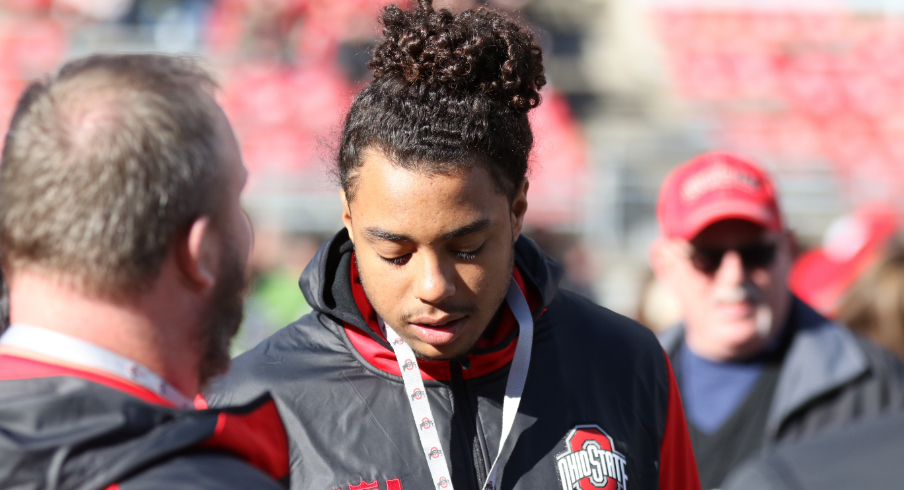 Immediately after, recruiting prognosticators took notice of it as well. Crowley's crystal ball predictions went from six projections towards Miami (FL), who he committed to in December 2017, to six projections towards Ohio State. Sunday afternoon, Crowley announced why those changes took place.
Crowley flipped from the Hurricanes to the Buckeyes and replaced Sampson James in their 2019 class, who decommitted from the program last month. Crowley is a 6-foot-1, 200-pound three-star back, considered Florida's 40th-best prospect, according to 247Sports. Here's what the latest #BOOM means for the Buckeyes.
But that's not all. Ohio State is also targeting two of Crowley's teammates, cornerbacks Fred Davis II and Miles Brooks. Davis II is a five-star in the class of 2020 while Brooks is a four-star in the same class. Davis is considered Florida's top prospect in his class while Brooks is ranked as the 27th-best overall prospect and 13th-best corner.
Both took to Twitter to congratulate Crowley and Davis II wants a talk.
Is this the move now?? Congrats my Brotha LETS TALK #BuckeyeNation https://t.co/ADcn6GfDq3

— FD2 (@__FredDavis) November 4, 2018
OBSERVATIONS FROM SATURDAY
As you all know by now, Saturday was the biggest recruiting weekend Ohio State has had to date this season. With multiple five-star athletes in attendance, what could be key pieces in the program's future scattered throughout the stadium, assistant coaches took notice.
As mentioned earlier, Brian Hartline took a significant amount of time talking with Julian Fleming and his teammates, and for good reason. Hartline gave the same treatment to Western Hills (Ky.) running back Wandale Robinson. While Robinson eventually committed to Kentucky, his presence was not forgotten in Columbus, thanks to Hartline.
Hartline's recruiting efforts mirror that of Alford's. Just in watching the two converse with athletes, you can tell they both take it very seriously and roll out the red carpet whenever they can. The same could be said of defensive line coach Larry Johnson. While working with his current players before Saturday's game, five-star defensive ends Zach Harrison (Lewis Center, Ohio) and Chris Braswell (Baltimore, Md.) were watching closely. 
After the game, Braswell and Harrison were all smiles but will that account for anything? In Harrison's case, according to Ohio State defensive tackle Dre'Mont Jones, the chance to learn from Johnson should be enough.
Hed be crazy if didnt try learn from the most legendary D-line coach https://t.co/2BH46byOGm

— Dre'Mont Jones (@TheOfficial_80) November 3, 2018
Then, of course, you have Crowley and Katy (Texas) running back Deondrick Glass. Either would be a great pickup for the Buckeyes's 2019 class. You'll be happy to know that while Alford was talking with Crowley, fellow Texas Garrett Wilson was helping out in Glass' efforts.
Visiting Ohio St hangout enjoy the game with the homie @GarrettWilson_V go Buckeyes!!! @OhioStateFB @CoachTonyAlford @UrbanMeyer24 pic.twitter.com/IyGXHG0our

— Deondrick Glass (@deondrickglass) November 3, 2018