The Hurry Up is your nightly dose of updates from the Ohio State football recruiting trail, keeping tabs on the latest from commits and targets from around the country.
COURTING CAVON BUTLER
Toledo Whitmer defensive tackle Cavon Butler has already committed to Kentucky – he did so on Aug. 3. But that doesn't mean he isn't still considering his college options.
Butler was in Columbus for Ohio State's 49-26 win over Indiana Saturday and the Buckeyes offered him upon his arrival. He's a three-star 2019 recruit that's listed at 6-foot-2, 285 pounds. This season, he has 29 tackles, four for a loss, and two sacks.
"I love the campus and the people there," Butler said of Columbus. "My first impression is when I saw all the coaches and they were happy to see me. Right now, I'm still solid with Kentucky. I'm just worried about finishing the semester strong and finishing my senior season."
Blessed and honored to receive another offer from The Ohio State University #GOBucks @markpantoni @OSUCoachMeyer @OSUCoachSchiano pic.twitter.com/4Icg2L53TY

— Cavon Butler (@CVon01) October 7, 2018
Butler said while he's still loyal to his Kentucky commitment, he continues to talk to Ohio State coaches everyday, especially assistant athletic director Mark Pantoni.
"I talk to the coaches every single day. I talk to coach [Urban] Meyer, coach [Larry Johnson], coach [Greg] Schiano, coach [Tim] Hinton and I talk to coach Pantoni. I talk to coach Pantoni the most. He is the one who got me to come on the visit. I can't thank him enough."
Butler says on the field, his goal is to stay in "top-notch shape" while he stays on top of his grades off the field. And while his commitment to Kentucky is still in shape, crystal ball predictions show an 83 percent chance he lands in Columbus.
HARTLINE TALKS WITH ROBINSON
Western Hills (Ky.) running back Wandale Robinson made his fifth visit to Ohio State Saturday afternoon and from the moment he walked out of the tunnel onto the field, it was crystal clear that he was absolutely a priority for the Buckeyes.
Robinson spent about 15 minutes talking to wide receivers coach Brian Hartline on the field and said that Hartline has made him feel like a priority since he took the job. Hartline pulled out all the stops ... he even brought his wife over to Robinson to introduce her.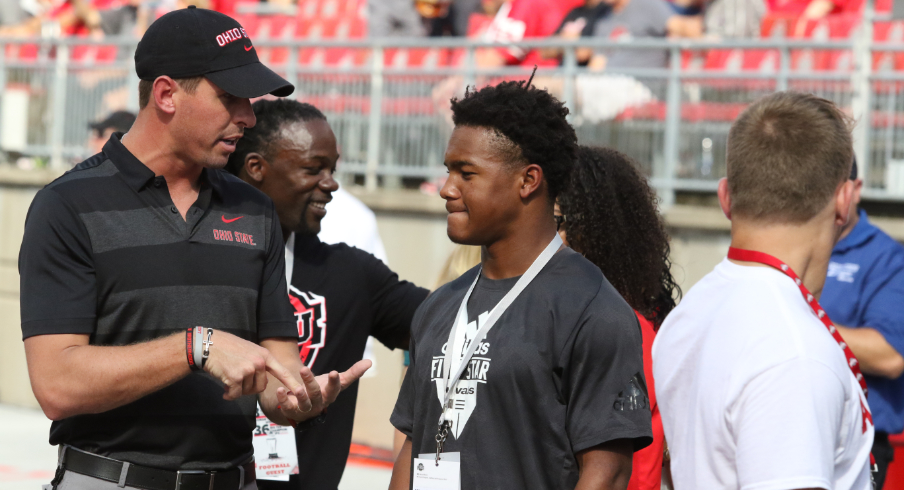 It's certainly for good reason.
Just this past Friday, Robinson's talents were on full display. In a 49-42 loss, the all-purpose back ran for 200 yards and four touchdowns, caught five passes for 37 yards, threw for 35 yards, made 10 tackles, forced three fumbles and had a interception return for a score. He was legitimately everywhere. If the Buckeyes are to get Robinson, and most prognosticators are leaning that way, the four-star prospect would make an already talented class that much better.
LUQMAN HASKETT MAKES A VISIT
Landstown (Virginia Beach, Va.) running back Luqman Haskett also made a visit to Ohio State this weekend. It was the unranked running back's first visit to Columbus and second visit overall – he's also taken a visit to Virginia Tech.
Haskett said he has offers from North Carolina State and Massachusetts but is gaining interest from programs like Ohio State, Michigan State and Duke.
@OhioStateFB #gobucks pic.twitter.com/to33SEFrNW

— LORD Jizzle (@LJhaskett3) October 7, 2018
I loved the experience. Definitely nothing I've experienced before," Haskett said of Ohio State. "Especially seeing the Indiana game and being on the field with the players ... that was amazing. I've been in contact with the recruiter and I just met [co-defensive coordinator] Alex Grinch at the game. It was an honor to meet him."
Haskett could be an underrated talent. He says he brings a quickness to the game that can help any offense. Landstown is currently 5-2 and Haskett is a big reason why. His situation is an interesting one as the 2020 prospect could be flying under the radar.
THE SAMPSON JAMES SITUATION
Long-time pledge Sampson James decommitted from Ohio State today and then announced on Twitter that he was flipping to the Hoosiers. The four-star was the Buckeyes' lone tailback pledge for the 2019 class, though Georgia native Steele Chambers is an athlete who projects as either a running back or linebacker at the next level. 
As for Ohio State's running back recruiting, there's no doubt that Tony Alford and the rest of the staff will be on the hunt for at least one true tailback for the class. Eleven Warriors will have more information on Tuesday regarding the realistic options at the position.