The Hurry Up is your nightly dose of updates from the Ohio State football recruiting trail, keeping tabs on the latest from commits and targets from around the country.
NOT SO FAST, MY FRIEND
Huber Heights Wayne four-star wide receiver L'Christian "Blue" Smith had circled the first game of his senior season as the date on which he would like to announce his college intentions — after all, the game is on ESPN against a nationally ranked opponent.
However, the 6-foot-6, 210-pound Smith tweeted on Tuesday night there was a change of plans. He did not elaborate any further, though.
There has been a change in my commitment date...

— BLUE (@bluesmith_) August 1, 2017
Smith then followed that up this morning with another tweet, suggesting he'll stick with his original plan.
First game....

— BLUE (@bluesmith_) August 2, 2017
"He's not changing it. [He's] sticking to the original date," Smith's father, Lorenzo, told Eleven Warriors. "[His] head coach [Jay Minton] wanted him to do it on Friday, Aug. 25, at the high school. You know [how] most of these kids have the thumb on send before thinking. So it's still Aug. 27. I'm hoping he does it before the game, but I will let you know for sure when the date gets closer."
That's certainly good news for Ohio State, as sources close to the program tell Eleven Warriors there's a bit of increasing uneasiness surrounding Smith's recruitment. If he were to move his announcement up any more than a few days — or even decide out of the blue this evening — there would be a great chance he'd go against general consensus and pick Kentucky.
Now I'm not saying I think he'll end up in Lexington instead of Columbus, and my 247Sports Crystal Ball prediction remains with the Buckeyes, just as it has longer than anyone else. But the Wildcats have done everything right in his recruitment thus far, and the relationships the coaches have established with Smith and his family give them a real shot to land a prospect head coach coach Urban Meyer really wants.
It's going to be a battle through the end of the month for Ohio State. All I'm saying is maybe it's time to start looking at Kentucky as a legitimate threat.
SHOWING FAVORITISM
When the NCAA first allowed college coaches to retweet, like, favorite and share social media post from prospective student athletes last year, Meyer and his staff interacted with almost every one that included either the words Ohio State or Buckeyes and/or #GoBucks.
That extra involvement with 17-year-olds helped the staff gain favor with potential recruits, while skipping a post might have hurt their chances to land said prospect. And though that seems crazy, that's just the world we live in.
Fast forward to yesterday, and Ohio State — as well as every other college football program in the country — sent out official offer letters to their top targets and commits. Each one of them responded by posting a photo of the offer letter to social media.
Most of the staff, in turn, retweeted each prospect. Everyone except Meyer, who wasn't nearly as active on Twitter Tuesday. In fact, he only retweeted one player: New Jersey four-star defensive end Jayson Oweh.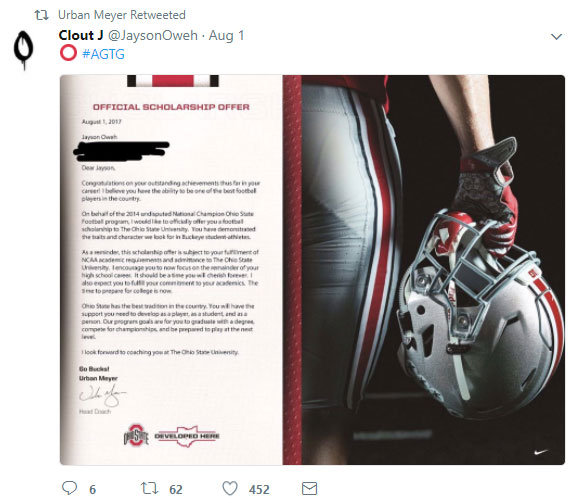 Sure, it's easy to think Meyer didn't check social media yesterday or that the intern assigned to run his account failed to meet his daily quota for tweets, retweets and favorites. But let's be honest, every move the three-time national championship-winning coach makes is extremely calculated.
Simply put: Oweh is one of the staff's top remaining targets, and Meyer and Co. wanted to show him just that on Tuesday. It's a tiny gesture that will go unnoticed by most, but one that could certainly go a long way toward the Buckeyes landing yet another highly sought-after prospect.
A REAL POSSIBILITY
Earlier this week, Allen, Texas, four-star wide receiver Theo Wease Jr. included Ohio State in his Top 14 alongside Arizona State, Colorado, Florida, Florida State, LSU, Nebraska, Oklahoma, Ole Miss, Oregon, Texas, TCU, Utah and Washington. I caught up with him late Tuesday night, at which time I asked what stands out about the program.
"That great tradition of winning, and, of course, coach Meyer." Wease told Eleven Warriors.
The Buckeyes offered the 6-foot-3, 189-pound Wease — who is considered the sixth-best wideout and No. 35 prospect overall in the Class of 2019, as he hauled in 35 receptions for 421 yards and eight touchdowns for the Eagles last season — during the spring evaluation period. Since then, he's been able to build a relationship with Meyer and offensive coordinator Kevin Wilson.
"[We] haven't talked too much about the future yet," Wease said. "[They] mostly just want to get me on campus and to get a real feel about the program."
Wease — a one-time Sooners commit — has never been to Columbus, but has heard great things from the program from teammate and fellow Ohio State target Grant Tisdale, who attended a one-day camp in June. The two even talk about playing together in college, which means the Buckeyes could once again have a stellar haul from the Lone Star State in 2019.
"Every day we talk about it, actually," Wease said.
Of course, proximity will always be a selling point for some of the other schools on Wease's list. But he's not too worried about playing far from home.
"I'm going wherever I have the best opportunity to ball and play for a national championship," Wease said.
Sounds like Ohio State should be in it until the end. And if they do ultimately land both Wease and Tisdale, what will they bring to the table?
"[We're] future Heisman candidates," Wease said.
WHOOPS
Ohio State has held the top spot in the 247Sports Composite Rankings since New York four-star tight end Jeremy Ruckert pledged his services last month. But following a decision from Texas three-star offensive tackle Connor Galvin on Tuesday night, the Buckeyes found themselves looking up in the standings at Baylor.
Thanks to a glitch on 247Sports, Baylor had the top-ranked recruiting class in the country for a few hours tonight. pic.twitter.com/hV4kIZEP5C

— Andrew Lind (@AndrewMLind) August 2, 2017
Wait, how? 
Well, it looks as if 247Sports — which has been less than ideal to visit since its merger with Scout — had a glitch that somehow put a team with only one four-star pledge ahead of another with three five-star and 11 four-star commits. 
The issue was corrected by morning, with Ohio State reclaiming the top spot. Baylor, meanwhile, comes in at No. 24 overall. That's more like it.