Ohio State signed three defensive linemen in its most recent recruiting class. It already has that many committed for its next one.
The Buckeyes inked 5-star end Chase Young and 4-star tackles Haskell Garrett and Jerron Cage in February. The three of them arrived on campus three weeks ago with the rest of the members of the 2017 class that didn't enroll early.
The number of big bodies Larry Johnson and Ohio State sign in eight months could at the very least double the output of the past cycle, purely out of necessity. And the Buckeyes know it, as evidenced by their actions on the recruiting trail.
A quick peek at the current roster and scholarship grid reveals four seniors on Ohio State's defensive line entering the 2017 football season. Reigning Big Ten Defensive Lineman of the Year Tyquan Lewis and Jalyn Holmes are at end while Tracy Sprinkle and Mike Hill play tackle. The names that could be gone by this time next year don't stop there, however.
Redshirt junior Sam Hubbard is a prime candidate to leave school after this season and enter the NFL Draft. Hubbard, who is in line to start opposite of Lewis at end and earned honorable mention All-Big Ten last year, is on track to graduate this fall. As long as he stays healthy and remains productive under Johnson's eye, there won't be much left for him to do in college provided Ohio State is in the College Football Playoff discussion as expected.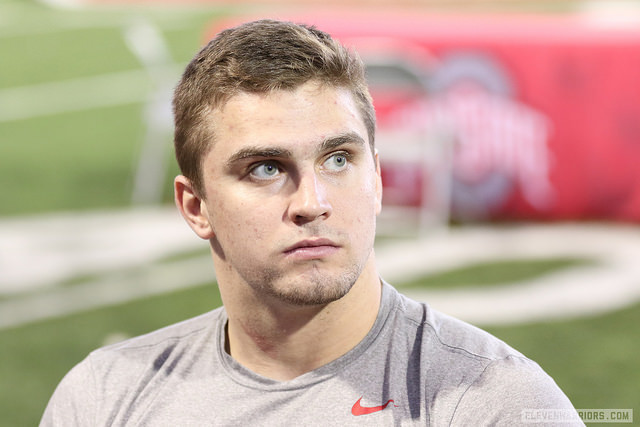 Two other redshirt juniors — tackle Dylan Thompson and end Darius Slade — might also find themselves on the outside looking in after the 2017 season. Injuries have halted their progress, and with such a deep backload of defensive line talent to work with, the chance Johnson taps them for snaps in key moments this coming season do not look too high.
Add it all up and there is four names for sure gone, another (Hubbard) likely gone, and two other wild cards that could end up moving on after the season. With that in mind, it might concern fans that Johnson "only" has three defensive linemen — tackle Taron Vincent and ends Brenton Cox and Andrew Chatfield — as June nears its end. Those fans shouldn't panic. There is still a long way to go, and Johnson has plenty of irons in the fire with recruits.
Consider: The three players the Buckeyes already have committed for the 2018 recruiting class are highly ranked. Vincent is the top defensive tackle in the country, Cox is the No. 2 defensive end and Chatfield is No. 16 at the same position. The three of them are set to compete on Team Vapor Speed at Nike's The Opening Finals next weekend in Beaverton, Oregon.
With the Buckeyes taking such a national approach in their recruiting strategies, every player invited to The Opening garners some sort of interest from Meyer and his staff. Ohio State has also offered a slew of defensive linemen in the 2018 cycle and is in on a ton of top talent. Some of the names:
Four-star defensive end Tyreke Smith from Cleveland Heights, Ohio
Five-star defensive end Micah Parsons from Harrisburg, Pennsylvania
Four-star defensive tackle Aeneas Hawkins from Cincinnati, Ohio
Four-star defensive tackle Nesta Silvera from Fort Lauderdale, Florida (same high school as Chatfield)
Three-star defensive end Jayson Oweh from Blairstown, New Jersey
Chatfield and Parsons (should he sign with the Buckeyes) possess body types where they could play linebacker for Billy Davis. But the point remains: Johnson knows he has to replenish the trust fund of talent after coaching literally the same personnel in 2017 as he did in 2016 (and adding Young, Cage and Garrett).
Davon Hamilton, Robert Landers, Dre'Mont Jones and Jashon Cornell are all redshirt sophomore defensive tackles, though Jones's name has been tossed around in early 2018 NFL Drafts projections. Rashod Berry is a redshirt sophomore defensive end, though Meyer said recently that the staff is considering using him on the other side of the ball after the season-ending knee injury to A.J. Alexander.
Nick Bosa, Jonathon Cooper and Malik Barrow round out the other names that are slated to return to Ohio State in 2018. With how much the Buckeyes like to rotate in fresh bodies up front and use a separate package on third down or in passing situations, the need to add more after what could end up being seven names moving after this coming season is imperative.
Expect a significant defensive line haul come February.