Zach Harrison stood in the inside lane of the track Saturday morning as he awaited his teammate to hand him the baton for the third leg of the 4x400-meter relay.
From an outsider's perspective, it was easy to spot Harrison if you didn't know who he was. And it had little to do with the bright orange track uniform he sported.
That's because Harrison, a sophomore at Olentangy Orange High School and one of the top football prospects in the country for the 2019 class, stands 6-foot-6 and weighs 245 pounds. And yet somehow, someway, he's a sprinter on the school's track team. During this particular race, the competitor standing directly behind Harrison barely came up to his shoulder. It was a staggering difference in size.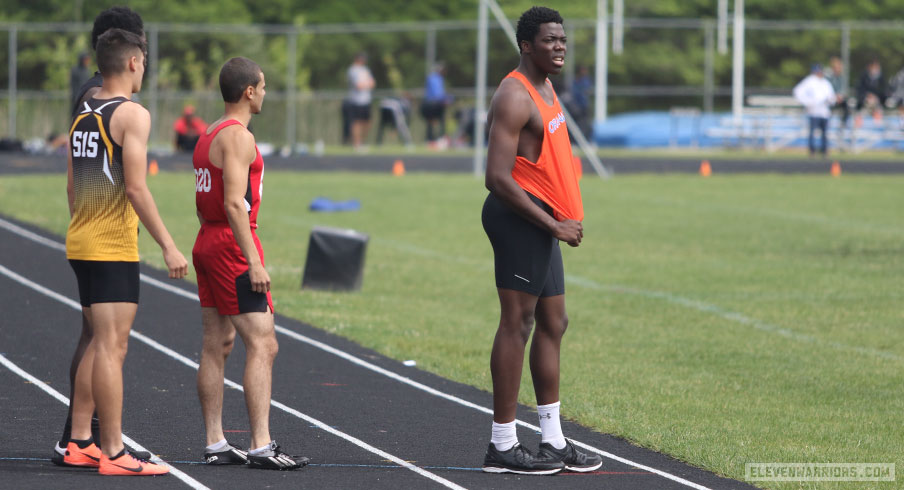 Adam Walters, the head track coach at Orange, has been around the sport nearly his entire life. When asked how many sprinters he's ever seen that possess Harrison's physical measurements, Walters offered up a rather quick response.
"Zero," he said, laughing. "He's a first."
But perhaps what's even more impressive than Harrison competing in sprint events — in addition to the 4x4 he also runs the 4x100- and 4x200-meter relays and 200-meter dash — are the times he produces.
On this day, the district finals, Harrison and his three teammates in the 4x4 turned in a district-winning time of 3:22.2. Olentangy Orange also clocked regional qualifying times in the 4x1 (43.25) and 4x2 (1:29.3) and Harrison was a regional qualifier in his lone individual event — the 200 — with a time of 22.23 seconds.
Think about that: A 6-foot-6, 245-pound high school sophomore running a 200-meter dash in 22.23 seconds. The week prior, at the conference meet, Harrison ran a personal best 21.58 in the 200.
"I don't know any guys who are as big as him that run as fast as him," Walters said.
Zach Harrison (Lane 2), a 6-foot-6, 240-pound sophomore, is a regional qualifier in 200-meter dash with a 22.23 today. Ran sub-22 last week pic.twitter.com/ttCFSM00XS

— Tim Shoemaker (@TimShoemaker) May 20, 2017
Harrison's blazing track times only tell part of the story, however.
He doesn't wear track spikes while running because none are made in his size. Harrison wears a size 17 and sprinter's spikes that big simply don't exist. He's searched for them.
"Just can't find spikes in Size 17," he said, "so I just run in what I have."
No big deal. Just sub-22 second 200-meter dashes in training shoes. Nothing to see here.
The rare combination of size and speed are what make Harrison such a highly-coveted football prospect. He is ranked as the No. 3 prospect in the 2019 class, according to 247Sports, and already has scholarship offers from Ohio State, Alabama, Notre Dame, Michigan, USC and others. This is only the beginning, too, as more offers will soon flood in.
The scary part is Harrison might only be scratching the surface. After all, last season was his first at the varsity level as he only played for the freshman team during his first year of high school. Olentangy Orange head football coach Zebb Schroeder described Harrison as an "awkward, long freshman football player."
It's certainly not that way anymore.
"He checks all the boxes, really," Schroeder said. "He has the length, the size and strength and the power to go with it. At 6-6, 245 right now, he has power which means he can move that strength in a fast-twitched way. … You put those things together and then you get into the stuff that really makes him special like the fact that he just loves football and he loves the fundamentals of his position."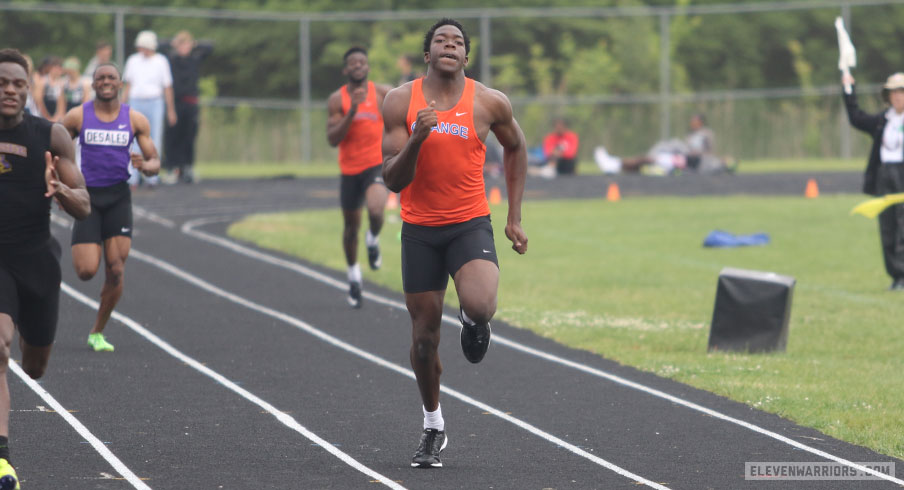 Olentangy Orange has been open since 2008 but Schroeder said the school is yet to produce a Division I football player. Harrison was the first to ever receive a scholarship offer and now two of his teammates in the class above him have been offered, as well. College programs are making the Central Ohio school a definitive stop now while in the area.
Of course, because of proximity, Ohio State is considered the heavy favorite to land Harrison. The Woody Hayes Athletic Center is a 20-minute drive from Orange. Buckeyes defensive line coach Larry Johnson keeps in constant contact with Schroder. And in a recent conversation between the two, Johnson told Schroder that Harrison reminded him a bit of Courtney Brown, the former No. 1 pick in the NFL Draft and Penn State All-American whom Johnson coached in Happy Valley.
That's certainly high praise, and there's a long way to go in Harrison's development as a football player, but it just speaks volumes of the freakish potential the 15-year-old Harrison currently possesses.
"I think it's been really fun to watch what makes him tick a little bit," Schroder said. "He went to The Opening [in Cleveland] against some really good competition, some really good offensive tackles that had some experience with pass pro and stuff. At the high school level, he's able to kind of use his leverage, his speed and he's able to get to the quarterback just kind of because he's got some God-given power. I think that was a really good wake-up call for him."
"I would say you never try and put a ceiling on an athlete, but [Harrison's] is incredibly high. I have no idea how fast he's going to be able to go, but it's going to be fun each week from here on out to see what happens."– Olentangy Orange Track Coach Adam Walters on Zach Harrison
"He's kind of really gotten into pass-rush moves and being able to open his hips a little bit and use his hands. If he makes that jump, wow, it's going to be really exciting to watch him as a pass rusher."
With track season set to conclude in two weeks, Harrison said he will shift all of his attention to football. He wants to put back on the 5-to-10 pounds he lost during track season, continue to improve individually and, of course, take a couple of college visits.
"My high school team, we're just lifting and once August starts we'll have practice," Harrison said. "As far as recruiting and college stuff, I'm probably going to get around to places that I like and visit the ones that are at least within driving distance."
"I'll definitely be up at Ohio State and probably Michigan, Notre Dame, Penn State, mostly Midwest powers."
For now, though, it's trying to qualify for the state track meet. All three Olentangy Orange relay teams with Harrison as a key member will run in the regional finals Friday. If they finish in the top four, they'll be state qualifiers.
If Harrison gets there, he'll surely turn more heads along the way. 
"I would say you never try and put a ceiling on an athlete, but his is incredibly high," Walters said. "I have no idea how fast he's going to be able to go, but it's going to be fun each week from here on out to see what happens."