Decision day has arrived for Toledo St. John's Jesuit four-star linebacker Dallas Gant.
The 6-foot-3, 225-pound Gant is scheduled to announce his commitment during a ceremony at his high school at approximately 3:30 this afternoon as a way to celebrate his 17th birthday. He will choose among finalists Michigan, Michigan State, Notre Dame, Ohio State and Penn State, though the general consensus is that it's long come down to the Buckeyes and Fighting Irish.
As we've detailed numerous times since Ohio State extended a scholarship offer during a one-day camp in June 2016, Gant's recruitment has had plenty of twists and turns in the last year. Notre Dame — to no one's surprise — offered during an unofficial visit the very next day, setting the table for the back-and-forth battle.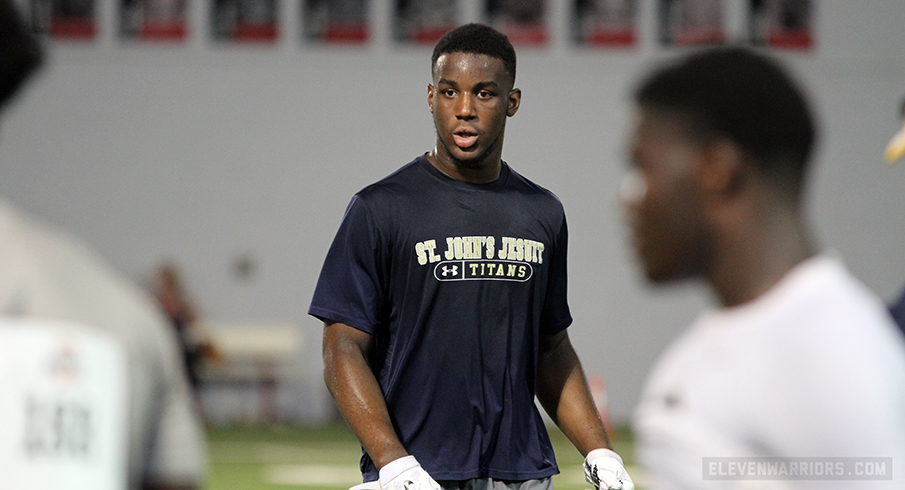 Gant formed a strong bond with former defensive coordinator Luke Fickell over the next five months and even came close to committing to the Buckeyes following a visit for their double-overtime win over the Michigan Wolverines last November.
The Fighting Irish, meanwhile, fired defensive coordinator Brian VanGorder and shifted its linebackers coach to the defensive line halfway through a disastrous 4-8 season, which made his pledge to Ohio State seem inevitable.
Any momentum the Buckeyes had seized shifted, however, when Fickell — the man who would be Gant's position coach in Columbus — was named the head coach at Cincinnati in December.
In the meantime, Notre Dame's new defensive coordinator, Mike Elko, and linebackers coach, Clark Lea, made Gant a priority after moving over from Wake Forest. The plan they laid out for Gant — having been instrumental in developing former two-star outside linebacker Marquel Lee into an NFL Draft pick — put the Fighting Irish right back in the thick of his recruitment.
Ohio State head coach Urban Meyer quickly identified long-time NFL assistant Bill Davis as Fickell's replacement, and it should go without saying he had a lot of ground to make up in a short amount of time. The two met for the first time in February and seemed to hit it off right away.
"I think all his NFL experience outweighs it."– Dallas Gant on Bill Davis' lack of college experience
"Great guy and [he] seems like an outstanding coach," Gant said, adding he wasn't too worried about Davis' lack of experience at the college level. "I think all his NFL experience outweighs it."
Things were all quiet until April when Gant tweeted his Top 5 schools and set an announcement date. He then had a choice to make: check out Michigan's Spring Game or return to Ohio State for the fourth time in six months.
He, of course, made the trip to Columbus, more or less ending all hope for the Wolverines.
Gant had taken a liking to Michigan's staff but acknowledged their late offer in January put them too far behind schools like Ohio State and Notre Dame, both of which were among the first to show him significant interest.
"I love Jim Harbaugh. He's weird, but it's good. I really like him. I think he's one of my two favorite coaches," Gant said. "With Michigan waiting a long time — and I'm glad they came because it's a great school. I've been up there one time and it's a great school — but they came in late. I didn't get a chance to see them when all those other schools were around. It's just a little different in a way."
Both Ohio State and Notre Dame made their final pitches on consecutive weekends in April, but Gant told those in attendance at Nike Football's The Opening Cleveland Regional last month he already had his mind made up.
Though the schools are about equal distance from Gant's hometown, the Buckeyes have the home-state pull, consistently send great linebackers to the National Football League and are among the nation's most successful programs this century.
"They tend to their players, they [have] great NFL players and they just make the place successful."– Dallas Gant on Why Ohio State stands out
"Ohio State is very comfortable," Gant said. "They tend to their players, they [have] great NFL players and they just make the place successful."
The Fighting Irish, meanwhile, have a long history of tradition and the aspect of religion on their side — though Gant can obviously still practice Catholicism in Columbus. Getting a degree from a prestigious university like Notre Dame holds some significant weight, too.
"Notre Dame is similar to my [high] school," Gant said. "I know they haven't the best year there, but that's all right. They're going to turn it around."
So, which does Gant choose this afternoon?
Well, this is not your father's Notre Dame, holding a significant advantage over its counterparts both academically and athletically. Ohio State can offer the same things off the field, especially with the effort Meyer puts into the widely respected Real Life Wednesdays program, and can mold him into a first-round draft pick on it.
What more could he want?