Nick Saban and Urban Meyer are all too familiar with one another.
The Crimson Tide have captured the national recruiting crown for seven consecutive cycles, but the Buckeyes have been one of a handful of teams that have pushed for the top spot. It was the 2010 Florida class – which was mostly constructed prior to Meyer's departure – that was last able to unseat Nick Saban atop the national team rankings.
While Meyer and Saban have butted heads countless times throughout the years, Alabama's efforts haven't often ventured up north to the Buckeye State. The Tide have only signed one Ohioan since Meyer's arrival and three total dating back to 2010.
Cincinnati wideout Derek Kief did hold a Buckeye offer when he elected to head to the SEC in 2014. West Chester's Ryan Kelly and Springfield's Trey DePriest sided with Saban in 2011, but only the latter was targeted by Ohio State. Kief has had a lackluster career thus far having recorded just four receptions in three seasons. DePriest never lived up to his top-100 billing coming out of high school. Kelly was selected by the Indianapolis Colts in the first round of the 2016 Draft.
Offers to Ohio Prospects

| Year | OSU | Bama |
| --- | --- | --- |
| 2014 | 12 | 5 |
| 2015 | 15 | 3 |
| 2016 | 15 | 3  |
| 2017 | 8 | 3 |
| 2018 | 9 | 8 |
The 2018 Ohio class is shaping up much differently as Saban has already made his presence felt with a number of offers. While there's always a question as to whether these are "offers" or "OFFERS," the Alabama interest can certainly have an impact on the recruiting front – especially for the in-state Buckeyes. 
Offers from other powerhouse programs oftentimes force the Buckeyes to accelerate their timeline for an offer. Instead of waiting for prospects to be fully evaluated at camps throughout the spring and summer, the staff may need to extend those offers a bit earlier. 
It can be an interesting predicament for a number of reasons. If Ohio State waits, that gives a school like Alabama time to swoop in and build that relationship. Further, it can allow for some negative recruiting to occur when one school constantly reminds a player that they showed interest and offered before another – even if that other school is in one's home state. 
On the other side of the coin, Meyer has made it pretty clear that the in-state offers are often ones that should be taken more seriously than some of the national ones. Ohio State – and really every other major program – will often throw out "feeler" offers which sometimes just amounts to an invitation to attend a camp or check out Columbus. That's typically not how things work for in-state prospects.
The staff has been criticized before for not taking enough players from Ohio, and sending out non-committable scholarship offers to Ohioans could potentially be a good way to piss off a bunch of coaches within the state. It's obviously never a good idea to risk harming the relationship with the high school staffs who are handing you the bulk of the talent year after year. 
It's still early in the 2018 cycle, but right now Alabama has already offered eight Ohio prospects, which is just one fewer than the Buckeyes. It's certainly worth noting that much of this depends on how strong of a class the state produces from year to year, and the current crop is already shaping up quite nicely.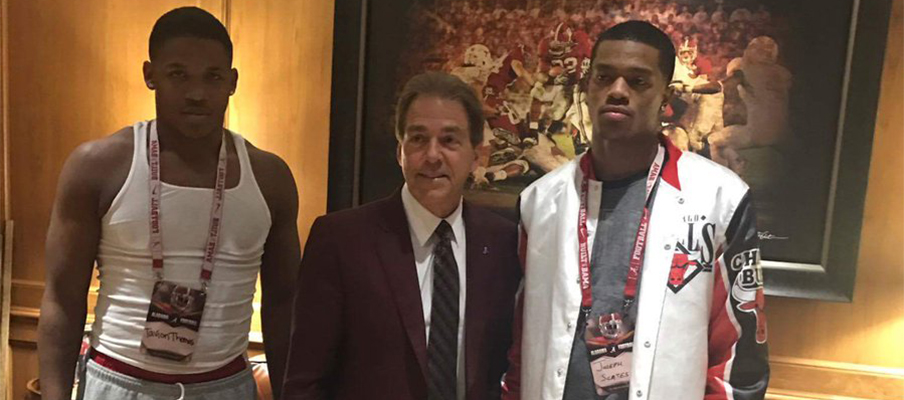 Still, one has to wonder how much of this is serious interest and how much of it is Saban's attempt at manipulating another national recruiting power. 
Of the eight Alabama offers in Ohio, three of the prospects have yet to receive an offer from Meyer. Those include four-star wide receiver Joseph Scates, four-star defensive lineman Malik Vann, and four-star linebacker Xavier Peters. 
Right now, Peters looks to be the most likely candidate to hear from Ohio State while Vann and Scates both may very well end up out of state. Vann looks a bit undersized to play defensive line and the thought is that the staff may be unsure of where he ultimately ends up. It's tough to imagine he would be a take for Alabama right now, but the 6-foot-1, 243-pound defensive end does also have offers from the likes of Florida State, Oklahoma, and Tennessee.
Alabama was the first real national power to extend an offer to Dayton tailback Tavion Thomas, and the Buckeyes – along with the rest of America – followed suit shortly thereafter. Ohio State looks to be the frontrunner for the four-star tailback, but it will be interesting to see how Scates may influence that recruitment. The two have a brother-like relationship and have discussed playing together at the next level.
Scates, a one-time Michigan State commit, has identified Bama as his dream school. A Buckeye offer could perhaps come at some point, but right now Ohio State can't exactly use the "package deal" pitch to their advantage like Saban can. 
While there may be a bit of a chess match going on in the Buckeye State, the same can't be said for the Crimson Tide's territory. Meyer has only offered one 2018 prospect from Alabama – five-star wideout Justyn Ross – and the odds of him leaving the state are minimal.
An Ohio prospect taking a trip to Tuscaloosa is always something to pay attention to. Justin Hilliard made the journey back in 2014 and while things never really took off between the two parties, it still was a bit concerning. Cleveland Heights wideout Jaylen Harris did the same last July before ultimately signing with the Buckeyes in February.
Jackson Carman, L'Christian Smith, and the aforementioned Tavion Thomas have each already met with Saban and received the pitch on what Alabama has to offer. It's certainly possible that return trips could happen and we may see other Ohioans being lured to the dark side to check out SEC territory as well.
The back and forth between college football's best should be a fun follow for the Class of 2018.