Worrying about "limited space" has become a bit of a futile endeavor.
There have been several common themes associated with Urban Meyer's tenure in Columbus. As it pertains to recruiting, one of the more typical questions seems to revolve around numbers and how Player X or Player Z could potentially get left out come signing day. 
It's certainly relevant to wonder how each incoming position group will look come the first Wednesday in February – and we will get to that momentarily – but how often does someone the staff covets truly get left out because of the numbers crunch? 
Signee Breakdown: Meyer Era


| Class | Offense | Defense/ST | Total | Rank |
| --- | --- | --- | --- | --- |
| 2012 | 12 | 13 | 25 | No. 5 |
| 2013 | 9 | 15 | 24 | No. 2 |
| 2014 | 11 | 12 | 23 | No. 3 |
| 2015 | 13 | 14 | 27 | No. 7 |
| 2016 | 13 | 12 | 25 | No. 4 |
| 2017 | 8 | 13 | 21 | No. 2 |
Four-star Fort Lauderdale wideout Sam Bruce was a controversial figure during the 2016 cycle. He was and still is an undersized slot wideout who could be a nightmare for opposing defenses hoping to contain Urban Meyer's spread attack. He also had a really cool nickname – The Samborghini.
Then ranked as the No. 82 player in America, the Buckeyes elected to pass on the Florida speedster all the while accepting commitments from three-star prospects such as Rodjay Burns and Malik Harrison.
The Ohio State staff was certainly aware of the rumors surrounding Bruce and the photo of him brandishing a firearm in order to intimidate another male with whom he was feuding. After the Buckeyes made a hard pass, the four-star then withdrew from St. Thomas Aquinas shortly after signing with Miami last February. Bruce enrolled at Coral Gables and was promptly dismissed by the Hurricanes in October.
Rodjay Burns – a cornerback – has already scored more collegiate touchdowns than Sam Bruce.
The point? The numbers always seem to work themselves out, and – more importantly – it's usually pretty wise to trust what the staff is doing. 
It's obviously impossible to predict exactly how many players the Buckeyes will bring in for the current cycle. At this time last year, how many would have pegged Malik Hooker or even Marshon Lattimore as early departures? 
Still, given the current scholarship situation and how relatively small the Class of 2017 finished, one can at least start crunching the numbers to get a feel for what the next recruiting haul may look like.
Last weekend we looked at some of the top targets for 2018, and this Sunday we will unveil the initial 11W projections for who we expect to ultimately sign with the Buckeyes. 
For now, we take a look at each position group and how we anticipate things may end up – strictly from a numbers perspective.
Offense

Ohio State already has its 2018 quarterback in five-star Emory Jones. The class will assuredly feature just one signee at the position. J.T. Barrett will of course be gone after the 2017 season and the battle to become his heir apparent should be nothing short of spectacular. 
It certainly looked like the staff wanted a pair of tailbacks in 2017, but they ended up bringing in just one in Texas native J.K. Dobbins. The four-star will join Mike Weber, Antonio Williams, and Demario McCall this season, though the latter could end up in more of an H-back role.
The Buckeyes will look to hang on to Brian Snead and they're in the running for a number of other talented tailbacks early on. It's certainly possible that Mike Weber could be gone after his redshirt-sophomore season, but regardless of what transpires, look for Ohio State to bring in a pair for 2018.
The Buckeyes signed three new wideouts last weekend and it's clear that Urban Meyer and Kevin Wilson wanted to add some size to the group. Only James Clark will be a senior next season, but there's always the possibility for more attrition. After bringing in three outside receivers, a slot wideout may be especially important for 2018. 
Ohio State didn't take a tight end in 2017, but it really wasn't necessary after taking three in 2016. The general thought seems to be that the staff will look for two in 2018, but I wouldn't be all that surprised if one ends up being the number – even with Marcus Baugh's upcoming departure.
Two new talented linemen are set to join the team this summer. Wyatt Davis and Thayer Munford will team up with early-enrollee Josh Myers to form a solid trio of freshmen in the trenches. While the newcomers are all four- and five-star caliber, questions surrounding Myers' ultimate position could make offensive tackle one of the most important positions for the 2018 class. 
Jamarco Jones and Billy Price are entering their final seasons, and while Isaiah Prince didn't have the most impressive 2016 campaign, a nice bounce-back year could even put him on the NFL radar. That could sound like crazy talk after his recent struggles, but when he was making noise as a true freshman, it wasn't too ridiculous at all to think a 6-foot-7, 310-pound lineman could be gone after three seasons.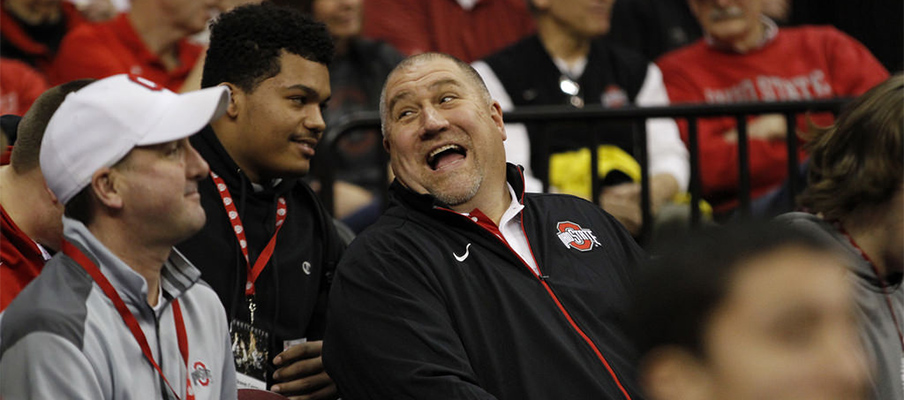 Defense & Special Teams

Greg Schiano and the Buckeyes brought in six defensive backs for 2017 in what was likely the best group of secondary prospects ever signed for a single class. And with only Erick Smith and Damon Webb entering their final years of eligibility, the 2018 haul should be a bit smaller; thus allowing some other units to be at the forefront of the next cycle. 
Four-star safety Jaiden Woodbey committed to Ohio State earlier this week, but his recruitment isn't even close to being over. The good news is that he's a pure safety prospect and bringing in a pair at the position sure looks likely. The most recent group should be a versatile unit, but it appears that only Isaiah Pryor is a sure-shot safety. 
The Buckeyes are in solid shape for several of the country's top 2018 linebackers, and after bringing in two last month, the next go-around should see a bit more emphasis on the position. 
Chris Worley is entering his senior season and after a memorable 2016, Jerome Baker could be a candidate to test the NFL waters. Depending on the development of Baron Browning and Pete Werner, bringing in at least one true inside linebacker could be critical for the next class.
Ohio State brought in just three defensive linemen for 2017, but the staff was able to address the need at tackle by adding Haskell Garrett and Jerron Cage. Chase Young may have been the best defensive end in America, and in a class where it wasn't a glaring position of need, Larry Johnson hit a home run on the edge. 
Following the 2017 season, the defensive line is set to take a pretty big hit. Tracy Sprinkle, Michael Hill, Tyquan Lewis, and Jalyn Holmes will all be gone following the season. Sam Hubbard will be a redshirt junior and he too could be entering his last year in Columbus.
This may be the biggest need for the entire 2018 class. 
Kerry Coombs and the Ohio State special teams added Blake Haubeil – the nation's No. 2 kicker – for 2017. The previous year they signed the country's top punter in Cincinnati's Drue Chrisman. Barring something unforeseen, this shouldn't be an area that needs addressed for 2018.
---
There's certainly a lot to unfold as Ohio State still has to get down to 85 scholarships by the start of fall camp. Then the staff will have to deal with injuries, transfers, and eventually the early departures for the 2018 NFL Draft all before the next signing days rolls around. 
Entering the 2016 season, the team only had six seniors, yet the most recent signing day haul was still able to hit 21 – the lowest number thus far under Meyer. Heading into the 2017 campaign, there are now 13 seniors on the roster. That should give high hopes for those wanting to see a return to the days of adding 24-26 newcomers per class.
While there are still several variables to watch over the next year, the 2018 class – at least in terms of quantity – is shaping up to be more like what we're used to seeing under Meyer.
As for the projected star power of the class, we'll have a more detailed look at that on Sunday.