The Hurry Up is your nightcap of Ohio State recruiting news, catching you up on the day's events with an ear on the ground for what's next.
---
SCARLET AND GRAY AKERS IS THE PLACE TO BE?
When J.K. Dobbins committed to Ohio State on Sunday afternoon, Mississippi running back Cam Akers was finishing up a Rivals.com camp in New Orleans with a plan to head to Columbus as it finished. 
Naturally, some questions arose about whether or not the country's third-ranked running back would still make the 11-hour drive north and see the Buckeyes for the second time following the second running back joining their 2017 class. He decommitted from Alabama, who had three running backs pledged, so it's unlikely that he'd end up at Ohio State, right?
I'm not saying that Akers is going to be a Buckeye, but I am saying that, after talking to a few folks, the visit to Columbus–which was ongoing Tuesday–has made a big impression on the Magnolia State star. Whether or not Ohio State is the leader at this point is irrelevant, but they've planted themselves firmly into the equation.
#BUCKEYES pic.twitter.com/fN59XLCpN7

— Cam akers (@thereal_cam3) March 8, 2016
Akers has family in Nashville which helps the idea of leaving SEC country, meaning the drive to and from Columbus gets cut in half. There are some saying that–despite a false report that he committed to Georgia last weekend–Akers isn't likely to end up at Georgia and that he'd prefer to leave Mississippi. 
If Akers wanted in, Ohio State would have some very difficult and interesting internal discussions, but right now it's not likely that there is a reason to head down that road.
Simply put: Akers has made two trips to Ohio in the last eight months on his own dime. He is still very interested in the Buckeyes.
BRENDON WHITE ADDING TO HIS ALREADY SUBSTANTIAL RESUME
When he made his commitment to Ohio State, Olentangy Liberty's Brendon White drew a number of comparisons to former Buckeye and future NFL first-round pick Darron Lee.
Like Lee, he's from the Columbus area, he's 6-foot-2 and 195-pounds, he plays safety and wide receiver and punts and throws and–wait–he throws?
Yep, and now Brendon White is moving to quarterback.
The Patriots' four-star, who projects on defense when he arrives in Columbus next year, is set to take over the game's most important position for his senior season at Liberty.
"I was supposed to play (quarterback) my sophomore year, but I got hurt and was out half the year," White told 11W. The reason he'll move there now? "Our senior quarterback left."
White says the move to quarterback will help him down the road if he's playing defense, and he's also not worried about being the one getting hit rather than dishing them out.
"We run the spread. I don't plan on getting hit, that's the goal (laughs)," White said. "(Moving positions) will help me see coverages and to know what quarterbacks are thinking."
GARRETT TELLS RIVALS HE WANTED TO RESERVE HIS SPOT AT OHIO STATE
J.K. Dobbins committed to Ohio State without ever visiting the school, a rarity in today's recruiting world but, ironically, he was the second player in a month to make a verbal pledge to the Buckeyes in that manner. 
The first was Las Vegas (Bishop Gorman) defensive tackle Haskell Garrett, a Top 100 prospect, born in Vermont, who decided sans visit that he wanted to be a Buckeye; a program he described as his "dream school." 
Dream school or not, to commit sight unseen is a risk, right? The answer to that is undoubtedly "yes" but there's another risk in not choosing the school that you think will be the choice months from now. 
Why wait, right? That's what the 6-foot-2, 300-pound Garrett told Rlvals.com.
From Adam Gorney:
"I kind of just wanted to commit to Ohio State," Garrett said. "It was an emotional decision and it was also a decision where I didn't want to wait and put them on the back burner and have somebody else commit and I'd lose my spot.
The challenge to keep Garrett in the class has not changed. As we've said a number of times, getting a commitment from an out-of-state player this early in the process just means everyone knows you're the early leader.
OHIO HOOPS STAR MARKELL JOHNSON NARROWS HIS LIST
The Buckeyes received what could be some good news Tuesday on Cleveland East Technical point guard Markell Johnson: he will reclassify to the 2016 class.
East Tech junior Markell Johnson has reclassified to 2016, according to his HS coach. One of the best to play in the NEO is ready to move on

— David Cassilo (@dcassilo) March 8, 2016
Or will he?
As of right now I'm still class of 2017 I'm considering reclassifying to 2016

— Markell Johnson (@kells_2017) March 8, 2016
Once that, the most important question about his recruitment is answered, the next–what school he'll play at next year–is going to be a hot topic in the next few months. 
The country's 65th-ranked 2017 prospect dropped a list of his final schools on Monday night.
Shout out lil bro @kells_2017 where u gone go #Top5 pic.twitter.com/V5EvWCyUQt

— RAY JR (@rayjr216) March 8, 2016
Ohio State and Virginia Tech, according to reports, are likely the frontrunners for Johnson. He visited the Buckeyes for their final home game of the year a little over a week ago against Iowa.
The Buckeyes, with a roster vacancy thanks to the departure of Austin Grandstaff, are seeking another guard to try and fill the hole. Johnson and Westerville South's Andre Wesson look to be the final two options for 2016 at this point, though Wesson may be more of a wing/forward than the true guard that the roster needs. If Johnson does reclassify, it appears that he may be the better "fit" for 2016.
YES, MICHIGAN
When you're the Harvard of the West, you're going to attract a lot of the country's finest academic minds, on top of a handful of the best football players in the land year after year. Those who excel at whatever it is that they do, with impeccable attention to detail...oh forget it.
In the summer of 2014, as they attempted to compete on a micro level with the Buckeyes, Michigan went all out to update their graphics department and provided some really great new propaganda to recruits everywhere. Unfortunately, the attention to detail in one specific bunch of propaganda was lacking.
Michigan could use a spell checker. Can you spot the mistake? (via @mikeweber25) http://t.co/rmZVLcdkI4 pic.twitter.com/txuXiPXz5q

— Dr. Saturday (@YahooDrSaturday) May 21, 2014
The Wolverines program has turned over from Brady Hoke to Jim Harbaugh, and with it, the entire program has experienced a facelift. Old mistakes in coaching, recruiting and…oh forget it.
Can you spot the mistake in this one?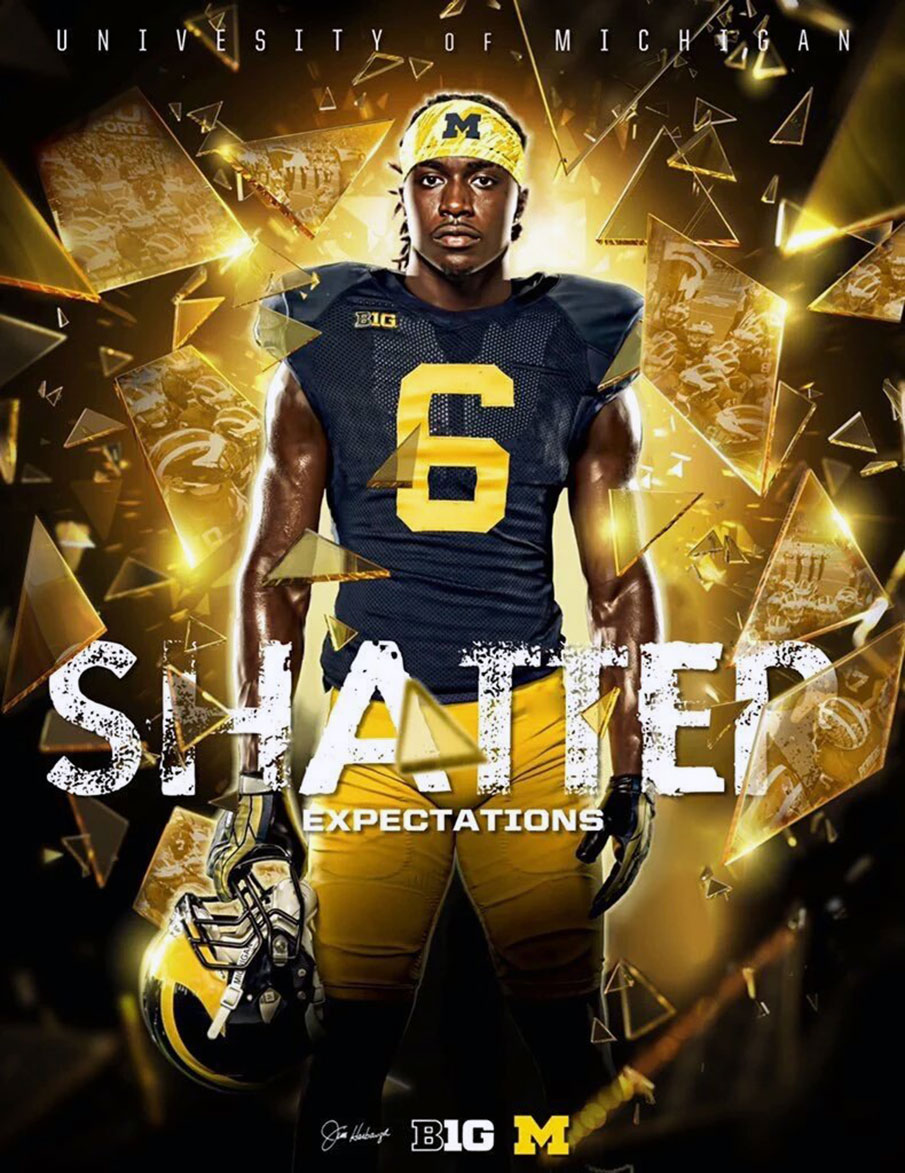 To be fair, the graphic looks really cool and Michigan's graphic design game has really stepped up. Just gotta make sure someone double checks those pesky words.