The Hurry Up is your nightcap of Ohio State recruiting news, catching you up on the day's events with an ear on the ground for what's next.
---
WALLACE VISITING THIS WEEKEND
The first major recruiting weekend of the year for the Buckeye football team is approaching and this morning DeSoto, Texas, quarterback Tristen Wallace let 11W know of his plans to be in Columbus.
#Buckeyes 2016 QB commit Tristen Wallace (@Official_Wall5) will be making his official visit to #OhioState this weekend.

— Jeremy Birmingham (@Birm) October 12, 2015
The country's 200th-ranked overall prospect and third-ranked dual-threat quarterback, Wallace was last at Ohio State in June. While his team has struggled at times this year and failed to live up to expectations, Wallace himself has continued to improve despite the overall disappointment of his senior season.
The four-star prospect committed to the Buckeyes in April.
JORDAN'S BIG ANNOUNCEMENT
Over the weekend, you might have noticed some buzz around Ohio State 2016 commitment Michael Jordan. The buzz originated from a tweet by his father that featured a press release.
Michael D. A. Jordan, a 6'7", 302 lb, Offensive Tackle for Plymouth High [I59A4068 (3)]
School in Canton, MI is set to make a huge announcement, Saturday, October 17, 2015.
So, what does it mean? Are the Buckeyes worried?
In the last two months, there have been a number of rumors surrounding Jordan and whether or not he'd visit other schools but he hasn't. It would be unlikely that this announcement would be made/set in order to announce a decommitment or a flip as he's been extremely vocal that he's happy to be a Buckeye. 
What is likely? Jordan could be announcing a decision about what All-American game he's participating in, he could potentially be announcing that he's enrolling early and yes, I suppose it's possible – albeit unlikely – that he's reopening his recruitment.
I'll keep digging into this and see if there's anything to be "worried" about, but the people I have spoken to, at least to this point, have said there's little cause for concern.
WISCONSIN COMMITMENT GETTING BUCKEYE ATTENTION?
I missed it last week but it appears the Buckeyes are – on the surface – preparing some contingency plans in the event that their committed running back decides to look around. I'm not the type of person to generally put too much stock into what someone's Twitter behavior is indicating, but in this case, Wisconsin commit Antonio Williams' recent activity is interesting. Here you can see which accounts he's just started following.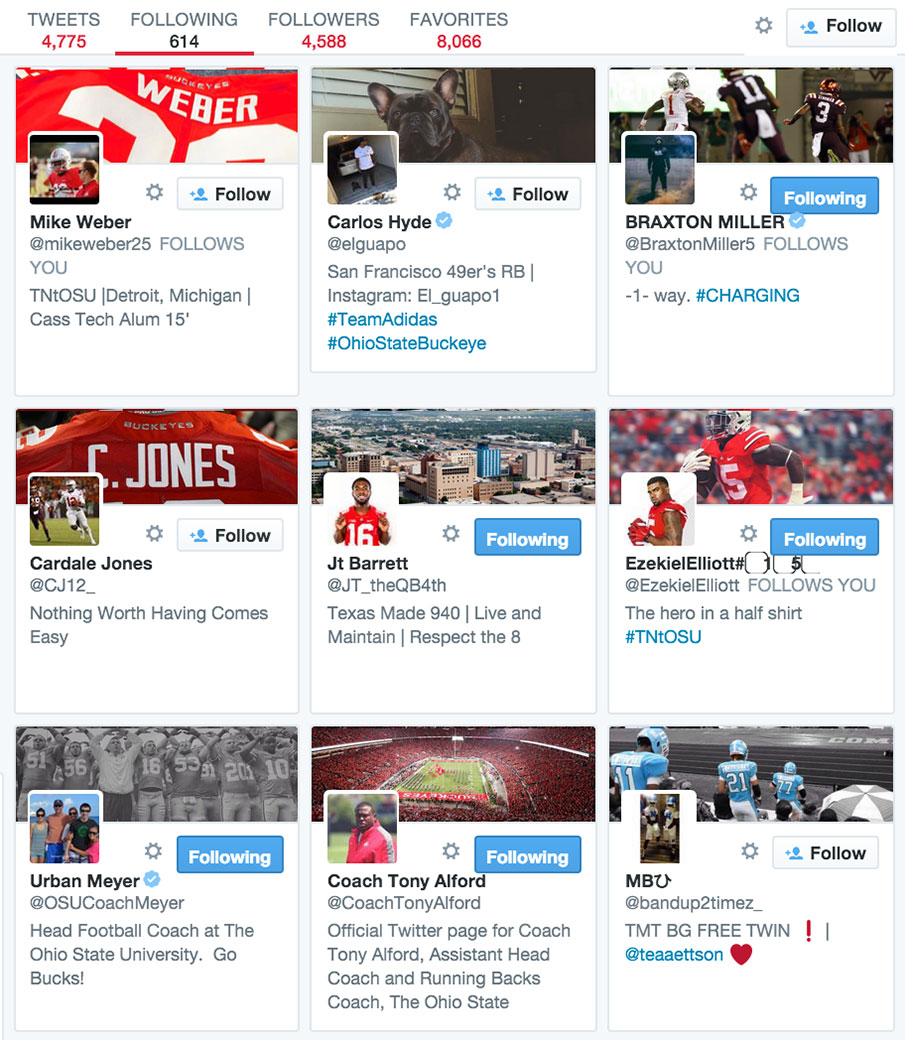 That's a whole lot of interesting, no? The Buckeyes have Kareem Walker committed, but as we know that's a situation that is a touch tenuous, so it's wise to start feeling out other potential options. If Williams is someone they're really interested in is yet to be seen, but the country's seventh-ranked tailback – at at 5-foot-11 and 210-pounds – is the physical, bruising type of runner Meyer and the Buckeyes like.
What makes Williams' situation even more interesting is that like Walker he's slated to enroll early in college, so if he becomes a realistic pursuit, there won't be much time to solidify the relationship, arrange visits, etc. The New London, North Carolina, standout committed to the Badgers last December.
BRENDON WHITE VIDEO FROM RIVALS.COM
Ohio State's most recent 2017 commitment, Brendon White, is one of the most versatile players in the state of Ohio and this past Friday night he proved it.
From BuckeyeGrove.com:
White, the son of former Buckeye William White, talked with Marc Givler about his decision to commit to Ohio State so quickly after receiving his offer.
"When you have your number one school, you're not just going to change that," he said. "When your number one school offers, you're going to go there. That was my No. 1 school since the day I was born. I grew up a Buckeye, my dad played for them and I just wanted to keep the family tradition going." 
He's going to be a fan favorite among those who rep the Scarlet and Gray, I think.
VOTE FOR DANNY CLARK
Danny Clark and Akron's Archbishop Hoban are the state's top-ranked Division Three team and have been steamrolling their opponents week after week. This week, thanks to another impressive defensive effort and a strong out by Clark, the Knights destroyed Mentor Lake Catholic 49-0. 
Clark and his teammate Anthony Christian are candidates for Cleveland.com Play of the Week.
Your vote can help the future Buckeye win the honor, so take a moment and give him your click, won't you?
VICTOR OFFICIALLY VISITING FOR BLACK SATURDAY
Big news coming out this evening as Ohio State's top remaining wide receiver target tells 11W that he will be in town this weekend for an official visit. Fort Lauderdale's Binjimen Victor (Coconut Creek) has been atop the wide receiver board for some time now.
#Buckeyes 2016 WR target Binjimen Victor (@BinjimenVictor) will make his official visit to #OhioState this weekend.

— Jeremy Birmingham (@Birm) October 12, 2015
This one has been an Ohio State/Florida battle for a while, but the Gators are quickly loading up on wide receivers. Last Friday, four-star wideout Freddie Swain became the fourth wide receiver to join the Gators' class. They also have one or two athletes in the fold who may end up at wideout. Nate Craig-Myers is thought to be a Gator lean and the turmoil in Miami may very well push Sam Bruce to Gainesville as well. 
Things have been trending in the right direction for the Buckeyes ever since Victor visited Columbus over the summer. Zach Smith and Urban Meyer are making the 6-foot-4, 170-pounder a priority and he seems to be receptive. A wide receiver haul of Austin Mack and Binjimen Victor would be pretty darn special.