Last Thursday, Toledo Central Catholic High School won its third state championship in nine years. The program, which began playing football in 1920, has become the standard for football excellence in Northwest Ohio, and arguably all of Ohio, since current head coach Greg Dempsey took control of his alma mater in 2000.
A 1990 graduate, Dempsey cut his teeth in the coaching ranks as the junior varsity coach at Central from 1990-92 before taking a job as an assistant coach at Toledo Start High School, where he served as defensive co-ordinator for the Spartans from 1993-99. 
The next year, Dempsey had the chance to go back to his roots and attempt to revitalize a dormant monster, and it didn't take him long to wake up the beast. Through 15 seasons at Central, Dempsey has amassed a combined record of 145-38 — just under an 80-percent winning clip — and has done it a myriad of different ways. From wide open passing offenses to ground-and-pound running attacks designed to grind an opponent into nothing. 
Over the last 15 years, Dempsey and Central Catholic have become a staple for college coaches looking for not only great players, but great young men. One of Ohio's premiere college head coaches was not shy in his own praise of Dempsey.
"Coach Dempsey is a great motivator," the head coach said. "He gets his kids to believe in one goal and gets them to believe in each other as good as any coach I have seen. He truly has built a tradition with great players, unity, and discipline."
That reputation for preparing his players for college is one of the reasons that Zach Sandwisch, a top linebacker prospect in Ohio for 2016, transferred to CCHS prior to 2014.
"Central is preparing me to get into college, and it's given me the chance to hit the ground running," Sandwisch, a 6-foot-2, 220-pounder said. "Coach Dempsey is an amazing person, and very knowledgeable. My teammates are my best friends at Central and I wouldn't trade it for the world."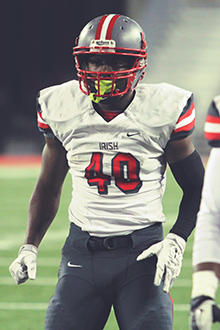 Sophomore running back Michael Warren, Jr. agrees. 
"Coach Dempsey is a smart man," Warren, who rushed for 194 yards and two touchdowns in last week's historic 56-52 win over Athens, said. "He knows how to go about his job, and pushes us to our fullest potential. He cares about us as people before he care about us as football players."
Dempsey himself, at a Saturday afternoon celebration for his latest championship run, spoke to that end.
"There's a certain set of values we're trying to instill in these kids," Dempsey told the crowd of hundreds at Central's Sullivan Center. "Faith, family, togetherness, hard-work, determination – things that you need every day in life."
If you're a Buckeye fan, and certainly most of you reading this are, then you know full well the legend of Dane Sanzenbacher, but he's not the only current NFL'er from Cherry Street's famous high school. Miami of Ohio product Ryne Robinson and Eric Herman, from Ohio University and now of the New York Giants, also played under Dempsey. To those who've met him and played for him, it's not a surprise. Ramon Miles, a senior and two-time state champion committed to Toledo, says that without Dempsey and his staff, he's not sure what he'd be doing.
"Without Coach, I don't think I could be going to play college football," Miles told Eleven Warriors. "Without him giving me the opportunities he did. He and the coaches at Central are all really good at pushing repetition, down to the little things like the right steps. They teach me if you practice the right way, you'll get it right."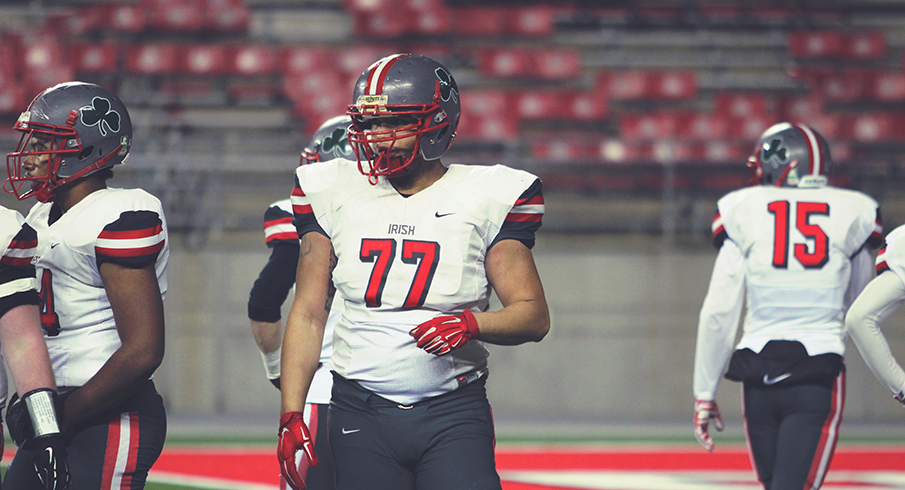 That doesn't mean Dempsey has gotten to this point by being a hammer, in fact it's quite the opposite. His focus is, and has been, to work with each player patiently. It's something that Miles says pays off.
"He's really patient guy," Miles added. "He doesn't ever yell unless it's absolutely necessary. He's encouraging, takes an approach where what we're trying to do is get better today than we were yesterday."
One of Central's future stars, 2017 defensive end James Hudson, says that Dempsey is responsible for much of his maturation this season. As a 6-foot-5, 250-pounds, the sophomore lineman is going to be a big-time college prospect. 
"Coach really helped me a lot, especially during two-a-days," Hudson said. "He kept pushing me, telling me that I was a great athlete and pushed me to get stronger. His support helped."
Now, a three-time state champion, Central will go into 2015 once again with a target on their backs. With stars like Sandwisch, Warren, Hudson and a host of others returning, they'll likely be a favorite to do so. Warren says they'll attack the expectations and weight of being a champion with the same hunger they did this season.
"We'll prepare like we did this season," the 5-foot-10, 190 pound tailback said. "We have a bright future."