The recruiting momentum began with 2015 quarterback Joe Burrow, and continued, today, when 2016 Sciotoville East (Portsmouth, Ohio) offensive guard Tyler Gerald verbally committed to Ohio State.
It's the sixth commitment in the past 11 days for the Buckeyes, and Gerald becomes the second pledge in OSU's 2016 recruiting class. The 6-foot-5, 300-pound guard joins Hubbard, Ohio's George Hill, who announced his decision this past weekend. 
Gerald, the state's eighth-ranked player in 2016, chose Ohio State over Virginia Tech, where he developed an excellent relationship with the Hokies new offensive line coach Stacy Searels. Despite his relationship with Searels, Gerald couldn't turn down the chance to fulfill a childhood dream and a chance to play for the Buckeyes. 
THE GERALD FILE
Size: 6-5/300
School: Sciotoville East (Portsmouth, OH)
Position: OL
Class: 2016
Composite: ★★★★
Rank: 7 (OG)
"He (Searels) knows it's a hometown thing," Gerald told Eleven Warriors. "Ohio State is a tough school to say 'no' to. He wants what's best for me as an individual. Not many kids from my area get this chance. It's a good feeling."
Although he had a Buckeye offer before competing during today's camp at Ohio State, Gerald wanted to get further instruction from Ed Warinner, and to continue developing a relationship with him. It's that sort of competitiveness that makes him a true standout player, according to his offensive line coach at Portsmouth East, James Gifford. 
"(Tyler) loves to compete," Gifford told Eleven Warriors about his star lineman. "He's done very well (when he's been) at Virginia Tech and wanted to go against the best. He has confidence I've never seen in a player before. He knows what he wants, and he will do whatever it takes to get it done. He's very coachable and eager to get things right. He's got the 'it' factor."
"He's a great all-around athlete," Gifford continued. "He's got weight room strength, but he's also got football strength. He's the type of player, at the end of the game, you wish was blocking, running the ball, or throwing the pass. He never takes a play off and ha always finishes a play. He's just an all-around great athlete with great feet, and he proves that on the basketball court as well."
Despite what appears to be overtly hyperbolic praise for his young lineman, Gifford says there's still room for improvement with Gerald.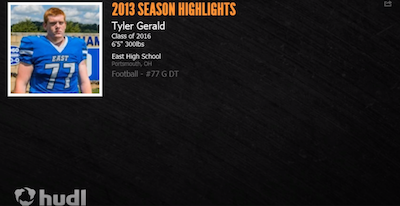 "He could improve his pass blocking," Gifford said of where Gerald's game could get stronger. "He will get that with time, I think, but we don't pass much so he's not had much of a chance to work on that."
Gerald, who is ranked in Scout.com's top 300, wanted to be a Buckeye his whole life.
"It's a dream come true," the lineman said of his decision. "Where I was raised, every kid that plays football (dreams) about Ohio State."
As the first lineman in his class, Gerald is aware that Ohio has a number of big-time talents within its borders for 2016, including two potential five-star offensive lineman: Tommy Kraemer and Liam Eichenberg. While he says he's not really close with any of the players in his class yet, he wants to do whatever Ohio State needs him to do in order to help secure a truly "Sweet '16." Being committed to the Buckeyes certainly doesn't mean any pressure is off of Gerald heading into his junior season; in fact he says it's pressure that drives him to succeed.
"The class of 2016 could be awesome," Gerald said. "I haven't gotten much of a chance to meet many of the players yet. If (Ohio State) wants my help in recruiting then I will do that. I want to get the best of the best to play with me, because that will help make my career as successful as possible. Now the pressure is on for me. Every single rep, every single workout. This doesn't mean I let off the gas at all. I have to work now to get a starting position. I feel like I can be a difference maker and I am very confident in my abilities."