The floodgates could be opening, Buckeye fans. Today, Sioux Falls, South Dakota, 2015 offensive lineman Grant Schmidt becomes the fifth member of Ohio State's 2015 recruiting class and the first ever player from South Dakota to commit to Ohio State. He's the first offensive lineman to commit in the "Elite '15," as dubbed by Ohio State Director of Player Personnel Mark Pantoni.
Eleven Warriors first got to know Schmidt in early May, just hours after the Buckeyes extended a scholarship offer to the 6-foot-6, 275-pounder. Now, a day after his second visit to Columbus, Schmidt has seen enough – he's a Buckeye – and he's 100-percent happy with his decision. A lengthy Monday visit showed him and his parents all they needed to know about Ohio State.
"(My entire visit) has been great!," Schmidt told Eleven Warriors. "I love it (at Ohio State.) Coach Warinner is an amazing coach and I loved every minute of being coached by him yesterday. The trip was definitely worth it. I loved meeting with the different coaches."
The Schmidt File
Size: 6-6/275
Position: OL
Class: 2015
School: Roosevelt (Sioux Falls, SD)
247 Composite Rating: ★★★
247 Composite Rank: 38th (OT)
Schmidt chooses the Buckeyes over offers from a number of schools, including Minnesota, Washington State, North Carolina, Cincinnati, Utah, Rutgers and more. This is not a matter of the Buckeyes reaching, this is a player who simply didn't get enough attention. The decision for Schmidt was simple, he says.
"It's everything about Ohio State," he said. "The stadium, the overall feeling of being here is what sets it apart from other places."
The nation's 38th-ranked offensive tackle and the top prospect in South Dakota, made the trip to Ohio with his family and nothing about Ohio State disappointed. He was able to make a big impression on the Buckeyes' coaching staff during Sunday's one-day camp.
"Coach Warinner and Coach Meyer were very impressed by my testing and the drills," Schmidt said. "I went 4.7 in the pro-agility, 9-feet-4 inches in the broad jump and I recorded a 29-inch vertical. I also had a very good sessions of drills and one-on-ones."
Earlier today, Schmidt and his family got to see the rest of Ohio State. The focus on life outside of football was a major selling point for his parents and for Schmidt himself. Now, as a Buckeye football commitment, the first ever from South Dakota, Schmidt hopes to become an integral part of his recruiting class. With a game that compares favorably to former Buckeye and former All Big-Ten lineman Jack Mewhort at the same stage, Grant will now focus on his senior season of football.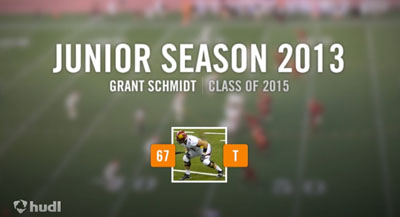 The chance to win a state title without the distractions of recruiting is a primary reason he wanted to make a decision sooner rather than later. He's never really been in to the hoopla around his recruitment, despite being one of the highest-ranked South Dakotans ever.
"I play football and the rest takes care of itself," he told Eleven Warriors in May. "I'm pretty coachable, I just do what I am told and no problems arise."
He knew what he was looking for in a school, and he — along with his parents — found it at Ohio State. 
"I'm looking for a school that gives me the chance to play early," he said of the criteria for selecting a school. "Somewhere I can be developed as a player and where I am around (people with) the right attitude. Urban Meyer expects greatness and that is (what I am looking for)."