Don't look now Buckeye fans, but there's a new "recruiter du jour" on the trail in the Big Ten. James Franklin and Penn State are off to a blazing start for 2015 and the Buckeyes and the rest of the conference are no doubt feeling a bit "on notice." 
Full of bravado during his initial press conference, Franklin's results have backed up his braggadocio. Already with six commitments, including three of Pennsylvania's top ten prospects, Penn State is off and running. Harrisburg tailback Andre Robinson, their most recent commitment, chose Penn State over Ohio State. Robinson, from powerhouse Bishop Mcdevitt High School, is the 12th ranked running back in the country, chose Franklin over Meyer to further his career.
Long story short? Franklin is a good one, and Robinson's verbal commitment is a big win for Franklin and his plan of domination.
BUCKEYES LOOKING FOR LEADERS

Ohio State's 2015 class has gotten off to a quiet start, although it's still quite strong for this early in the process. What's the biggest difference between Ohio State's 2015 start compared to 2014? In-state and regional commitments.
In 2014, the Buckeyes had Damon Webb, Kyle Trout, Parris Campbell, Kyle Berger, Sam Hubbard, Marcelys Jones and Dylan Thompson locked up by the first week of April. Four players from that group went on to The Opening and helped set the tone as one of the top classes in the country. As talented as they are tight-knit, the 2014 class sharpened each other's skills on the field in various camp settings. Off the field, they became close friends through shared college visits and constant communication. That approach paid off in spades for the Buckeyes in 2014, so why is 2015 different?
The first commitment in the class, Eric Glover-Williams has yet to embrace the role of a "leader." That's not a knock on the talented athlete, he's just a lone wolf from Canton and the only Ohioan currently committed. The Buckeyes' two Florida commitments - Jamel Dean and Ben Edwards - aren't close friends, either. Dean has been recovering from a torn ACL, so he's been unable to compete in Florida events where he'd get to know Edwards better. End result? A lack of camaraderie.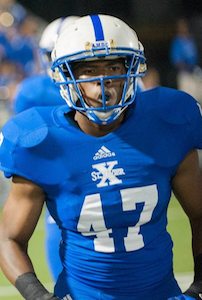 In Ohio, the Buckeyes have offered only four of the top-ten 2015 prospects.  Two of the state's top ten, Shaun Crawford (No. 4) and Tyree Kinnel (No. 10,) have already committed to their biggest rival, Michigan. I am taking a stand and not counting Arkansas commitment Hjalte Froholdt as an Ohio player, sue me.
The state's top two players, Justin Hilliard and Jerome Baker, aren't close to making their decisions; so Ohio State gets no relief there either.  Perhaps worse than decisions being far in the future, the Buckeyes are not "in front" for either player at this point. Last year, they "knew" they had Marshon Lattimore and Erick Smith, just didn't know when they'd get them. That's not the case for 2015. 
The Buckeyes are in a better position with Baker than Hilliard but the Benedictine star continues to have real interest in his childhood favorite, Penn State. Michigan State is also lurking, hoping to catch his eye with another big year on the field. Baker says he won't decide until after his senior season, so there will be plenty of nervous nights for the Buckeyes. 
Hilliard, visiting his supposed favorite Notre Dame this weekend, has never had the Buckeyes in front. Besides Notre Dame, the Buckeyes will have to fight off a who's who of national powers for his signature. 
What about Nick Conner and C.J. Conrad? Many think those two are in line for a Buckeye offer, but how long can Ohio State wait? A Michigan State or Michigan offer could be too much for either to pass up, and each of them have seen interest from new schools recently. The Spartans are also in great shape to land one of Ohio's top tailbacks, Larry Scott or Darrin Hall.
Ohio State is never going to struggle to find talented players. There is, though, something altogether different about a player who grew up dreaming of Scarlet and Gray. He represents it different. He eats, sleeps and breathes Ohio State and it shows in everything he does, including how he recruits other top players.   Damon Webb and Mike Brewster were notable exceptions, but most of the time, true leaders of a class are players had dreamt of being a Buckeye their whole life.
There's no doubt that Ohio, which as a whole has less "talent" than in previous years, continues to be a priority for the Buckeyes. Do Urban Meyer and his staff might need to speed up their evaluations of in-state talents? Doing so could prevent the walls around the state, built by Jim Tressel, from decaying much further. 
Don't panic, and don't fret about the recruiting class (I feel like this is a necessary mantra to repeat at some point or points every single year.) Urban Meyer and his coaching staff will be fine. Just remember: these guys know what they're doing. They are the best in the country at their jobs.
BIG WEEKEND ON TAP

This weekend could help kickstart the 2015 class for the Buckeyes as two major targets, Arizona wide receiver Christian Kirk and Washington (D.C.) defensive back Marcus Lewis are both on campus checking out Ohio State. 
Kirk, the second-ranked wide receiver in the country, talked with 11W about the Buckeyes a few weeks back, and he and his mother arrived in Columbus Thursday evening. They'll check out Ohio State for two full days before departing Sunday morning to head back to Arizona. It's a business trip for Kirk, and he's high on Ohio State. Ohio State, equally high on him, has put Zach Smith alongside Urban Meyer as the coach involved in his recruitment. That's a good sign as Smith continues to build a reputation as an ace recruiter for the Buckeyes. There's a good chance that come Monday we could be talking about how Ohio State put themselves into a position to land the Scottsdale star. Kirk, George Campbell and Calvin Ridley would be the dream trio at wide receiver for 2015, and it never hurts to dream big.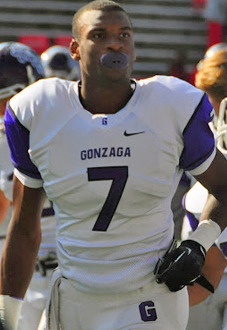 Marcus Lewis, offered by Ohio State last fall, committed to Virginia Tech in November, which appeared to end his recruitment.  His commitment lasted only two weeks, and since he re-opened Larry Johnson and Chris Ash have been on the case. Ash visited Lewis in late January and this weekend the 6-foot-1, 187-pound DB makes what could be a telling visit to Columbus. Commitment watch? Maybe.
QUICK-HITTERS

Christian Kirk and Marcus Lewis make their way to Columbus, but many Ohio State targets will make their way elsewhere this weekend. Kentucky running back Damien Harris and Tennessee tight end Jackson Harris each will head to Alabama. Nick Saban has a chance to impress two prospects that are high on Ohio State's wish list.
Drew Richmond will visit Memphis this weekend, and he insists it's not just a cursory visit and that he has legitimate interest in his hometown team. One of Ohio State's top offensive line targets for 2015, Richmond's recruitment has continued to get more and more frenetic. The Buckeyes are still in excellent shape, but expect this to come down to Ohio State vs. the SEC in some way, shape or form.
Jackson (Ohio) linebacker Reagan Williams picked up offers from Toledo and Purdue in the last week and is visiting Michigan this weekend. 
Lakewood St. Ed's wide receiver Alex Stump will visit Bowling Green on Sunday. He's a player that should see his stock begin to skyrocket as camp season rolls around.
Sterling Jenkins made his way to Penn State for their recent junior day and came away impressed. He has spring plans to visit Penn State (again) and Pittsburgh for spring practices. He also says he'd like to make return trips to Ohio State and Michigan if possible. The fight for the offensive lineman is a three-way battle between those three schools and I don't see it changing much.
Ohio State offered Lackawanna Junior College offensive tackle Paris Palmer on Thursday night. We talked to the 6-foot-9, 305 pounder, who is originally from North Carolina and he's an impressive young man. If Lackawanna rings a bell, it's because that's where Jermaine Eluemunor, he of four commitments for 2014, played his junior college ball.
Expect Cleveland Benedictine star Jerome Baker to make a visit to Ohio State sometime soon to check out a spring practice once the Buckeyes get underway. Nick Conner is planning on being on campus sometime next week for spring practice as well as the Buckeyes continue to recruit the Dublin product.
Ohio State offered 2015 H-Back/Quarterback/TE/FB/LB Chandler Cox from Apopka High School in Florida yesterday. Cox, a teammate of big-time offensive line prospect Martez Ivey, has offers from Florida, Alabama, Miami, Florida State and others. This isn't your typical "three-star" player. Apopka is familiar to Ohio State coaches who recruited Nebraska signee Zack Darlington a year ago.
Orlando Timber Creek running back Jacques Patrick will make another visit to Florida State this weekend. Despite his brother heading north, it's still very likely that Patrick stays in Florida and I think the Seminoles are the team to beat at this point. Urban Meyer continues to recruit Patrick hard, but getting him to Ohio State would be a major coup at this juncture. Patrick did tell me that he talked to Urban Meyer this week as usual, and that he plans on making a return to Columbus this summer.
Detroit Cass Tech running back Mike Weber is visiting Tennessee this weekend. Once thought to be a Michigan State, Wisconsin and Ohio State battle, it appears that Michigan has vaulted back into the conversation after the decommitment of Damien Harris. If there's a team outside of the midwest that could swoop in and steal Weber, Tennessee would be it. They've made an excellent push on his teammate as well, 2015 defensive lineman Josh Alabi. 
I expect East St. Louis running back Nate Strong to commit to Missouri, and it could be sometime soon. I had a conversation with the 6-foot-2 running back earlier this week and he talked about wanting to stay closer to home. He wants to give his family a better chance to watch him play and Missouri offers that possibility along with SEC football.  He's recovering from a broken toe suffered towards the end of his junior season, but Strong says that he's healthy and looking forward to his senior season.