Jeffery Pooler cannot yet legally drive a car without an adult, but that hasn't prevented him from drawing interest from numerous colleges. While he is only a sophomore, Jeffery has already taken visits to Cincinnati, Ohio and Ohio State. It appears he could be a prospect to watch in Ohio's 2016 recruiting class. 
The six-foot-three, 230-pound defensive end stars on the gridiron for Dayton Chaminade Julienne, a Catholic school that plays in division five. Pooler held his own on the defensive line with 57 tackles, 3 sacks and 2 forced fumbles during his sophomore campaign. He will look to improve those totals during his junior season, as he looks to develop into one of Ohio's top prospects.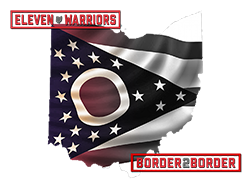 This past season, the Eagles ended their season with a 6-5 record after a first round playoff exit. Some may remember back to Javon Ringer leading the Eagles to a State Championship before ultimately signing with Michigan State. 
The athletic big man recently worked out at the Best of the Midwest Combine, which drew many of the Midwest's top prospects. He also camped at Massillon's Nike Football Combine, this past weekend. Next up, the Dayton native will be attending a camp put on by Rivals. 
Since Pooler is a member of the 2016 class, he still has two years until he signs his letter of intent. Understandably, things are a little slow on the recruiting scene. "It has been slow but Coach Boyette (Duke) came to visit me back in January and Coach Weikert (Air Force) talked me," said the sophomore. "I also was invited back to Ohio for their junior day (on April 12)."
After an unofficial to Athens during the football season, Jeffery is hoping his next visit to Ohio University will be a little bit different. 
"My visit to Ohio went real well. I almost got offered. Hopefully they offer at the junior day," he told Eleven Warriors. 
Like many prospects from Ohio, Ohio State is usually an offer that is coveted. He has spoken with the Buckeyes in the past, but would like to hear more for his in-state school. Pooler visited Columbus for the Iowa game and it appears he would like to come back soon. 
"It was great but more focus was on Marcelys Jones and other huge recruits," said Pooler of his visit to Ohio State. "I haven't heard much since my visit last season. I hope to get back on campus for a junior day."
The Buckeyes aren't the only team he would like to hear more from. He also wants to hear from Michigan State, Tennessee and a few other schools. If Ohio State were to eventually offer, they could be on top for the Dayton area prospect. 
You can check out Jeffery Pooler's sophomore film here.