In a lot of ways, Austin Dorris is your typical high school tight end prospect. He's big (6-foot-5 and 222 pounds,) he's smart (3.5 GPA, considering pursuing a career in business or journalism) and he's a very versatile athlete (he's a standout basketball player for Shadyside as well.)
Then there are ways that Dorris is anything but typical for a tight end prospect with two MAC offers (Ohio and Toledo) already, the foremost among them: he plays quarterback.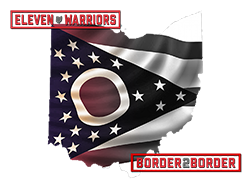 "Since I go to such a small school, I actually don't play tight end at all," Dorris shared with Eleven Warriors. "I was the starting quarterback for our team last year. I don't get to pick where I play because we don't have that many kids to choose from. I ran for 1,310 yards on 107 carries, scored 19 touchdowns and went 35-72 passing for 600 yards and six scores. Defensively I had 2 INTs for TDs, and 30 tackles. The team went 12-1, losing in the regional final 21-14, we had 3 1,000 yard rushers on the team, our line was unreal."
That was the junior year for Dorris. Those defensive stats? At cornerback, yes, a 6-foot-5, 222 pound cornerback. Of course, life in a small town means being ready to adapt to change, and the positional flip-flopping as a junior (Dorris had 29 catches for 510 yards and 7 touchdowns as a sophomore to go along with 53 tackles, two sacks, three pass break ups, three interceptions, and two fumble recoveries for scores as a sophomore tight end/linebacker) is just a byproduct of being a native son to a town with less than 4,000 residents. Being from a small town doesn't mean Dorris lacks big-time goals, however.
"I look at being from a small town as a positive," he said. "I've been raised in such a great community, I know everyone, everyone piles into Fleming Field on Friday nights to watch their boys play, and even though I'm from a small town, I'm showing younger kids around me that no matter where you're from you can make your dreams become a reality as long as you work hard."
Dorris is working hard, and like every kid in the state of Ohio he dreams of one day getting a phone call from Columbus and an opportunity to play football for the Buckeyes. He gets weekly correspondence from Ohio State, but as of yet has not had much personal contact. He did attend the Buckeyes' home game against San Diego State this past September. 
"I've been a fan since I was a baby, and being there in September, in the front row for the game was like a dream" he said of Ohio State. "If I don't ever get that offer, it will just be something that motivates me. Recruiting is picking up a bit since signing day, and I have a bunch of visits lined up for this month and March."
One of the schools Dorris plans on visiting, Michigan State, has started to show significant interest, and they are a school Dorris is also interested in getting to know more about.
"Coach (Mike) Tressel came to my school two weeks ago," Dorris said. "He said they are interested and to call him regularly. If I went to a place like Michigan State and Ohio State didn't offer that would give me all the motivation in the world."
There are plenty of places to visit and lots of time for Dorris to accumulate new offers and new interest, but he says he'd like to have his recruitment finished sooner rather than later, although there's no "magic moment" he had in mind.
"I believe it's when the right offer comes, I'll make a decision," he said of his timetable. "I'd like to be committed a little before my senior year of football, but if I don't then it'll be sometime after that. I'll definitely need to visit the schools that offer and make sure I'm comfortable with the surroundings and make sure I feel comfortable with the coaching staff."
As he prepares to head into his senior season at Shadyside, Dorris will take in camps at Michigan and Penn State as well as this upcoming weekend's Nike SPARQ combine testing at Massillon High School. He hopes to get a chance to improve his technique and to keep learning from other great players how to play the game. He's gotten close to another tight end prospect in Ohio, Lagrange's C.J. Conrad.
"C.J. Conrad and I have became pretty good friends, we met up at the Under-Armour All-American Combine a while back. When I watched the other tight ends workout or if I watched their film, I could see that I was very similar to them in size, weight, and ball catching skills," he said, comparing his game to the nation's best at his position. "One area of concern for me is that my film doesn't show my catching skills or blocking skills because although I played tight end as a freshman and sophomore, I was mostly split out wide. I know I can do all of that, it just depends on what schools are willing to offer me based on my athleticism and film that I have.  My biggest asset is my burst of speed and an ability to make people miss, which I think is unique at my size. I need to continue to put on good muscle and maintain my quickness. When I get to a college, I'll work on blocking technique more than anything."