It should come as no surprise that Ohio State owns the Big Ten's top recruiting class for a fourth straight year. This past Wednesday, the Buckeyes signed the nation's third ranked class with 23 new faces headed to Columbus to play under Urban Meyer. 
Some drama still remains with five-star lineman Malik McDowell's letter of intent still not faxed into Michigan State. While Malik wants to be a Spartan, his parents would rather him leave the state and play for Ohio State or Florida State. While I expect him to end up in East Lansing, it's at least worth keeping your eye on. The Buckeyes still have a spot available for the five-star defense lineman from Michigan. 
Before we move our focus to the 2015 recruiting class, lets take a look at how each Big Ten school rounded out their 2014 class. 
14. Purdue

The Boilermakers finish last in the Big Ten rankings after a disappointing finish on the recruiting scene. Purdue lost three-star offensive tackle Miguel Machado to Michigan State and three-star receiver Ladarius Wiley to Vanderbilt in the past week. Their top commitment, four-star safety Drue Tranquill, flipped to Notre Dame earlier in the cycle. 
While Darrell Hazell's first recruiting class in West Lafayette is poor, he did manage to land sleeper quarterback David Blough. While Purdue was his only BCS offer, he drew rave reviews at the Elite 11 QB Camp. 
13. Illinois

The Fighting Illini finished off their unimpressive class with a pair of two-star commitments. Safety Chris James selected Illinois over Iowa State, while signal-caller Jeff George Jr. has elected to gray shirt. 
While Tim Beckman has struggled on the recruiting trail, he did manage to land two highly rated junior college prospects — defensive tackle Jihad Ward and receiver Tyrin Stone-Davis. Both prospects should be able to contribute from day one. 
12. Minnesota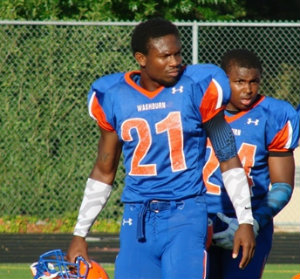 The Gophers main goal was to keep four-star All-American running back Jeff Jones committed, despite having offers from Florida, Michigan, Missouri and others. Minnesota accomplished that and also prevented three-star tight end Jerry Gibson from signing with South Carolina. 
Coach Kill finished strong with a commitment from three-star corner Craig James, who held offers from Indiana, Iowa, Kansas, Missouri and others. He also managed to flip three-star defensive tackle Gary Moore from Southern Miss and two-star receiver Connor Krizancic from Cincinnati. 
Three-star center Connor Mayes is the other signee to play in one of the two main All-American games. Jerry Kill should have some talent to play with up there in Minnesota. 
11. RUTGERS

The Scarlet Knights once held a promising recruiting class, but double digit de-commit  totals derailed their class. Kyle Flood and staff lost most of their top recruits to other programs, including Saeed Blacknall heading to Happy Valley. 
Rutgers managed to add a couple of late two-stars to add to their collection. Linebacker Eric Margolis held no other offers before signing with Rutgers. The same could be said for long snapper Alan Lucy. 
With James Franklin focusing on recruiting the East Coast, Rutgers might have some trouble. At least the Big Ten has the New York TV market, I guess. 
10. Iowa

The Hawkeyes had a quiet Signing Day after wrapping up their class during the prior week. With how much Kirk Fertenz makes a season, Iowa should be expecting better results on the recruiting front. Ferentz, an offensive line guru, couldn't even prevent the top in-state lineman from going to Alabama, despite once being committed to the Hawkeyes. 
They did land their potential quarterback of the future with the flip of one-time Rutgers commit Tyler Wiegers. Four-star athlete Jay Scheel and running back Markel Smith should give Iowa some offensive fire power. Three-star tight end Matt Nelson could be the next great Hawkeye tight end. Nelson held offers from Arkansas, Florida State, Nebraska and many others. 
9. Indiana

The Hoosiers added four late commitments to push their total to a Big Ten high 28 signees. Three-star linebacker Greg Gooch selected Indiana over Cincinnati. Two-stars Derrian Meminger, Robert McCray III and Chris Covington rounded out the ninth ranked recruiting class. 
Kevin Wilson's class features seven Ohioans, including underrated linebacker Tegray Scales. Indiana's biggest signing was undoubtedly landing four-star receiver Dominique Booth, who was once committed to Tennessee. 
8. Northwestern

Pat Fitzgerald hauled in a very solid, small class for the Wildcats. The eighth ranked class was topped off with a verbal from three-star defensive end Xavier Washington. The Texas native landed a late offer after his impressive performance in the playoffs. 
A pair of offensive four-stars and a pair of four-star defensive players headline Northwestern's class. Corner Parrker Westphal was once considered a Michigan "lean." but elected to stay closer to home. Defensive end Garrett Dickerson followed his brother by turning down Stanford for NU. Quarterback Clayton Thorson and running back Justin Jackson should give Fitzgerald some weapons on offense.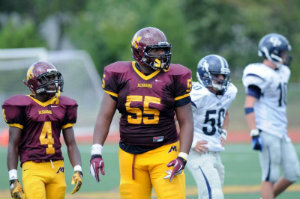 7. Maryland

The Terrapins landed a huge commitment with five-star offensive tackle Damian Prince picking the Terps over the Florida Gators. Maryland would have finished with a top five class if they would have landed five-star corner Jalen Tabor, who was always predicted to stay close to home. 
Prince will be joined by the nation's top prep school prospect, tackle Derwin Gray. Four-star dual threat quarterback Will Ulmer should be a quality player in the future for Maryland. 
It's a small class for Randy Edsall, but it has some very good talent. If the Terrapins would have landed a few prospects they were once considered heavy favorites for, they could have had a top three class. 
6. Nebraska

Bo Pelini put together a solid recruiting class, but had some disappointing news late. One-time Florida State pledge Blake McClain committed to Nebraska on Feb. 1st, but he would flip to South Carolina a few days later. Three-star receiver Robert Lockhart hasn't signed with the Cornhuskers because of potential grade issues. 
The Huskers also had a few other de-commitments: Terrell Clinkscales to Kansas State. Jason Hall to Texas. Chance Was to Baylor. 
Overall, Nebraska signed a solid class even with rumors surrounding Pelini's job status. A pair of four-stars on the offensive and defensive lines should provide an instant impact. 
5. Wisconsin

Losing four-star Craig Evans to Michigan State was a blow, but it doesn't take away from the fact that Gary Andersen has done very well at Wisconsin. George Rushing, a three-star receiver, selecting the Badgers over Louisville and TCU helped make up for losing Evans. 
DeMatha running back Taiwan Deal is one of my favorite prospects in the 2014 class. I expect him to continue the Wisconsin tradition of great running backs. Early enroll D.J. Gillins is a rare highly rated dual threat QB for the Badgers. One-time Northwestern pledge Dareian Watkins is another big addition for Wisconsin. 
4. Michigan State

The Spartans had a strong finish on the recruiting trail, but it had the potential to be even better. Michigan State received some disappointing news when Jamarco Jones decided to stick with Ohio State. Four-star defensive lineman Daniel Cage also decided to choose Notre Dame over MSU. They would also lose Darius Slade to Ohio State on Signing Day. 
Mark Dantonio and company did land five-star Malik McDowell, although he has yet to officially sign. It's unclear when that will happen, as his parents do not want him there. Sparty stole four-star defensive tackle Craig Evans from Wisconsin and three-star Miguel Machado from Purdue. Safety T.J. Harrell also picked MSU over Georgia and Louisville. 
Chris Frey, a three-star linebacker from Upper Arlington is another one of my Ohio sleepers. He should be able to develop into a solid LB in East Lansing. 
3. Penn State

James Franklin finished of his first class with a pair of pledges, but also lost four-star Lloyd Tubman to Kentucky. The Nittany Lions added a surprise addition from three-star safety Christian Campbell, when he selected PSU over Minnesota and Missouri.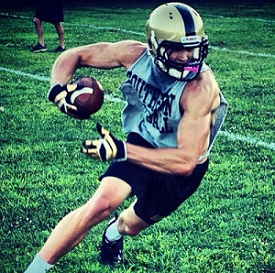 Franklin also managed to flip three-star athlete Torrence Brown from Southern Miss. 
Mike Gesicki was a prospect that the Buckeyes really want, but the Nits won out. He will be a prospect Ohio State wished they could have landed. Gesicki and three 4-star wide receivers should give Christian Hackenberg some weapons to use. Losing Tubman to UK and Thomas Holley to Florida cost Penn State the B1G's second ranked recruiting class and a top 15 class nationally. This is still a very good class under the circumstances and things will probably only improve under Franklin. 
2. Michigan

The Wolverines got off to a hot start with the 2014 class, but had a rough finish. Michigan missed out on Five-stars Da'Shawn Hand and Malik McDowell, both who were once considered strong UM leans. 
Seven of their 16 signees are early enrollees, which could allow for them to make a quick impact in Ann Arbor. One of the nation's top receivers, Drake Harris, should be able to make his presence know right away. Five-star safety Jabrill Peppers should end up being a special player in the Maize and Blue. 
Three-star Ohio native Noah Furbush is easily the most under appreciated Michigan signee. He was never offered by Ohio State and that could come back to haunt the Buckeyes. 
1. Ohio State

The Buckeyes were expecting to have a quiet Signing Day after Jamarco Jones reaffirmed his pledge to Ohio State. That turned out to not be the case with Darius Slade committing. 
The linebackers, offensive lineman and secondary signees will be called on to contribute from day one. OSU's top prospect, five-star linebacker Raekwon McMillan, could start as a freshman. The same is possible for four-star offensive guard Demetrius Knox. 
---
Rankings Overview

No.
School
Commits
SCOUT
★ AVG
RIVALS
★ AVG
247
★ AVG
ESPN
★ AVG
OVERALL
★ AVG
1
Ohio State
23
3.78 (5)
3.74 (3)
3.83 (3)
3.74 (7)
3.77
2
Michigan
16
3.56 (27)
3.44 (31)
3.56 (20)
3.75 (18)
3.58
3
Penn State
25
3.12 (25)
3.20 (24)
3.32 (24)
3.28 (24)
3.23
4
Michigan State
23
2.26 (19)
3.26 (21)
3.17 (25)
3.29 (29)
3.25
5
Wisconsin
26
3.12 (29)
2.88 (33)
2.96 (33)
3.08 (34)
3.01
6
Nebraska
25
3.04 (34)
2.92 (32)
3.08(35)
3.17 (39)
3.05
7
Maryland
17
2.59 (61)
3.06 (54)
3.00 (43)
3.25 (50)
2.98
8
Northwestern
16
3.00 (59)
3.00 (69)
3.19 (45)
3.38 (41)
3.14
9
Indiana
28
2.73 (44)
2.77 (37)
2.75 (51)
3.05 (55)
2.83
10
Iowa
21
2.95 (41)
2.79 (60)
2.80 (53)
3.11 (49)
2.91
11
Rutgers
25
2.64 (55)
2.60 (57)
2.60 (59)
2.90 (56)
2.69
12
Minnesota
20
2.54 (49)
2.70 (53)
2.60 (64)
3.00 (58)
2.71
13
Illinois
18
2.61 (71)
2.67 (72)
2.67 (70)
3.06 (66)
2.75
14
Purdue
18
2.61 (68)
2.53 (75)
2.72 (72)
3.00 (69)
2.72
Number in parentheses is national rank