The 11W Community Interview is truly of the people, by the people, and for the people. You submit the questions, vote on them, and then we pass the top ones on to the biggest names in the world of Ohio State athletics.
It's been over a year since the majority of Eleven Warriors readers were introduced to Cincinnati St. Xavier's Justin Hilliard, despite the fact he's now a household name for recruitniks. His recruitment was a roller-coaster ride of emotions for Ohio State fans and coaches alike, thanks in large part to Hilliard's methodical and calculated approach to his school selection. Despite being an admitted Buckeye fan, the nation's second-ranked linebacker took his time, thoroughly checking out all available options over the past year.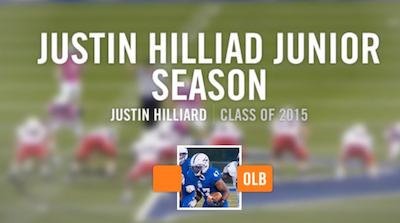 In early July, just days before heading to Oregon for Nike's The Opening, Hilliard made his decision in a nationally-televised press conference on ESPN.com and decided, after all his searching, that staying home was for him. 
Today, the 27th-ranked player in the country takes your questions becoming the latest Ohio State football commitment to participate in the Community Interview series.
You sound like you really enjoy recruiting other players. What are the points or ideas that you stress when you talk to them about Ohio State football and what it means to be committed? - EvanstonBuckeye
JH: For me it's simply building relationships with other recruits, whether it's through destroying them in 'Madden' or having good conversations about the family at Ohio State. It might sound kind of harsh but every recruit is looking to play in the NFL and you got to know if you're not talented enough to get time in college than the NFL might not be an option for you; I believe some people get too caught up in the numbers and depth charts. The biggest thing I stress to the recruits I talk with is family. At the end of the day, it is about where you feel most comfortable and where will enjoy your college career. A huge part of that is the people around you. The way the "Dream '14" reached out to me was amazing, so I'm looking to do with other recruits and other future Buckeyes.
At what point did you know in your heart that you truly wanted to be a Buckeye and what challenge are you looking forward to the most when you step foot on the field at the Shoe? - Buck Commander
JH: Over the last two years I've visited Ohio State eight times but I didn't know 100-percent I wanted to (be a Buckeye) until my last visit. During that last visit we talked zero numbers, no depth charts, no academic talks, no campus tours – nothing. I simply spent time with the players and coaches, spent time meeting their families and talking about everything except football. On that visit I really learned what the Buckeye family was about, even more than I had before. The "Dream '14" had always shown me love but just seeing them in person and seeing how close they all were really attracted me to the Buckeye family. After that visit I was 150-percent Buckeye.
I'm looking forward to the team challenges, I believe if I put the effort and time in the playing time will take care of itself. I look forward to the challenge of bringing Ohio back to national championship status and winning multiple championships for all the people of Ohio.  
What was your experience like at The Opening? Which recruits stood out to you? Which coaches helped you the most? And what did you take away from the experience? - Killer Nuts
JH: The Opening was honestly one of the best experiences of my life. Everything was over the top and it also turned out to be a great way of promoting Buckeye Football to recruits and people across the nation (through throwing the OSU hat at the camera every time I had the chance or putting the hat on Josh Sweat, Damien Harris or anyone else wanting to be a Buckeye). Everyone was a freakish athlete up there but the recruit who stood out most to me was Sweat. He runs as fast as a running back but plays defensive end; I mean the guy even looks like Jadaveon Clowney. I was blessed enough to be coached by Coach Mac (New England Patriots' great Willie McGinest), he's a future Hall of Famer. He was honestly one of the greatest people or coaches I've been around. We had a special bond, whenever he got the chance he'd tell me about his NFL stories or setting yourself up for life after football. Right after the camp I gave him a call to tell him thanks for everything and we ended up talking for two hours about anything and everything, from our faith to our failures. Literally speaking I came out of the camp with linebacker MVP honors and some hardware but I learned a lot. I know I have to keep working as hard as I am to stay at the top of my game but also I think we all learned that there is more to being a football recruits than just football.  It was really cool to see all different kind of personalities and egos coming together and have a blast. 
Since you are from Cincinnati: Skyline or Gold Star? - BuckeyeinToledo
JH: (Laughs) This is probably the easiest question I've been asked: Skyline all the way. Honest, I am not quite sure how Gold Star is still in business. No offense to their chili, but Skyline is way better. 
What are your thoughts on the great Buckeye tradition at linebacker, and how important is it for you that the unit succeeds together (versus an individual standing out)? - Hovenaut
JH:  Ohio State is "Linebacker U," baby! The list goes on for days of great Buckeye linebackers and a lot of them have been coached by our very own Coach (Luke) Fickell. That tradition of greatness? It's huge! When it comes down to it, success is measured by who is holding the crystal ball (or the new cool gold one) over their heads at the end of the year, and that's what we're trying to build.  Defense wins championships and linebackers are the quarterbacks of the Defense. It is very important for us to perform at a high level and to be leaders of the Silver Bullets. 
Are you aware that when you and Jashon (Cornell) verbally committed, the 11W site crashed for several hours? Do you and other recruits follow this site? - BuckGuyFan1
JH: Yes I follow the site and I had heard about that (laughs). A big "sorry" goes out to all the fans and readers and of course to the tech guys at 11W. I generally try to stay away from a lot of the recruiting sites just to keep my head level, because I really don't like the rankings, but I follow 11W as a Buckeye fanatic myself and now as a commit. 
Cincinnati has been an area of Ohio where Ohio State hasn't exactly excelled in the last 20 years, but has recently benefitted from a concerted effort. How did you perceive Ohio State growing up, and share with us a bit how our coaches recruited you? - Knarcisi
JH: I wouldn't say that is exactly true. Cincinnati has produced some productive players at Ohio State but I feel like my old neighbor (Jordan Hicks) made people feel that way when he chose Texas. However, Cincinnati is Buckeye territory too, almost everywhere I go I'll get a handful of "Go Bucks" from people. I was a fan of Ohio State growing up in Cincinnati. I loved Coach Tressel. I first met him when he was recruiting Jordan, and I have three autographed shirts in my room saved from when I was in 3rd grade.
The current coaching staff did a great job recruiting me. The coolest part was that the Urban Meyer was my main recruiter, because I know that's now how it is for everyone. They showed and didn't tell. They showed me how big family was there by spending time with them when I was on campus. They showed me how important I was to their class because I'd talk to (Urban) Meyer almost every day for two months and counting. I love the place. 
You said one of the three characteristics you were looking for in a college program was the opportunity to win a national championship. Do you like Ohio State's chances next year? Any thoughts on the state of the 2015 class towards achieving this goal? - Ewanjobi
JH: Yes, I honestly just hate losing, and I always have. I wanted an opportunity to win a national championship, and what better place to do that than home? I really like our chances this coming season. We have an explosive offense who can put points on the board and a hungry defense looking to prove everybody wrong. It's a great formula for success. I'll be at every home game this fall, so I know I will see plenty of wins this year.
Buckeye nation has taken note of how active you are in your recruitment of other top flight players in the class of 2015.  If there is one guy who you think is a 'must get' in the Scarlet and Gray who is not already committed, who would it be? - KansasBuckeye
JH: There's not one. I'm greedy I want them all. I want to play with the best. The guys that I've been going at the hardest though are Damien Harris, Josh Sweat, Matt Burrell, Malik Jefferson, Van Jefferson, Neville Gallimore, along with a few others. I plan to get them all if possible. I'm trying so hard to make Josh Sweat see what it's like being a Buckeye, and I have some time to keep working because he's not deciding until later in the process.
(Ohio STATE) showed and didn't tell. They showed me how big family was there by spending time with them when I was on campus... I'd talk to (urban) Meyer almost every day for two months and counting. I love the place.
What former Buckeye matches up to your playing style? - BuckeyeInSavannah
JH: I think that would be James Laurinaitis. I try to model my game after his. He plays so passionately, and so hard every play and is one of the most intelligent linebackers in the NFL. He seems to know where the ball is going before the play is ran.
Buckeye fans, do you know how tough it is to be a huge Buckeye fan, and go through almost two years of recruiting? Sitting in Ann Arbor, I almost let out a yell when the Buckeyes got the goalline stand against TTUN last November. I want you to know that I've always been a Buckeye fan but I had to put that aside during the recruiting process to find out what place is truly best for me. I wouldn't have done it different if I had to do it again, but I found my home is home.
Our class of 2015 commits are very close, and we talk everyday about stuff other than football. I believe if we can show others how big of a family we have in Columbus we'll be able to bring in many of the country's best players, because that is what got me: the people who are a part of Buckeye Nation. The fans, the students, the coaches, the players; there's just nothing like it. Go Bucks!