Ohio State opens its stint in the Emerald Coast Classic with an opponent that hasn't yet won a game in the 2023-24 season.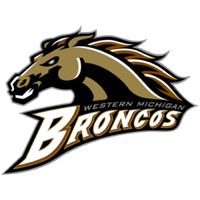 Western Michigan comes to Value City Arena with a 0-3 record on Sunday as Ohio State looks to improve its own mark to 3-1 on the year. The Mustangs have fallen to North Dakota State, Georgia State and Northwestern in 2023-24.
The Buckeyes struggled with Merrimack in their most recent contest for the first half and part of the second half, up just 35-31 with 17 minutes to play and 49-43 with 9:24 remaining before a 16-0 run finally put the Warriors away.
It's the last game of a four-game homestand to open the season for Ohio State, who will travel to Niceville, Fla. to play Alabama in the next round of the Emerald Coast Classic on Friday.
Need to know
Upset bid
Holtmann said that he still views Western Michigan in high regard after the Broncos nearly knocked off Northwestern on the road in their most recent contest. Western Michigan cut the contest to a one-score game with 20 seconds to play before ultimately losing 63-59.
"I think they're a really good team," Holtmann said following Ohio State's win over Merrimack. "They had a chance to beat Northwestern at Northwestern last night. Northwestern's a really good team that returns a lot of guys. They had a great chance to beat them. I've not had a chance to look at them much but based on their scores, and certainly based on that ... that's a good team we've got coming in on Sunday."
Back of the MAC
Western Michigan finished last in the MAC last year, going just 4-14 in conference play with an 8-23 overall record. The Broncos were 292nd of 363 teams across college basketball in points allowed per game, giving up 74.0 points per contest to their opponents.
Three Important Buckeyes
Bruce Thornton
Ohio State's star point guard had a down performance against Merrimack after a 24-point night against Texas A&M, scoring just eight points on 2-of-5 shooting, though he did dish out six assists. Holtmann has already stated multiple times this year that the team will go as Thornton does, so a dominant outing against the Broncos would be a positive sign for the Buckeyes.
Scotty Middleton
The freshman forward flashed his potential again against the Warriors, netting a nice 3-pointer early. Some ill-advised shots led to a 1-for-4 night from the field, however, and the Buckeyes will be looking for more production from the freshman who has, so far, enjoyed the biggest role from his class with this year's Ohio State team.
Felix Okpara
Three games into the season and the 6-11 Okpara is averaging a mere 2.7 rebounds per game. He's been an effective shot blocker, with six swats thus far on the year, but he's only gone up from 4.0 to 4.3 points per game with a decline in rebounding numbers despite averaging a near-identical number of minutes and having an offseason to develop from his freshman campaign. Ohio State needs more from its starting center.
Three Notable Broncos
B. Artis White
Projected Starting Lineup

| No. | Player | Position | Height | Weight | 2023-24 Stats |
| --- | --- | --- | --- | --- | --- |
| 2 | Jefferson Mongero | G | 6-4 | 185 | 8.7 PPG, 4.3 APG |
| 1 | Brandon Muntu | G | 6-4 | 190 | 7.7 PPG, 2.3 RPG |
| 12 | Seth Hubbard | G | 6-4 | 175 | 14.7 PPG, 4.0 RPG |
| 20 | Owen Lobsinger | F | 6-9 | 225 | 6.3 PPG, 3.0 RPG |
| 22 | Titus Wright | C | 6-8 | 250 | 9.0 PPG, 7.3 RPG |
White is expected to be a go-to scorer for Western Michigan this year and racked up 20 points on 56 percent shooting in the Broncos' season opener against North Dakota State. He hasn't played since that game with a reported minor knee injury, however, and his status for the Ohio State game is unclear.
Seth Hubbard
Hubbard recently received his first career start for Western Michigan after a strong start to the season, averaging 14.7 points per game to be second on the team. 
Titus Wright
The Broncos' center has paced the team in rebounding this year, collecting 7.3 boards per game to go along with nine points per contest. He'll provide a test down low for Okpara on Sunday.
How It Plays Out
Line: Ohio State -22, O/U 141
In this writer's opinion, Western Michigan is one of the worst opponents on Ohio State's schedule and probably the worst it has played so far. The Buckeyes should win going away, even if the Broncos have been in some close games so far this year.
Prediction: Ohio State 81, Western Michigan 64