Right now Ohio State men's basketball is sliding across a freshly waxed wooden floor, directly towards a staircase down to the basement.
Something might stop them, maybe. But if you're the anxious babysitter (you, me, Ohio State fans in general, Gene Smith, etc.) who got momentarily distracted by a different, better team for a few months, maybe at this point it's better to get ready for the aftermath of how this all ends instead of yelling about it in a futile attempt to circumvent the iron-clad rules of physics.
Ohio State lost to Wisconsin, which shouldn't have come as a shock to anyone who's watched any of their last nine games. If you watched the Buckeyes lose against Illinois, or Indiana, or Nebraska, or Maryland in the previous weeks, then you already watched last night's loss to the Badgers. Chris Holtmann got ejected to spice things up a little, but it was more or less the same effort Ohio State has put on the court since shortly after Christmas.
The question you have, then, is how do things turn around?
Ohio State has nine regular season games left, and surely one of them will act as a mental rumble strip to restore at least some order here. Not that at this point should anyone expect the Buckeyes to return to early-season form, but win a few games here and there and Ohio State should be confident going into March, right?
Right?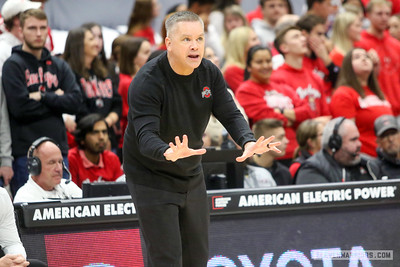 BEST CASE SCENARIO
The good news is that Ohio State has five of their last nine at home. Most of the teams that they play here on out are at just barely .500 or slightly above that in the Big Ten, and even better, they get to play a strictly average Michigan squad on Sunday that Sports-Reference.com rates as the easiest team remaining on their schedule. If there's any opponent that should make for an emotional launch pad to a successful end to the season, it'd be the Michigan Wolverines. Uh, football notwithstanding.
Anyway, Ohio State wins against Michigan, and then they sweep Northwestern and Michigan State at home. They split Iowa and Purdue on the road, and then come home and take two of three against Penn State, Illinois, and Maryland. Maybe Sparty drops them on the road to finish the season, but overall the Buckeyes look much better going into the Big Ten tournament at 17-14.
WORST CASE SCENARIO
They lose all of 'em. Look, here's the thing: Michigan might be the ostensibly "worst" team left on the schedule, but the Buckeyes just lost to a team rated lower than the Wolverines. During this freefall, they've been defeated by a Nebraska team that isn't as good as either the Badgers or Michigan, and that was after losing to a Minnesota team that is now 1-10 in conference play.
Going 0-9 probably won't happen. Ohio State is clearly at least capable of having two starters make consistent buckets on the same night, so a win or two at least is still in the cards. But I want people to understand that in every single game from here on out, Ohio State will not have any sort of decided advantage on paper.
MOST LIKELY?
My honest guess is that they finish something like 3-6, with an overall record of 14-17. It's weird, because KenPom still really likes them for whatever reason, but it's hard to have much confidence in a team that starts and finishes so poorly.
Chris Holtmann is still the "coach of the future" for Ohio State, which could mean a lot of things given that two minutes into the future is still the future. But historically this has been an incredibly disappointing season of Ohio State men's basketball:
Ohio State who has now lost eight of its last nine games falls to 11-11 on the season. The last time the Buckeyes were .500 as late as February was in 2004. They started the season 8-4 and finished with a 14-16 record in 2003-04.

Jim O'Brien was fired following that season.

— Josh Poloha (@JorshP) February 3, 2023
To add to that, Thad Matta was fired after two seasons in which he won 38 games overall and 18 in the Big Ten. If Chris Holtmann wants to match that over his past two seasons, the Buckeyes will need to win seven more games before Easter. If Holtmann wants to continue his streak of winning at least 20 games per year, they're more or less going to have to win out. This is to say nothing about seeding for Conference or National Invitational tournaments that they may or may not get invited to.
But those are all problems for a month from now. Right now the goal should be avoiding Ohio State's first losing season in twenty years, and that will hopefully start with a win on the road against a hated rival.