There are a number of different reasons Ohio State's offense has struggled since the calendar flipped to 2023.
Not putting the ball in the basket is certainly the easiest answer. If only it was that easy for the Buckeyes to do so, right?
A major reason Ohio State's offense has struggled for much of the last eight games has been due to ball movement, or lack thereof. Moving the ball makes it easier to find an open shot. Not doing so leads to one-on-one basketball, contested shots and plenty of misses, things the Buckeyes have certainly had plenty of since their win at Northwestern on Jan. 1, a stretch that has seen Chris Holtmann's squad lose seven of eight games since.
Time and time again, the head coach has stated that his team must "move better offensively" (following the loss at Rutgers on Jan. 15), "still have to continue to move the ball better and bodies have to move better offensively" (after win over Iowa on Jan. 21) and the "ball has to move" (Monday). It's been a common theme and the biggest reason the Buckeyes' offense has scored more than 73 points in a game just once since Dec. 29. After having double-digit assists in 11 of its first 14 games of the season, Ohio State has had 10-plus assists in just one of its last seven games: A 93-77 win over Iowa on Jan. 21.
In the Buckeyes' first 13 games of the season – a stretch in which they were 10-3 – they averaged 14.5 assists per game, leading to an average of 81 points a night. In Ohio State's last eight games, the Buckeyes have notched just 9.0 assists per game, leading to an average of just 69.5 points a contest.
On the season, the Buckeyes are averaging 76.6 points per game (67th in the nation). In Big Ten play, they are averaging just 69.6 points a contest (sixth in the conference). To break it down even more, when Holtmann's squad has 10-plus assists, they are 10-2; when they have single-digit assists, they are just 1-8.
Ohio State's Point Total and Assist Numbers in Every Game this Season

| Opponent | Result | Assists |
| --- | --- | --- |
| vs. Robert Morris | W, 91-53 | 18 |
| vs. Charleston Southern | W, 82-56 | 11 |
| vs. Eastern Illinois | W, 65-43 | 14 |
| vs. San Diego State | L, 77-88 | 9 |
| vs. Cincinnati | W, 81-53 | 7 |
| vs. Texas Tech | W, 80-73 | 15 |
| at Duke | L, 72-81 | 6 |
| vs. Saint Francis (PA) | W, 96-59 | 20 |
| vs. Rutgers | W, 67-66 | 14 |
| vs. North Carolina | L, 84-89 (OT) | 17 |
| vs. Maine | W, 95-61 | 23 |
| vs. Alabama A&M | W, 90-59 | 19 |
| at Northwestern | W, 73-57 | 15 |
| vs. Purdue | L, 69-71 | 11 |
| at Maryland | L, 73-80 | 8 |
| vs. Minnesota | L, 67-70 | 5 |
| at Rutgers | L, 64-68 (OT) | 7 |
| at Nebraska | L, 60-63 | 9 |
| vs. Iowa | W, 93-77 | 15 |
| at Illinois | L, 60-69 | 8 |
| at Indiana | L, 70-86 | 9 |
Part of the decline in numbers is due to competition. The Big Ten is one of the most competitive conferences in college basketball. Opponents are not only good, but the conference has some of the best defensive teams as well. Still, Ohio State's 12.4 assists per game rank just 255th in Division I and is one of the worst averages among Power 6 teams.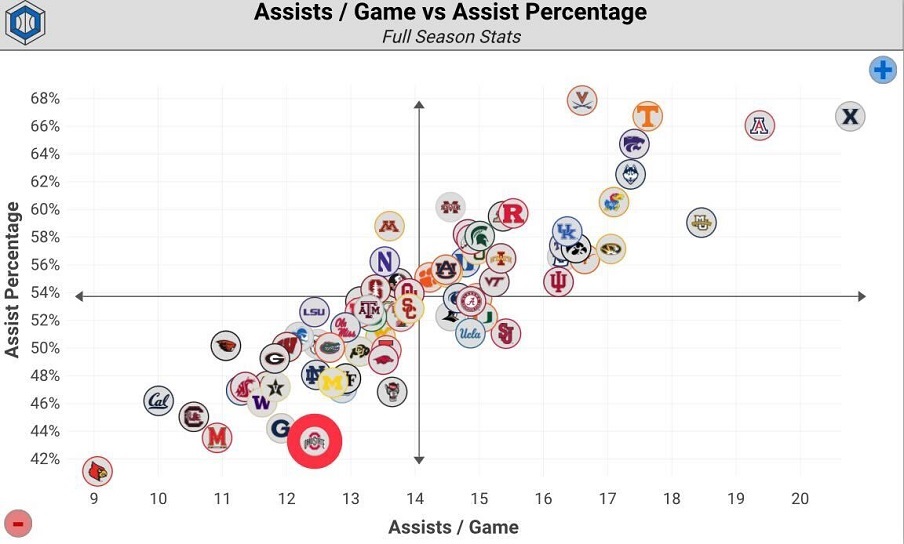 In Big Ten play, Ohio State is averaging just 10.1 assists per game in conference play, which ranks 13th in the conference and is the same number of assists national leader Yuri Collins of Saint Louis is averaging by himself.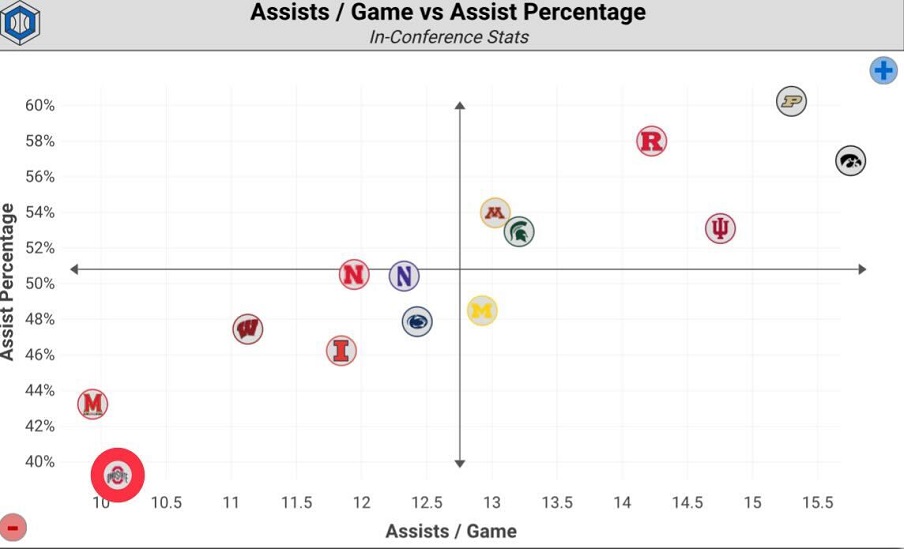 The Buckeyes' offense has become too stagnant. Players aren't moving as much off the ball. Ballhandlers are holding onto the ball too long. Whether it's contested mid-range jumpers, not being able to get ope, or not being able to find an open teammate, the Buckeyes have struggled to do the types of things that seemed to come easier earlier in the season.
"We're forcing some shots where we should be hitting an open man for an uncontested three or an opportunity to attack another close out while the defense is in rotation," assistant coach Jake Diebler said last week. "It's something that we have to continue to get better at and something we're working on every day.
"We're taking too high of a volume of contested midrange jump shots," he continued. "That's an area that we have to grow in ... like right now. It's really, really hard to have an efficient offense when you're taking the volume of contested midrange shots that we are right now. ... We have to adjust better to how teams in our league guarding us."
Ohio State has just three players – Isaac Likekele (2.9), Bruce Thornton (2.8) and Justice Sueing (2.0) – that average at least two assists per game. Likekele's team-leading 2.9 assists a night rank 384th in Division I. Thornton's numbers have dipped significantly since the start of the new year, as the point guard admitted that he hit a freshman wall.
Then again, Holtmann's Ohio State teams have never been known to have a big number of assists. Since the head coach came to Columbus in 2017, the Buckeyes have never finished better than 100th in Division I in assists, with its highest ranking being Holtmann's first season leading the Buckeyes. In fact, Ohio State's assist numbers have decreased every season throughout the Holtmann era.
Ohio State's Average Assists Per Game in Chris Holtmann Era

| Season | APG |
| --- | --- |
| 2017-18 | 14.7 (100th) |
| 2018-19 | 14.1 (116th) |
| 2019-20 | 13.3 (160th) |
| 2020-21 | 13.1 (178th) |
| 2021-22 | 12.5 (205th) |
| 2022-23 | 12.4 (255th) |
The competition has picked up in Big Ten play, which has certainly played a role, but the decrease in assist numbers is a real factor in Ohio State's recent struggles. There's a reason Holtmann and Diebler have continued to harp on ball movement time and time again throughout the last few weeks. The Buckeyes are struggling offensively, and they have to move the ball better to change that.