This past weekend was much less eventful than expected for the Ohio State basketball team.
Originally scheduled to host Nebraska at home on Saturday, the Buckeyes ended up getting the day off as a result of a postponement due to a COVID-19 outbreak in the Husker program. It was the fourth contest the Buckeyes have had either canceled or postponed since December.
Although we didn't get to see Ohio State in action at the Schottenstein Center, Chris Holtmann shed some light on the latest happenings in the program during his weekly radio show on the Ohio State Sports Network on Monday. Along with outlining a potential target date to reschedule the Nebraska matchup, Holtmann also provided updates about a couple of injured Buckeyes, mentioned one former player who has been practicing with the team and discussed why Thursday's tip-off time against Minnesota was moved back.
Mid-February date targeted for Nebraska makeup
While nothing is set in stone as of yet, Holtmann said the Buckeyes are looking to reschedule their second matchup with Nebraska at some point before or after their Feb. 19 home game against Indiana.
"The Nebraska game's gonna get rescheduled," Holtmann said. "We've talked about that potentially being rescheduled some time around, before or after maybe the Indiana game. I'm glad we were able to get some game repetition. We had actually talked to a couple other programs about maybe doing something this week, it just didn't work out."
Saturdays game at Ohio State has been postponed.https://t.co/leWOWjOsCY

— Nebraska Basketball (@HuskerHoops) January 20, 2022
Ohio State had already lost two home games due to COVID-19 before the Nebraska postponement, but made up one of those slots with last Tuesday's win over IUPUI in a last-minute non-conference makeup.
The Buckeyes will have a three-day window in which they could schedule a game before the Feb. 19 matchup with the Hoosiers, and a four-day window afterwards, as they aren't scheduled to play again until Feb. 24 (at Illinois).
Meechie might return this week
Freshman guard Meechie Johnson has missed the past three games due to what was previously described as a facial injury, but Holtmann said Johnson actually suffered both a facial fracture and a concussion after taking a blow during practice.
I wish my brothers good luck tonight! It sucks to not be there tonight and be in a game like this especially on the road , but injuries is apart of the game and Ill be back soon! Go bucks

— Meechie Johnson (@MeechieJohnson0) January 13, 2022
Holtmann said Johnson is "starting to come back" but that the Buckeyes would know more following Monday's practice.
"I think contact is the next step for him, because he had a facial fracture – which sounds unpleasant, and it was unpleasant for him – and we missed him while he was out," Holtmann said. "He also had a concussion along with the facial fracture. We'll get final word here today on what he's able to do."
When Johnson does return, he might look a bit different, as Holtmann said he'll have to wear a protective mask to cover his face. While the mask might be somewhat restrictive, Holtmann said he's a fan of the look.
"He is gonna wear a mask, and he looks like a villain," Holtmann said. "I like it, it gives him a nastiness to him. He's got the whole thing on, it's an interesting thing that he's gotta wear. I think it affects his breathing as much as anything, but we haven't had a chance to really play and get up and down enough to see how it's gonna affect his vision."
Holtmann said he doesn't mandate players to wear mouth guards that might help prevent an injury like Johnson's, but said he might reconsider in the future because "we've had a few lost teeth here."
Sueing doing "some things" in practice
Injured forward Justice Sueing has been out for the past 14 games, and while Holtmann said the senior still isn't necessarily close to returning, he has been doing "some things" in practice.
An abdominal issue has kept Sueing sidelined, but he is continuing to make progress toward what Holtmann expects to be a return to the hardwood before the end of the season.
"Justice has started to do some things in practice. Right now he's doing some things and then see how his body feels and how his body responds," Holtmann said. "He has had some soreness, which has limited how many days consecutively we can do some things. I wouldn't say it's close right now, but I think he's taking steps. 
"Justice, as we all know, has been a really good player, really came into his own in the stretch run last year when we won all those games in a row in league play and then played well in the Big Ten Tournament. We've missed him this year, but our guys have stepped up and we're optimistic we're gonna get him back at some point here, for sure."
Holtmann said expectations for Sueing's performance will have to be adjusted upon his return, and the Buckeye coach reiterated that the fifth-year player could still opt to come back in 2022-23.
"I don't have expectation that he's gonna come back (this year) and be the same player. I was asked by the media after the game, 'Hey, could Justice come back for another year?' He certainly can, we'd love to have him," Holtmann said. "He'll have to decide if it's best for him. Does he want to go see what professional opportunities are there? He'll have to evaluate that. But certainly we could see the benefits of him returning, but he's gonna have to evaluate that with his family."
A former Buckeye returns to practice
Due to the aforementioned injuries, and potentially a couple other undisclosed issues that Holtmann seemed to allude to on Monday, Ohio State called upon the services of a former Buckeye guard to practice with the team due to its dwindling numbers.
Keyshawn Woods, who played the 2018-19 season with the Buckeyes as a grad transfer, returned to the Schott to give his former team an extra body in practice.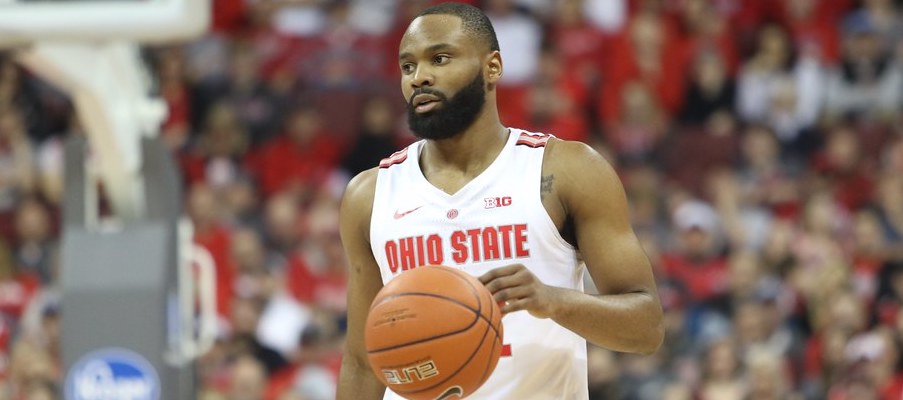 "We've had some guys that have had some ailments and been down for various reasons. We've been blessed, we have a former Buckeye – always a Buckeye – Keyshawn Woods who's been practicing with our group to help us with some numbers here," Holtmann said. "He's allowed, I think per compliance, 10 practice days. People who have watched us recently know Keyshawn played great towards the end of his tenure here."
Professionally, Woods signed with GTK Gliwice of the Polish Basketball League this past summer, but parted ways with the team in late November.
Minnesota tip-off time moved
Aside from the recent cancellations and postponements, Ohio State has another minor scheduling change this week with its Thursday tip-off time on the road against Minnesota.
Originally scheduled for a 7 p.m. tip, ESPN almost delayed the start of the game by more than an hour before Holtmann and the Buckeye program expressed some pushback to the idea. The parties settled on 8 p.m., although Holtmann said it could have been even later than that.
"The Minnesota game got changed because of ESPN wanting to move it. They wanted to move it back even later," Holtmann said. "We said, 'We don't care what channel, we don't have to be on main ESPN, I'd like to get my guys back at like 2 instead of 3:30 in the morning.' So we ended up making a compromise, and that's why there was a bit of a schedule change."
Holtmann calls for parent travel stipends
Holtmann would like to see more of his players' parents present at road games, and he believes the NCAA has the necessary funds to make that happen.
The Buckeye coach suggested that the parents of collegiate student-athletes should receive stipends to accommodate their travel to a number of contests each season.
"I don't know the specifics of it right now, but I would love to see the NCAA, the organization could contribute some type of allowances to each family for them to travel for a number of games throughout the year," Holtmann said. "I think there's money to do it, and I'm not saying you have to provide first-class tickets to every road game. But so many of the families, either because of the work schedule or just because of the finances of it, they can't do that, they can't see their kids.
"I would love to see the NCAA step up and say, 'OK, here's a stipend for families for them to be able to travel specifically to see their sons and their daughters play.' I think that would be a great investment, for sure."