The Buckeyes have the best damn uniform lineup in the land.
There isn't a day the Buckeyes don't look sharp when they take the court, but that doesn't mean we don't have our favorites.
With the final addition to this season's Ohio State's uniform lineup officially revealed this weekend, we decided to take a stab at ranking each of the Buckeyes uniform options, from our least favorite to our favorite.
To make it a little more scientific and less of me just slinging fashion #takes, I combined the rankings of 11 Eleven Warriors staffers to get a composite staff ranking. Each uniform was ranked and scored with a first-place vote receiving six points, a second-place vote getting five points, all the way to a last-place vote getting one point.
Here's what we came up with.
6. Primary White Home Uniforms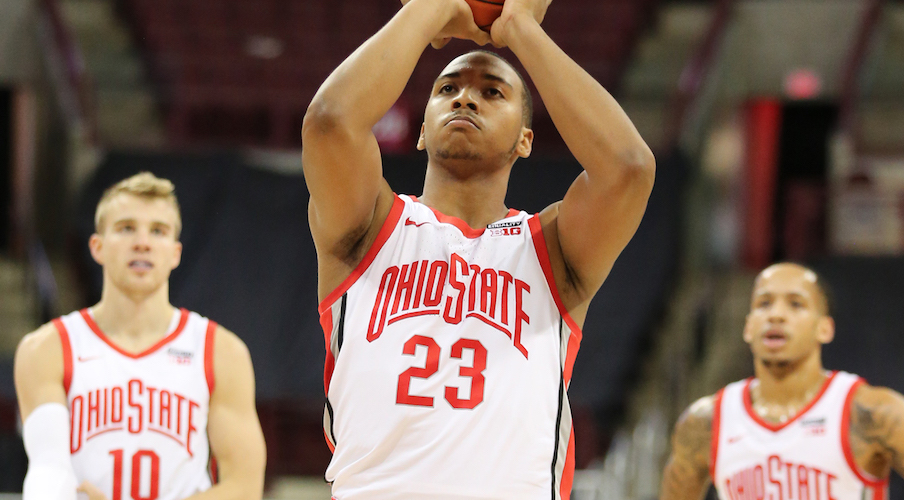 Coming in at last place are the primary home white uniforms. A new look this year, the home whites feature an enlarged stripe on the side and the Ohio State wordmark lettering across the chest.
This ranking was pretty decisive as it was more than 10 points lower than the next lowest ranked uniform. Nobody ranked these uniforms higher than No. 4, and 10 out of 11 of us ranked them No. 5 or worse.
Still, that doesn't mean these are *bad,* they're just our least favorite. Everyone seemed to agree that these are an improvement from last year and are genuinely good and clean uniforms. But something has to be in last place.
The home whites scored 18 points in our ranking system, with an average ranking of 5.36 out of 6.
5. Primary Scarlet Away Uniforms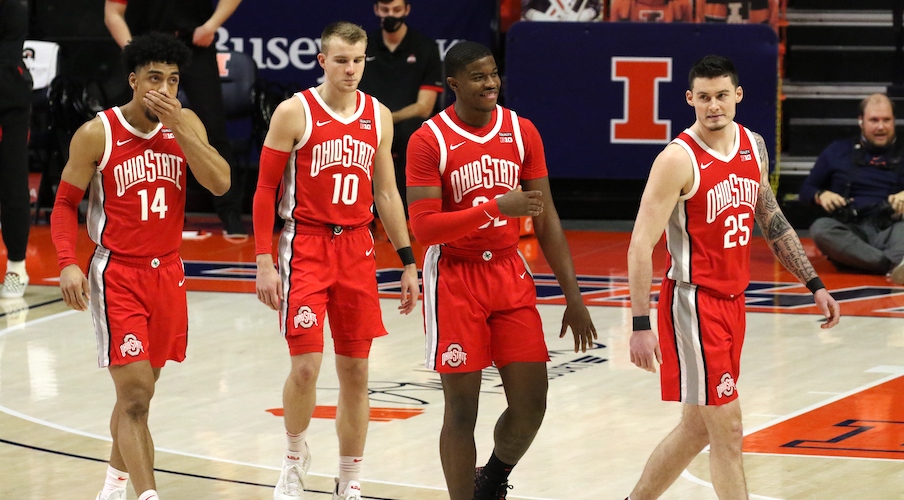 Coming in ahead of the home whites is the primary road scarlet uniform at No. 5. This uniform is just a scarlet version of its white counterpart featuring the Ohio State wordmark and the thick stripe along the side.
While it is second-to-last on our list, this one got much more love than the home white uniform with multiple people ranking it at No. 3 and nobody ranking it lower than No. 5. None of us ranked it below the home white uniform.
Again, No. 5 doesn't mean this is a bad uniform by any means. It just means the competition is stiff at the top.
The primary road scarlet uniform scored a 29 in our scoring system with an average ranking of 4.36.
4. Anthracite Alternate Uniforms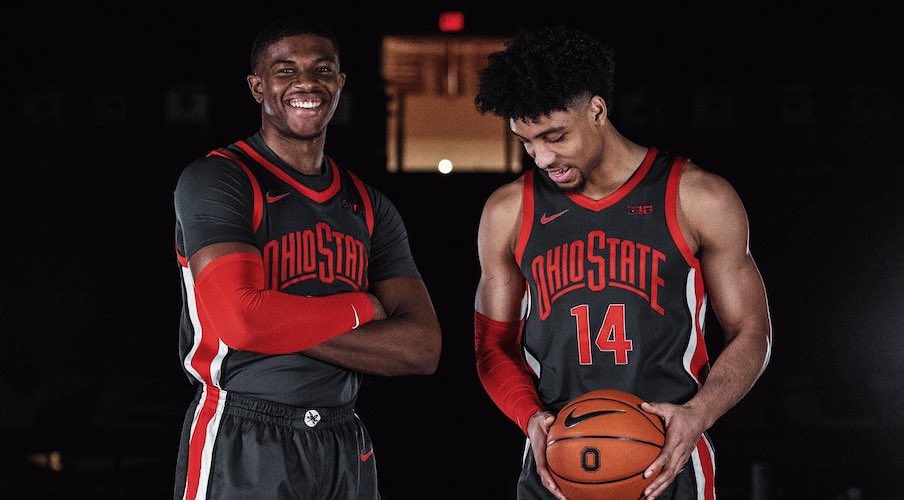 Now we're getting into the alternates. Coming in at No. 4 is Ohio State's new "anthracite" alternate uniform.
Stylistically, this uniform is similar to the primary home and away uniforms with the same wordmark and thick stripe, but its color is obviously much darker – a dark gray or black, depending on the light.
This one was probably the most contentious of them all with a ton of variance in the voting. Three people had it dead last while three others had it at No. 2. Everyone else had it where it is on this list – No. 4.
Most seem to agree that this is a good look for an alternate uniform, but it just shouldn't be overworn.
The anthracites scored a 31 in our scoring system – just two points higher than the road scarlets – and had an average rating of 4.18.
3. White Script "Clark Kellogg" Throwback Uniforms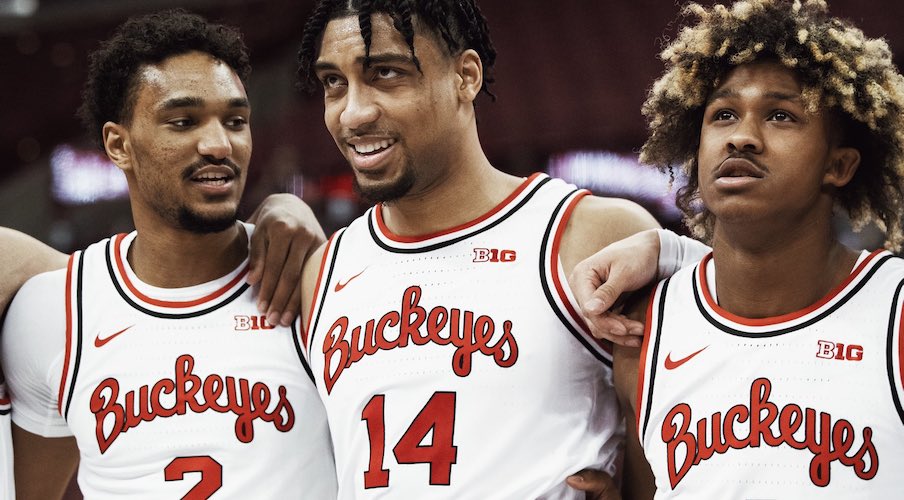 Ohio State's newest uniform comes in at No. 3 on our list, featuring a throwback look with the "Buckeyes" script wording across the chest and throwback logos on the shorts.
The Buckeyes have only worn these uniforms once, beating Indiana in the new threads last Saturday, but it was enough to get some folks to fall in love – and even earn it a first-place vote amongst our staff.
The white script throwbacks earned a 45-point score in our system with an average ranking of 2.9.
2. Gray "Jim Jackson" Throwback Uniforms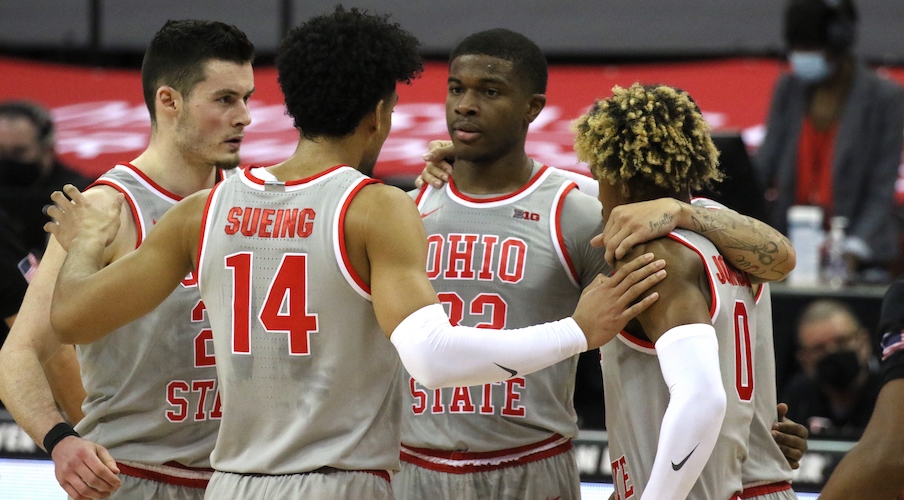 Our runner-up for best Buckeye basketball uniform is the Gray Jim Jackson era throwbacks Ohio State has been rocking for a few years.
With light gray as the primary color, red lettering and white outline with a classic logo on the shorts, this look as is classic and classy as it gets.
Almost everybody had this uniform in their top three with three people giving it their first-place vote, but there was one voter who was not so high on the throwback gray uniform, ranking it dead last at No. 6.
These Jim Jackson throwbacks earned a score of 49 in our scoring system and had an average ranking of 2.54.
1. Scarlet Script "Clark Kellogg" Throwback Uniforms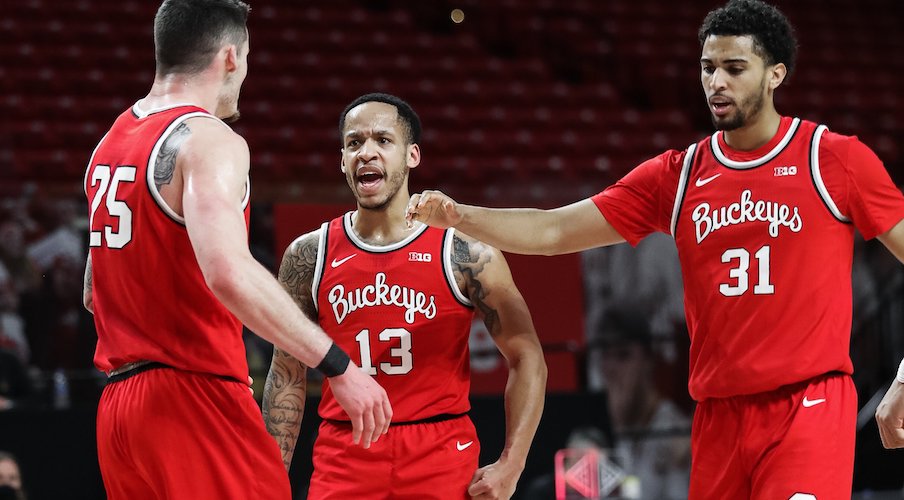 The Best Damn Uniform in the Land.
The Scarlet script Clark Kellogg era throwback uniforms earn the top spot in our staff vote, and it wasn't particularly close. This uniform got five of 11 first-place votes with every single person ranking it in their top three.
This seems to match up with the sentiment across Buckeye Nation, as this same uniform combination won a social media fan vote earlier in the year that determined which uniform the Buckeyes would wear against Penn State.
The Scarlet script throwbacks scored a whopping 59 in our scoring system and had an average ranking of 1.63.
---
How'd we do? You can give us your own rankings below.