Several times in the past month or so, Ohio State head coach Chris Holtmann had hinted something might be awry with fifth-year point guard CJ Walker's right hand.
On Thursday, a decision was made to remove him from action for an indefinite period of time. Ohio State announced he'll be held out to rehabilitate his injured hand, revealing he's dealing with torn ligaments.
"I hate it for the young man," Holtmann said on Thursday. "He's really, in a lot of ways, really the heart and soul of our team, along with Kyle (Young). So I hate it for him. I know he's invested a lot in preparation for this season. Because of who he is, he's not wanted to make much of it, but the reality is it has been bothering him for really the entire season."
What Happened?
Walker did his best to keep the not-quite-healthy hand under wraps. He chose not to talk about it publicly. In truth, though, as Holtmann mentioned this week, the starting point guard suffered the initial injury a couple of months ago in his team's first intrasquad scrimmage.
In his fifth and – in all likelihood – final year of college basketball, Walker didn't want to miss any time. So, he toughed it out, playing all 11 games and averaging 31.5 minutes in them. Holtmann said that if the training staff clears a player, he tries not to limit them on the court, though he noted he thought the point guard's shooting and aggressiveness were both impacted.
"I think, unfortunately, it's gotten to the point to where it's gotten increasingly more uncomfortable for him," Holtmann said. "More discomfort and affected his play."
The day after Walker scored two points while missing all five shots from the field with two assists and one rebounds in 23 minutes of Ohio State 17-point loss to Minnesota, he got his hand looked at. From those tests, they learned of the torn ligaments and made the choice to shut him down for the time being.
"I think that was, in his mind, 'I want to see if there's an alternative to playing through it right now because it's increasingly bothering me,'" Holtmann said. "There were a battery of tests that he went through on Tuesday when he returned, and that was kind of a collective decision on where to go."
When Will He Return?
The short answer: No one knows for sure.
"There's no direct timeline on when he will return," Holtmann said. "It's hard to get specifics on that. We're going to see how long this healing process, if it does heal, and how long, in fact, that will take to heal or get to the point to where he's comfortable playing."
Walker and athletic trainer Brad Watson were scheduled to talk to a hand specialist on Thursday after Holtmann spoke to the media. The goal is to get his hand to the point where he can salvage his redshirt senior season and return to finish the season at some point without it bothering him.
"Could he return and be healthier and be more of himself, I think is in his mind a lot of what he's considering," Holtmann said.
As of now, though, they aren't sure how long he will be absent.
The Impact?
In a sense, Walker's injury was a bit of a lose-lose proposition for Ohio State.
If he opted to play through the pain, the hand would have continued to impact his game. He has scored 14 points in the past four games, making 4-of-25 shots and missing all four attempted 3-pointers. He's now shooting 30.1 percent from the field on the season, and that mark likely wouldn't have improved if he remained playing through torn ligaments in his right hand. 
But Walker sitting out indefinitely exposes Ohio State's lackluster backcourt depth. 
Abel Porter was supposed to be the Buckeyes' point guard, but his basketball career came to an end in the preseason. Now without Walker available, they'll have to make do for now in the middle of Big Ten play without either of the point guards they intended to have in the rotation this season. 
One notable positive of having Walker run the show offensively has been the team's turnover rate of 14.4 percent, which ranks 12th-best in the country. Can the guys who will fill in maintain that? It won't take long to find out.
"I think, as much as anything, we're going to need obviously an increase in our collective level of play without CJ," Holtmann said. "We're also going to need an increase in leadership."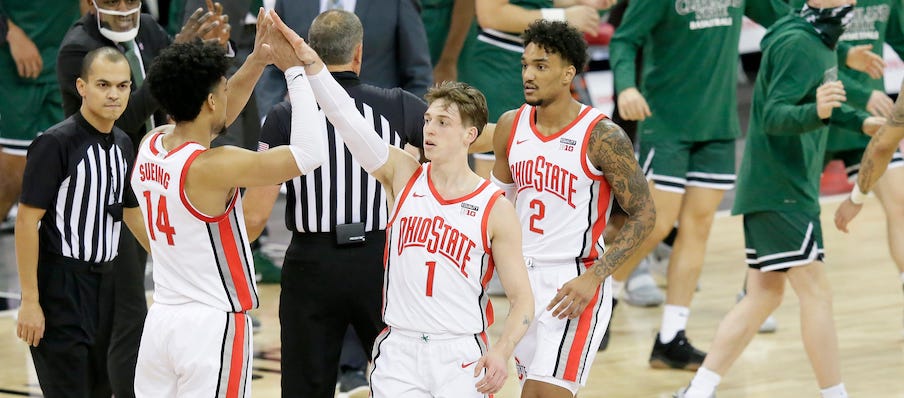 Who Steps Up?
The clear answer here is Jimmy Sotos, the Bucknell transfer who came to Columbus fully intending to sit out this season. Instead, due to the NCAA approving his immediate-eligibility waiver, Porter's health scare and Walker's injury, he'll be counted on to play major minutes in conference play.
Sotos is averaging 1.3 points and 0.8 assists in 7.9 minutes per game and has yet to top 14 minutes in a single game. The senior expected to return next season for a fifth season of college hoops has scored only two points in his past five games and hasn't made a shot from the field since the 67-60 loss at Purdue on Dec. 16, so Ohio State will be looking for a significant step forward from the 6-foot-3, 200-pounder.
"I think he's ready," Holtmann said. "I'm looking forward to seeing his minutes increase, and his role will definitely need to increase. He's had some good practices. Obviously we've played CJ and Duane (Washington) a lot, so there's been somewhat limited minutes there for him. He's getting thrown into the fire with a terrific group of guards that's going to be a real challenge to defend in this Rutgers group."
Both Washington and Justice Sueing could see increased ball-handling duties, too. Washington has been in the role before, but it'll be somewhat new for Sueing who hasn't served as the primary ball-handler much while a Buckeye. 
Another option? Meechie Johnson.
The December enrollee began fully practicing this week as he works his way to the point when he'll debut. Will Holtmann speed it up to get him onto the court faster?
"In reality, he was going to begin anyway to begin to get to regular practices at this point and game availability," Holtmann said. "We'll see how he continues to progress. He's really been on about the normal schedule. I don't think I would accelerate it, just because we've wanted to really think about him and his progression. We won't accelerate it, but he's been on schedule, and on schedule now is he's been implemented into practices and full practices."
The most important thing for Johnson to do before debuting, Holtmann said, is to continue going through live practicing and learning offensive and defensive schemes. The coaches don't need him to be at a Walker-type of level when it comes to understanding things, but they want to ensure he has a solid baseline before throwing him into Big Ten play.
"I'm not ruling out him playing on Saturday or moving forward," Holtmann said. "It's just how he continues to practice."