Like a game of tug-of-war, Purdue spent most of Wednesday evening in Mackey Arena trying to pull away.
Twice in the first half, the Boilermakers went up by five points only for Ohio State to tie it up – and even take the lead the second time. The Boilermakers went up by eight, threatening to lead by double figures, but five straight points from the Buckeyes kept Ohio State in the game.
| Team | 1 | 2 | FINAL |
| --- | --- | --- | --- |
| #20 OHIO STATE | 33 | 27 | 60 |
| PURDUE | 38 | 29 | 67 |
Finally in the second half, Purdue pulled ahead by 14 on an 11-1 run, proving too much for Ohio State to overcome. The Boilermakers, led by 16 points from Trevion Williams and 15 from Eric Hunter Jr., beat the Buckeyes 67-60 to hand them their first loss of the season.
On a Duane Washington Jr. 3-pointer off of a batted pass from Zed Key with 2:54 remaining, Ohio State chopped the Purdue lead to six points. But that's as close as the Buckeyes could make it.
Purdue both held a steady edge in field-goal percentage (47 percent to 38 percent) and on the glass (36 rebounds to 30 rebounds).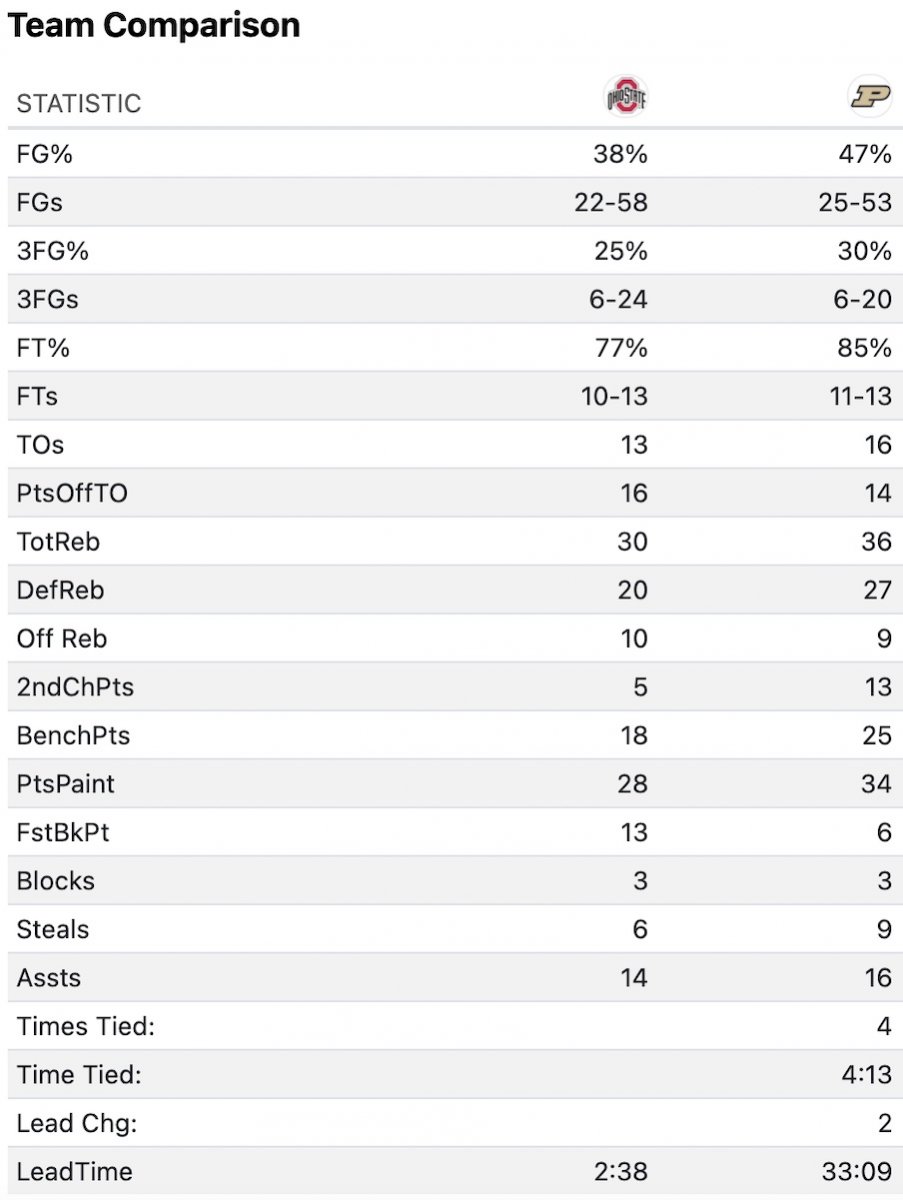 Justice Sueing led the Buckeyes in scoring with 14 points, and Washington added 13 points, though he did so on 4-of-14 shooting. Ohio State made only 6-of-24 shots, which proved tough when trying to get over the hump late.
Purdue held the upper hand for just about the entire game. Twice in the first 10 minutes of the opening frame, the Boilermakers pulled ahead by five points – sparked first by a Sasha Stefanovic 3-pointer then a Brandon Newman triple – but both times Ohio State fought back to tie it up. A five-point run off of a Justin Ahrens 3 and a Justice Sueing jumper gave Ohio State a five-point edge that it soon lost due to Trevion Williams free throws and, of course, another Stefanovic shot from deep.
Purdue threatened to go ahead by double figures near the end of the half, going on an 8-0 run punctuated by back-to-back buckets in transition that led Chris Holtmann to call a timeout. Jimmy Sotos' and-one and Musa Jallow's alley-oop layup, however, allowed Ohio State to avoid a late-first-half collapse and enter the break trailing by only five.
Next up: Ohio State (5-1) travels to Cleveland to face UCLA (5-1) at Rocket Mortgage FieldHouse on Saturday. It'll tip off at 4:15 p.m. on CBS.
Other Notes
Four Buckeyes – E.J. Liddell, Seth Towns, Meechie Johnson and Ibrahima Diallo – were unavailable for Wednesday's game.
Liddell, the team's leading scorer and rebounder, is dealing with mononucleosis and it's unclear whether he'll be out several days or several weeks. Towns is working his way back on a long-term recovery from a knee injury. Johnson just arrived at Ohio State over the weekend and won't debut until at least January. Diallo's absence hasn't been explained.
This was the 180th meeting between the two teams, with Ohio State holding a 91-88 all-time record versus the Boilermakers. Matt Painter started his Purdue 5-15 against the Buckeyes.
The starting five of Jimmy Sotos, Duane Washington Jr., Musa Jallow, Justice Sueing and Zed Key gave Sotos and Key their first starts of the Buckeye careers. CJ Walker and Kyle Young came off the bench for the first time this season. Walker was with the starters to come out for the second half, taking Sotos' spot.